If You Want a Cool Internship This Summer, You Should Do This Right Now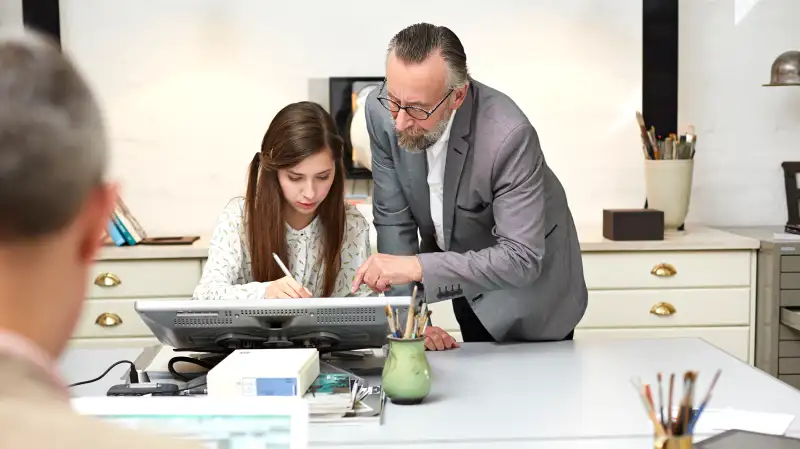 Klaus Vedfelt/Getty Images
Internships are practically a prerequisite for getting hired after graduation these days. Notice that's internships, plural. Students should aim to have at least three internships or similar career-prep experiences during their college years, experts say. And that takes planning, especially if they want to land a paid gig.
The payoff is worth the effort. The Center on Education and the Workforce at Georgetown University found that 63% of college graduates who had completed a paid internship received a job offer within six months of graduation, compared with 37% of those in an unpaid internship and 35% of those who didn't have one at all. What's more, graduates who completed a paid internship earned a higher starting salary.
While summer may seem far off, most internship applications come due long before then, and many require lead time for students to write essays or collect recommendation letters. Here's a guide to finding—and getting the most from—an internship.
Create an Action Plan
✔︎ Target specific companies and industries. Start by making a list of places or types of jobs you're interested in. Think about the skills you want to develop or the network you want to build. If you don't know where to begin, the campus career-center staff should be able to tell you where students in similar majors interned or got jobs after graduation.
✔︎ Search for positions online. There are at least half a dozen useful search platforms for internships, covering corporate as well as nonprofit and research opportunities. Some websites, such as WayUp and YouTern, match users with openings customized to their academic qualifications and career interests. Also check the sites of professional associations for industry-specific gigs. (See a listing of associations by field.)
✔︎ Leverage college networks. "Online opportunities are a great source, but high-touch trumps high-tech, so you need to do both," says Susan Brennan, associate vice president of university career services at Bentley University in Waltham, Mass.
Ask professors in your academic department which internships they consider most useful. If your college doesn't have a formal program to connect working alumni and students, use LinkedIn to reach out to graduates who work in areas you're interested in. Brennan recommends looking for a "warmer contact"—someone you're connected to by an athletic team, Greek organization, or residence hall, for example.
✔︎ Look close to home. You may be able to find internships right on campus. Clemson University, in Clemson, S.C., places more than 900 students each year in paid campus internships. Mechanical engineering majors, for example, have interned with the facilities department to learn how to conduct energy audits.
✔︎ Apply early—and often. Filing 10 to 20 applications for summer internships is a reasonable target, says Troy Nunamaker, chief solutions officer at Clemson's Center for Career and Professional Development. The majority of companies accept applications for summer in February and March, though some of the largest employers, particularly financial services, start recruiting in the fall. Smaller companies usually take applications right up to the end of the school year.
Make the Experience Count
What students do during their internships can be more important than where they do it, points out Kelly Eaton, chief academic officer at the Washington Center, a fee-based program that places about 1,500 students a year in the nation's capital. Don't get caught up in applying only to prestigious programs or recognizable companies. Focus instead on where you'll get the most responsibility and hands-on experience.
Eaton recommends asking about the type of assignments you can expect. For example, will you have the chance to work in teams? Will you sit in on company meetings? Whom will you report to, and what are his or her responsibilities with regard to guiding you?
Once you're there, be open to working on a variety of tasks, and make sure to take notes on the assignments you receive, recommends Michael True, senior associate of talent and marketing at Messiah College in Mechanicsburg, Pa., and author of InternQube: Professional Skills for the Workplace. Interns often have great ideas, True says, but then fail to listen carefully to instructions for what to do next. Ultimately, students should be able to talk to future internship and job recruiters about what they achieved for the company or how they helped a project succeed.
Weigh the Costs
About 55% of internships today are paid, according to a survey by internship-search website Looksharp. But the odds of getting one of those varies significantly by industry. Internships in politics, entertainment, and journalism are frequently unpaid, as are most positions at nonprofits, while paid gigs are more common in technology and finance. The National Association of Colleges and Employers reports that average hourly pay for interns ranges from $15 for freshmen to $18.50 for seniors.
Labor regulations require unpaid interns to earn an academic credit for the experience. That can be a financial double whammy: not earning money and also having to pay tuition. Yet even a paid internship can be costly. In a major metro area, housing, meals, and transportation can easily exceed $5,000 for a summer.
Ask your career center about financial aid for internships. Recognizing the growing importance of professional experience, college funding tied to career prep has increased in recent years. Pomona College in Claremont, Calif., for example, helped support 98 interns last summer, up from eight in 2011. These awards are competitive, so ask about them early in the spring semester to ensure you do everything needed to qualify.
For more advice on applying to college, visit the Money College Planner.