Here's How Much Super Bowl Tickets Cost This Year—and the Best Time to Buy Them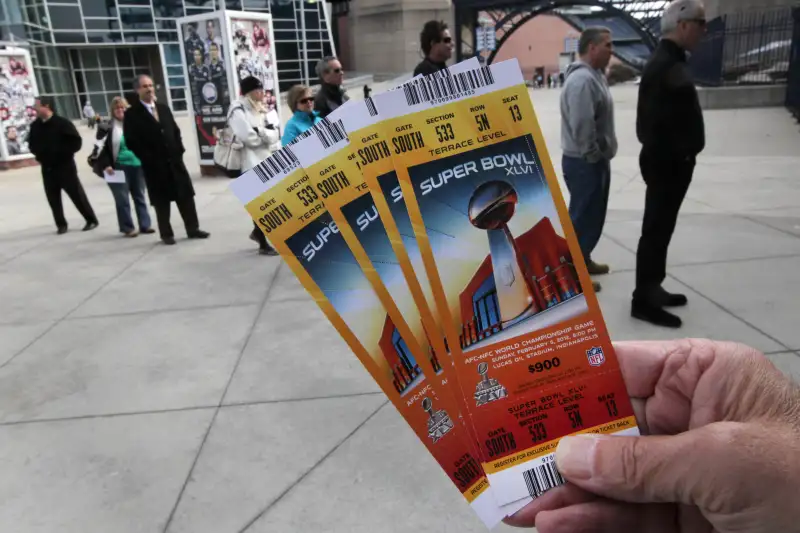 Bill Greene—Boston Globe via Getty Images
How much do Super Bowl tickets cost? How do you even buy Super Bowl tickets? And when is the best time to buy Super Bowl tickets to get the lowest price?
Super Bowl 2018 will kick off at roughly 6:30 p.m. ET on Sunday, Feb. 4. We now know that it will feature the Philadelphia Eagles vs. the New England Patriots—so fans from both franchises will be clamoring to buy tickets for the 2018 championship, book hotels, and make other arrangements to (hopefully) see their team win the NFL championship in person.
Here's everything you need to know if you want to try and see the Patriots or Eagles win Super Bowl 2018.
How to Buy Super Bowl Tickets
The most common spot to buy Super Bowl tickets is on secondary market resale sites like StubHub, SeatGeek, TicketIQ, or Vivid Seats. The official NFL Ticket Exchange, run by Ticketmaster, also serves as a marketplace for Super Bowl ticket sales, but the prices there tend to be more expensive.
As of Friday, the cheapest Super Bowl tickets at TicketIQ, Vivid Seats, and SeatGeek were listed at around $4,100 before taxes and fees, compared with $5,200 at the NFL Ticket Exchange. (They started at $4,300 at StubHub.) Bear in mind that the fees can add hundreds onto the price of each ticket. At SeatGeek, for instance, that $4,100 ticket winds up costing a total of $4,900 after taxes and fees are included.
How Much Super Bowl Tickets Cost Normally
The Super Bowl ticket prices cited above are for the "cheap seats," typically located farthest from the field, and sometimes with obstructed views of the action. The best tickets—in lower tiers near the 50-yard line, or in private luxury seats—are listed for tens of thousands of dollars apiece.
Are these prices typical for the Super Bowl? Well, because ticket prices fluctuate greatly from year to year—they can even skyrocket or plummet within the course of a few days—there is no standard Super Bowl ticket price. It's largely based on supply and demand at the moment, and how much fans are willing to pay.
Last year, for instance, the average Super Bowl ticket price on secondary markets dropped from $5,000 to $3,225 in just four days. Why? The NFL had been reserving an allotment of tickets to be sold as part of high-priced ticket packages that included extras like hotels and pre-parties. But as the date of the Super Bowl grew near and it was apparent few fans were buying these packages, more tickets were released into the marketplace—and the increased supply drove ticket prices down in a hurry.
In 2018, the NFL is again working with Ticketmaster and a company called On Location Experiences to sell Super Bowl ticket packages. Prices for these start at roughly $7,500, and include one upper deck ticket and admission to a pre-party on Super Bowl Sunday.
Large national ticket brokers, who speculate on how much fans will ultimately be willing to pay for Super Bowl seats, can also have a big impact on Super Bowl ticket prices.
Average ticket prices for the 2015 Super Bowl—in which the New England Patriots played the Seattle Seahawks—rose from $2,900 to over $9,000 during the two weeks before the big game. Large ticket brokers were blamed for the crazy surge in prices: Apparently, many of these brokers had agreed to sell tickets at a certain price before they actually had the tickets themselves. When the time came for the brokers to actually buy the tickets for their customers, the marketplace's supply of tickets available was much lower, and the prices much higher, than the brokers had expected. The result was skyrocketing ticket prices at the last minute, as well as canceled orders in some cases.
The Best Time to Buy Super Bowl Tickets
To some degree, figuring out the best time to buy Super Bowl tickets is a crapshoot. The market can change rapidly, based on fan demand and how the supply is controlled in a given year.
Still, there are some patterns that fans should take note of. The ticket resale and information site SeatGeek has an interesting Ticket Tracker graphic that displays how ticket list prices—and actual ticket sales—have risen and fallen during the 30 days before each Super Bowl since 2013.
As you might expect, every year there is a spike in secondary market ticket sales right after the NFC and AFC championship games are played, determining which teams play in the Super Bowl. So it's safe to anticipate that there will likewise be a surge in Super Bowl ticket prices tonight and Monday, as fans of the New England Patriots and Philadelphia Eagles snag their seats.
Super Bowl ticket demand (and therefore, pricing) is likely to be extraordinarily high this year, because the Philadelphia Eagles boast a rabid fan base that's been starved of an NFL championship since 1960.
Yet a Minnesota Vikings win Sunday night could have pushed ticket prices even higher: Because the Vikings play their home games in Minneapolis's U.S. Bank Stadium, the host of this year's Super Bowl, it would have essentially been a home game for the team. Last week, TicketIQ predicted that if the Vikings were to be in the Super Bowl, ticket prices could go completely haywire. The site forecast that this scenario could push the average list price for Super Bowl tickets over $10,000, with the "cheapest" seats available for roughly $5,200.
"Both of those measures would be the highest for any Super Bowl tickets we've tracked" if the Vikings were in the 2018 Super Bowl, a TicketIQ blog post from last week stated. "It would also be the most expensive game we've ever tracked, across any sport."
Now that we know it's the Eagles rather than the Vikings playing in Minneapolis in the 2018 Super Bowl, prices probably should not be quite so extraordinarily high. But it's expected they'll be higher than usual anyway.
As for the optimal time to buy Super Bowl tickets at the lowest price, it appears wise to wait. In all but one of the past five years (again, 2015), average Super Bowl ticket prices declined as the kickoff approached. Last year, for example, the average ticket was selling for a little over $3,000 in the days before the Super Bowl, compared with more than $5,000 right after the AFC and NFC championship games ended.
A Super Bowl ticket-buying guide from another site, TickPick, reaches essentially the same conclusion. "Traditionally, Super Bowl tickets become cheaper as the game approaches," the site explains, before offering the caveat: "however, this is not guaranteed."
For what it's worth, average Super Bowl ticket prices were listed at SeatGeek at roughly $6,300 last Friday, up from $4,800 through much of early January. As of Sunday afternoon, when the AFC and NFC championship games were being played, the average was $5,863.
We've included affiliate links into this article. Click here to learn what those are.