The T-Mobile and Sprint Merger Could Raise Your Cell Phone Bill, Consumer Experts Warn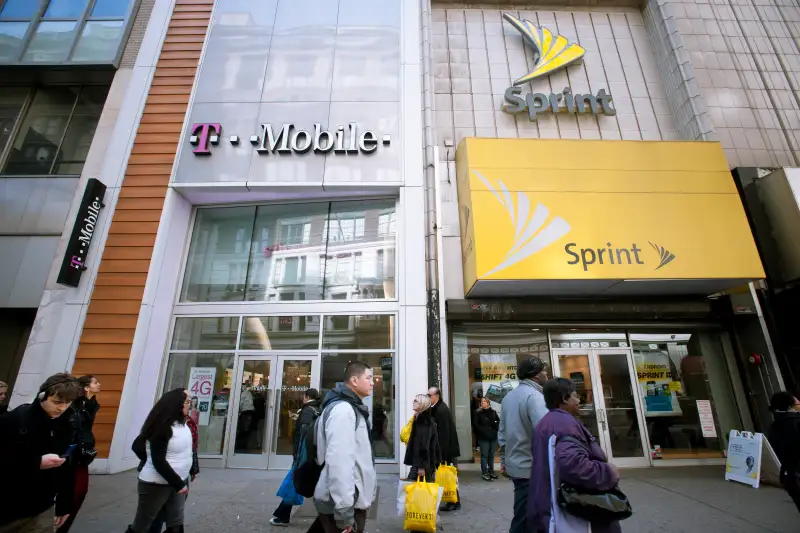 Richard Levine—Corbis via Getty Images
T-Mobile and Sprint plan to merge in an all-stock deal worth $26 billion, the companies announced over the weekend. The planned merger, which marks the third time in four years the two companies have tried to merge, could have big consequences for consumers in an industry where competition frequently dictates pricing, plan structures, benefits and more.
If T-Mobile and Sprint are allowed to merge, it would cut the number of major cell phone carriers in the U.S. from four to three, reducing competition in the marketplace. If they successfully combine, the resulting company will have more than 127 million customers, MarketWatch reports, creating a new wireless behemoth. By comparison, Verizon reported having about 116 million subscribers in the first quarter of 2018, while AT&T reported about 93 million subscribers.
T-Mobile and Sprint's latest merger effort could fall apart once again, of course. The two companies' last round of merger talks fell apart after they could not reach an agreement that would "benefit customers and shareholders," The Guardian reported. U.S. regulators also indicated they may be inclined to squash the deal just as they did with AT&T's attempt to buy T-Mobile in 2014. Ultimately, regulators could approve a "clean" merger, reject the merger entirely, or approve a merger with certain requirements that the joint entity would have to follow for some amount of time.
If the merger is successful, the most obvious concern for consumers would be increased prices due to less competition in the wireless market.
"This merger raises several red flags for consumers," Jonathan Schwantes, senior policy counsel for Consumers Union, the advocacy division of Consumer Reports, said in an interview with the magazine. "Right now, Sprint and T-Mobile provide much-needed alternatives to Verizon and AT&T, with some innovative plans and pricing options that keep some semblance of competition alive. If you combine these two companies, those incentives and options could dry up."
MarketWatch adds that if the companies combine, there could be two other downsides for customers. One is that Sprint's lower-cost plans could be eliminated after joining with T-Mobile. Another is that unlimited data plans at all four major carriers could disappear. If one carrier chooses to end its unlimited data offering, the two other companies could follow suit — with less competition, all three networks would need to worry less about customer acquisition and retention, and therefore have less incentive to provide better deals for their customers.
"It would be devastating for consumers in the long run," Chris Mills, news editor at technology site BGR, told MarketWatch. Mills pointed out that Canada, where there are only three major wireless providers, lacks any unlimited mobile plans.
But T-Mobile CEO John Legere, who would become CEO of the merged company, is pitching the merger as a way for the combined company to better invest in the next generation of wireless technology, called 5G. AT&T and Verizon are both investing heavily in 5G, which promises to offer consumers better connectivity and faster speeds. T-Mobile and Sprint would also have to invest in 5G to stay competitive with their bigger rivals. (AT&T and Verizon are both four to five times larger than Sprint and T-Mobile, with market capitalizations of about $203 billion and $198 billion as of this writing, respectively. T-Mobile's market cap is $52 billion, while Sprint's is almost $23 billion. These figures will rise and fall as investors react to the merger news.) Legere also argued that the merger would result in job creation in rural areas, where the new company would need to build new wireless infrastructure.
Expect Legere and T-Mobile to make these arguments for several months as the proposed deal works its way through the regulatory process.