How Target Plans to Boost Grocery Sales Without Copying Walmart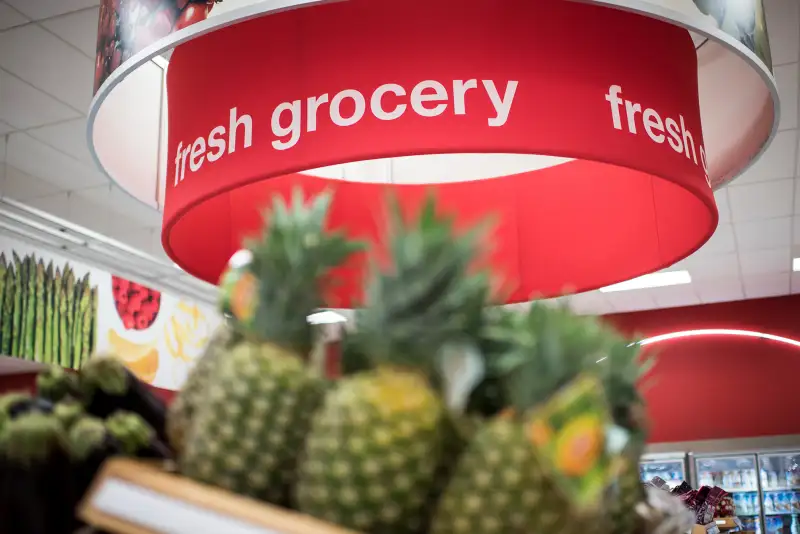 Christopher Dilts—Bloomberg via Getty Images
A big reason why fewer people are shopping at Target lately is that its grocery section has failed to attract regular, dedicated customers. Target's groceries, one company executive said, have been in "no man's land," in that the selection hasn't nearly been as robust or interesting as Whole Foods, and the prices aren't nearly as low as Walmart or Aldi.
As a result, the typical shopper might pick up a few food items when swinging by the local Target on other errands, but doesn't do regular grocery shopping at the store. That's a big problem for Target. Groceries are low-margin, and the only way they make sense for retailers is if they drive tons of traffic into stores, where shoppers are prone to making other, more profitable purchases.
The company says that it has been making improvements to store grocery departments even before the release of its dismal second-quarter sales results. "Target has been adding hundreds of new items to its shelves including a number of organic, natural and gluten-free products and bolstering key categories for its fill-in grocery trips such as snacks, yogurt, and craft beer," the (Minneapolis) Star Tribune reported. Target has been pumping up low-price promotions and fresh produce offerings as well.
But the tweaks seem to be just that—tweaks—and Target says it has no plans to dramatically expand into a full-service grocery seller along the lines of Whole Foods, Wegman's, Kroger, or Walmart. "We're not a grocer," Target CEO Brian Cornell told reporters on Wednesday, according to the Wall Street Journal. "We've been able to drive traffic without having a sushi chef."
Read Next: 5 Reasons Why Fewer People Are Shopping at Target
There will be no butchers or rotisserie ovens serving fresh-roasted chickens in Target stores either. "We provide a convenient selection of foods," Cornell said. But it's "a self-service grocery experience," and the grocery department is "not one of our signature categories nor will it be."