Car First Named After Virus Renamed for Well-Endowed Ladies Man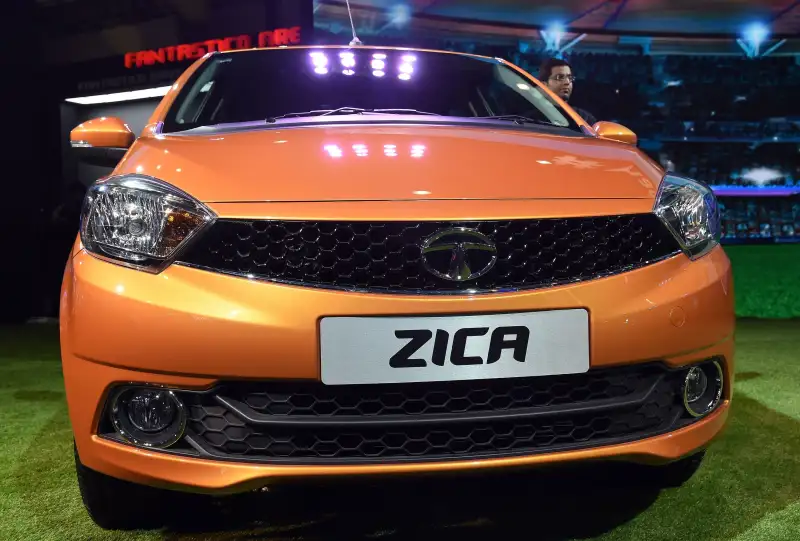 Singh, Prakash—AFP/Getty Images
In a case of extremely unfortunate timing, the Indian automaker Tata recently debuted a new hatchback, the "Zica," almost at the exact same time the similar-sounding Zika virus spread through the Americas, infecting over a million people mostly in Brazil.
"Zica" was supposed to be short for "zippy car." But almost right away, the automaker decided it was necessary to rename the vehicle to avoid association with the mosquito-borne disease that has been linked to microcephaly and Guillain Barré syndrome.
Now, a couple weeks after the decision to do away with "Zica," the marketing and graphic design departments at Tata have come forward with a fresh new name for the car: the Tiago.
Beating out podium finishers "Civet" and "Adore" — we'll never know if it was to be pronounced "ah-dore" or "adoré" — "Tiago" was selected by the public, which submitted over 37,000 names.
"Tiago" is the Portuguese name for James. But according to Urban Dictionary, a user-submitted dictionary where definitions get up-voted, "Tiago" has a different meaning. The first entry for "Tiago" defines it as a well-endowed "sex god who is amazing at sex ... [and] who looks gorgeous and is smooth with the ladies."
This definition is accompanied at Urban Dictionary by other, slightly different definitions or "Tiago." One defines the word as a man who "flirts with the ladies and always gets what he wants." Another indicates that a "Tiago" is "creepy."
There is a rule never to let the Internet have a say or vote on things, because it often becomes a viral trolling effort. In one classic case, a poll was hijacked by people who voted for Justin Bieber to perform in North Korea. It's unclear whether the Tiago christening is an example of this. Decause despite a significant number of concurrences for this slang definition, it's possible a bunch of people named "Tiago" could be simply trolling Urban Dictionary to honk their own horns.
Of course, none of this seems likely bother the Indian automaker, which shares a name with a common slang term for "breast." You've probably seen the T-shirts for the "Save the Ta-tas" foundation, and they're not talking about Indian automobiles.