'It's the Only Way.' These Teachers Are Working Summer Jobs to Make Ends Meet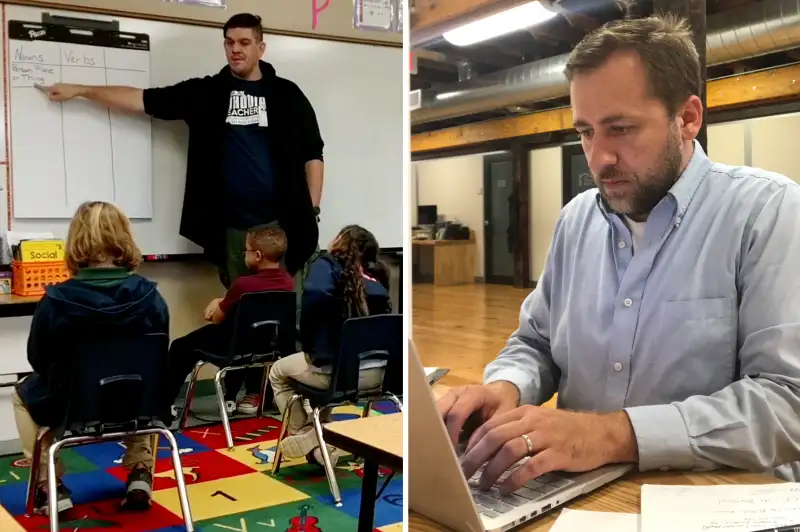 courtesy of Ben Sullens (left) and Will Dunn (right)
Will Dunn's summer break technically started May 18, but he works every day. He wakes up and drives to a space he's rented in an office building in Lawrence, Kansas, starting a seven-hour shift at around 5 a.m. as a transportation consultant, advising on long-distance chemical hauling, before clocking out at noon to go spend time with his kids.
It's all a far cry from Dunn's normal routine — for most of the year, he's a high school math teacher. But school's out through August, and his salary doesn't cover his 4-year-old's preschool tuition or 8-year-old's dental expanders. Dunn must supplement his income with a summer job.
"It's the only way," he tells Money.
Dunn's not alone in having a summer side hustle. Educators are statistically 30% more likely to have second jobs than non-teachers, and there's no better time to take on additional work than in the summer when their schedules are open. The moment their students start vacation, teachers are stocking store shelves, driving ride shares and delivering food to score extra cash.
This year, on the heels of strikes in states like Oklahoma, West Virginia and Arizona, they're being more vocal than ever in rejecting the refrain that teachers are lucky to get summers off.
"I don't know a teacher who takes the entire summer off," says 35-year-old Dunn. "We're all working on something."
Exploring Education Expenses
The 3.1 million public school teachers in the U.S. earned an average of $59,660 during the 2016-2017 school year, according to the National Education Association labor union. But those salaries varied widely by state, ranging from nearly $82,000 in New York to just under $43,000 in Mississippi.
It's also expensive to work in education. 94% of U.S. public school teachers report paying out-of-pocket for supplies, spending an average of $479 a year. Vox reported that while public school teacher wages have been relatively flat or falling since at least 2003, health insurance premiums have increased.
That's what fueled a nine-day teacher strike this past March in West Virginia. After teachers found out they'd only be getting a 2% raise, they organized en masse, eventually forcing the governor to increase their pay by 5% and pause health care price hikes. Protests for higher wages quickly spread everywhere from Oklahoma to Colorado.
For people like Ben Sullens, a raise may help, but he still says he would have trouble making ends meet. The Phoenix-based special education instructor got out May 25, took a gig administering the SAT June 2 and has been driving for ridesharing service Lyft. He's also looking into joining city food delivery service DoorDash, which pays employees $1 an order plus 100% of tip and a boost based on factors like how far away the restaurant is and how complicated the order is.
Though he likes to keep busy and meet interesting people, 35-year-old Sullens is blunt about why he's taking on the extra work. It's "100% to supplement and fill in the gaps that my income doesn't cover," he says.
As teens drop summer jobs, teachers like Sullens are picking them up. Forget lifeguarding or delivering newspapers; instead, educators are taking advantage of the gig economy. Some walk dogs through Wag!, a pet-sitting app, or deliver packages for Amazon Flex, where employees can earn up to $25 an hour.
Driving for ridesharing apps is particularly popular, and the companies know it. In 2015, Uber specifically recruited teachers in Chicago, offering a $250 bonus to drivers who completed a certain number of trips and submitted a photo of their teaching certificate. In 2016, it launched an UberEDUCATOR campaign in Portland that notified riders when their driver was a teacher.
"For teachers, driving with Lyft allows them to supplement their income during the summer months and other school holidays, whether that extra money is used to save for a house, pay off debt, or help their schools fund extracurricular activities," Lyft spokesman Chris Nishimura says. Nationally, the average Lyft driver makes $18.83 an hour.
Sullens, who has a master's degree and is national board-certified, says he earns about $47,000 in base pay a year. He can usually bring in about $200 every few days with Lyft — money he uses to help cover auto bills and medical costs for him and his husband. Last summer, he worked at a religious preschool.
"I wish I could take vacations. I wish I could sit and do nothing during the summer," he says. "I don't think teachers are really paid for the value of what they provide for society."
That can get frustrating at times, but Sullens loves his job — a large part of which, incidentally, involves giving kids the tools they need to be able to join the workforce.
"Yes, I have to work hard on the outside and do things that people don't even realize, but at the same time I'm doing what's best for my students," he says.
When School Ends, Work Starts
It's hard to pinpoint just how many teachers have summer jobs nationwide, but there are clues as to how prevalent — and profitable — work outside the classroom is. In 2016, a Texas State Teachers Association survey found that 49% of some 900 respondents had summertime gigs, while 31% held second jobs during the academic year.
Many teachers take school- or childcare-related jobs at tutoring centers or camps over the summer, but others try to stay away from education entirely. The /r/Teachers subreddit is littered with questions about gigs. Teachers working as hotel clerks, custodians, archaeologists, caterers, grocers and bartenders have all commented in recent threads.
Although some teachers simply enjoy trying out other industries, TSTA spokesman Clay Robison says "we believe the main reason they do this is strictly because they're not paid enough." (Some teachers also encounter issues with their pay schedules: Because of the school calendar, they usually have to choose whether to receive full paychecks for the nine months that they work or smaller ones spread out over 12 months.)
Indeed, the survey discovered that 86% of moonlighting teachers said they wanted to quit their extra jobs — but needed a roughly $9,000 raise in order to justify it.
Money has previously reported on teachers who have left education because of low pay and dwindling benefits. However, Joanna Chadwick is quick to clarify that she knew exactly what she was getting into.
Two years ago, Chadwick left a decades-long career as a sports writer to get certified to teach high school journalism in Derby, Kansas. The switch came with a pay cut: Her current salary is about $46,000, according to public records.
To make up the difference, 45-year-old Chadwick puts in about 20 hours a week during the summer at makeup store Ulta. She makes about $10 an hour. Her husband, also a teacher, leads junior golf activities at a local country club.
"There is no doubt that it would be awesome to have every day off of the summer or be able to completely focus in on my family," she says. "I would love to be able to be writing my lesson plans right now, but it is what it is."
Chadwick says she's OK with having a summer job — teaching is worth it. Plus, it comes with an intangible perk: "My kids are floored when they find out that I work at Ulta," she says. "My female students think it's the coolest thing in the world."