Why Your Colleague Has the Same Boss, but a Different Employer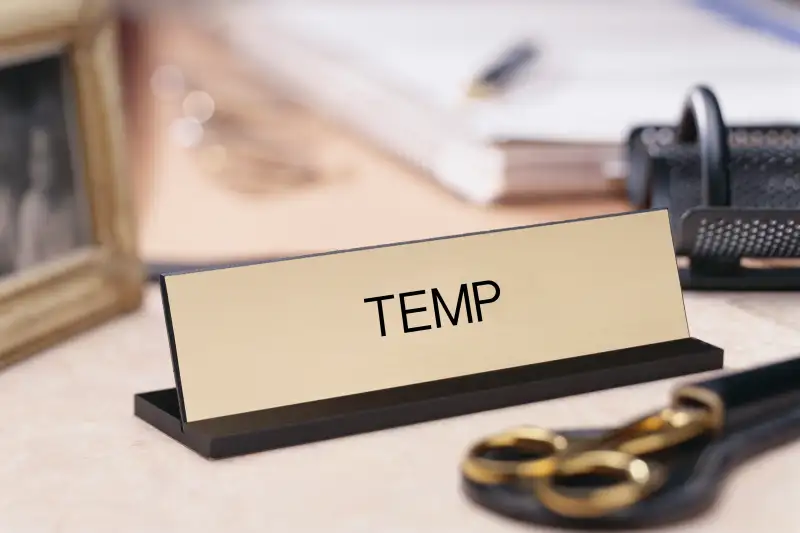 When Americans get back into the office after Labor Day weekend, they'll probably see fewer empty cubicles than they have in recent years. New jobless claims have been falling, and as of May there are more people working than there were in early 2008, before the downturn.
But some of those people sitting next to you, or chatting with you by the coffee machine, might be working for a different company.
According to the Bureau of Labor Statistics, an estimated 2.9 million Americans work in the "temporary help services industry." That means that while they show up at the office of one employer, they really work for the staffing agency that signed their contract.
Of course, "temps" are nothing new. Companies—especially in white-collar industries—have been hiring temporary workers since the 1950s, often for specialized tasks for a short period of time. But today, some "temporary" employees do the exact same tasks as permanent employees, and they stick around for a lot longer.
"'Temp' is kind of a misnomer," says Catherine Ruckelshaus, general counsel and program director at the National Employment Law Project, a liberal advocacy group. "Staffing companies are acting like human resource departments. They're placing permanent slots, if not permanent workers."
The number of temp jobs really began to balloon in the early 1990s. And since temps are easy to hire and easy to fire, they've borne the brunt of the booms and busts of the last 25 years. Temps were hit particularly hard during the recession of the early 2000s. "More than 25 percent of all jobs lost during that period were in temporary help services, despite their accounting for less than 2 percent of total employment," according to the BLS.
"Whenever there's a recession, temp and staffing trails off early and picks up in the beginning as the jobs start to come back," Ruckelshaus says. "Oftentimes employers start to fill up their payroll with temp and staffing jobs as opposed to permanent positions."
That's exactly what has happened since late 2009. "It's a little bit early to tell if that's a long-term trend or if that's a normal bubble," Ruckelshaus adds.
Increasingly, blue collar industries like janitorial services, warehouse and logistics, and home care have started to make use of contract workers. So have white collar industries like legal services, accounting, records processing, and media. (Some journalists at Time Inc., which publishes this site, are employed by an outside staffing company.)
What's in it for companies? They like the flexibility—which is another way of saying easy-to-hire, easy-to-fire. Research suggests that temps are generally paid less, get fewer benefits and face more health and safety violations than direct hires.
In a new case before the National Labor Relations Board, a union argues that a subcontractor relationship has weakened its collective bargaining power. Browning-Ferris Industries gets some of its workers at a recycling facility though Leadpoint, a temporary staffing company. The union wants both companies to be considered those workers' employers. The case could change the way NLRB evaluates "joint-employer" relationships, the Wall Street Journal reports.
Even so, it's unlikely to mean that employers will stop using outside staffing—at least not until the job market is strong enough for potential employees to demand a less "flexible" arrangement.
Related:
If Jobs Are Back, Where's My Raise?
If You're Looking for Work, the Outlook Is Brightening
5 Ways to Speed Up Your Job Search This Fall