Tesla Model 3 Basically Became America's Best-Selling Electric Car in 1 Day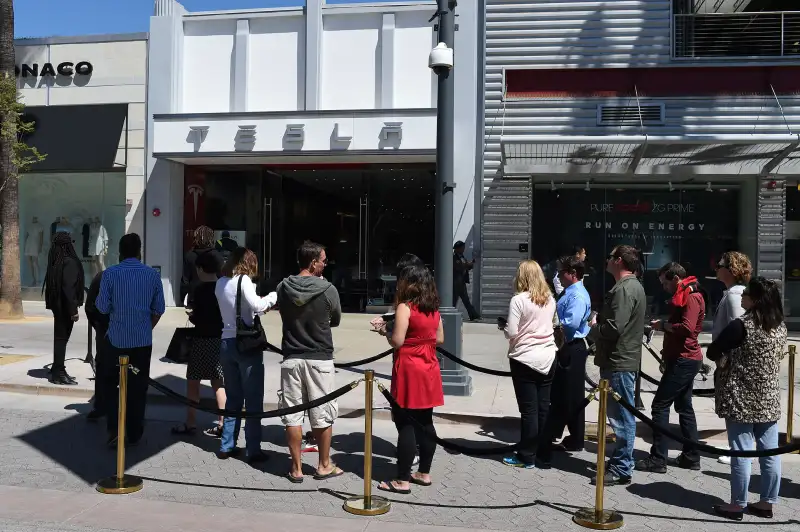 Robyn Beck—AFP/Getty Images
No one has actually purchased a Tesla Model 3 just yet. But based on how many people put deposits down this week to hold their spots to buy the affordable new electric car, sales of the $35,000 Model 3 will absolutely blow the doors off the plug-in competition.
Drivers won't be able to get their hands on the new Tesla 3 until 2017 (and likely later than that due to high demand), but that didn't stop 135,000 pre-orders to be placed on Thursday, the Tesla CEO Elon Musk unveiled the Model 3 just outside of Los Angeles.
This level of interest is unprecedented for any electric car. The Nissan Leaf, for example, had its best year ever in 2014 when it sold a little over 30,000 units. The Wall Street Journal reports that Tesla itself has sold just 100,000 cars to date. Last year, the Model S was the best-selling electric car in the U.S., with 25,700 cars purchased.
Even more impressive? Model 3 pre-orders surpassed sales for all electric cars in 2014 (120,000) and 2015 (115,000).
Currently, customers put down a refundable $1,000 deposit to order a Model 3, with some fans responsible for multiple deposits (though Musk tweeted that pre-orders would be capped at two per person). With the retail price for the cars set at $35,000, the deposits would translate into over $4.7 billion in sales if all the models are delivered.
Read Next: Why the Cult Around Tesla Is Eerily Similar to Apple's Fanboy Following
The more affordable Model 3—starting at about half the price of the $70,000 Model S—is Musk's move to bring electric cars to the masses. And according to Bloomberg, the model is cheaper than the $35,000 price tag lets on: with state and federal tax incentives included, the price for the new model can effectively cost as little as $25,000.