The 10 Most Extravagant Hotel Rooms in the World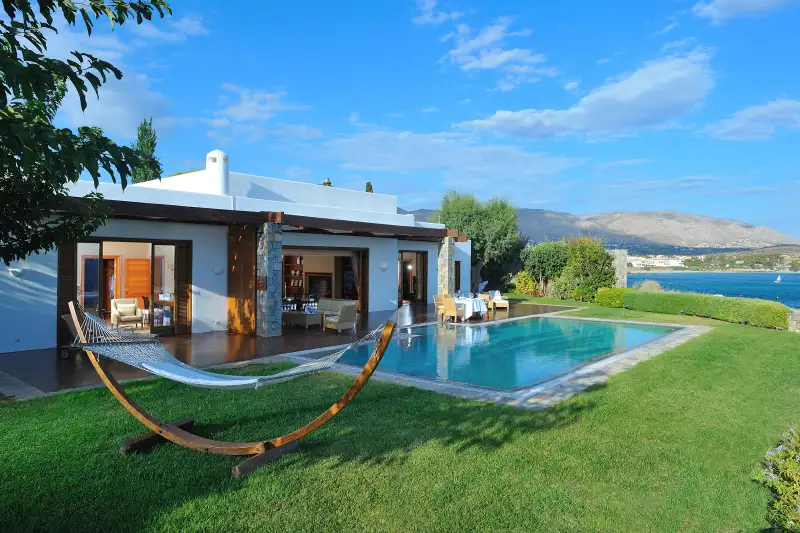 courtesy of the Grand Resort Lag
You go to hotels to get away and to be pampered, but some hotels offer special rooms with a whole other level of pampering.
These exclusive suites and penthouses located around the world are for those guests willing to spend the highest prices to get the most luxurious treatment. We researched the most extravagant hotel rooms, which offer everything from unparalleled views to butler service and even your own helicopter.
Royal Penthouse Suite, Hotel President Wilson, Geneva, Switzerland
Matteo Barro—Marriott International
The most expensive hotel room in the world starts at $80,000 per night, which is quite a bit higher than the median American annual income. Visiting the Swiss Alps might seem dreamy enough, but the ultra-premium way to do it gets you the entire top floor of the hotel, including 12 bedrooms, 12 marble bathrooms, and a terrace with a sweeping look at the Alps. Guests have included Bill Clinton and Bill Gates.
Grand Penthouse, The Mark Hotel, New York City
Grand Penthouse, The Mark Hotel, New York City
Central Park is classic New York, and at the best room in The Mark Hotel, you get your own 2,500-square-foot terrace with expansive views of the park. The inside isn't shabby either: At 12,000 square feet and $75,000 per night, it's one of Manhattan's most kingly living spaces. You also get famous chef Jean-Georges Vongerichten's exclusive room service, so you don't even have to step out for a high-end dinner.
Ty Warner Penthouse, Four Seasons, New York City
courtesy of the Four Seasons
Just a bit pricier than The Mark Hotel penthouse, the Ty Warner room (starting at $50,000 per night) doesn't offer the same amount of space, but the Four Seasons does give its most exclusive guests 360-degree views of Manhattan from four cantilevered glass balconies. That makes the Empire State Building observation deck look downright pedestrian.
Penthouse Suite, Grand Hyatt Cannes
courtesy of Grand Hyatt Cannes
You can travel quite literally like an A-list Hollywood star if you stay in the Grand Hyatt Cannes' top-level room, a hot spot during the annual Cannes Film Festival. The $41,000-per-night, 17,976-square-foot suite has a massive terrace with views of the Boulevard de la Croisette, the bay, and the hotel's private beach.
Hilltop Estate, Laucala Island, Fiji
Billed as a "resort in a resort," the hilltop estate at Laucala Island (from $45,000 per night) literally puts you on top of the heap. Situated at the peak of the island's green hills, the residence comes with its own panoramic pool area, two guest houses, a private cook, a chauffeur, and a nanny, so you can truly just focus on relaxing.
Maharajah Pavilion, Raj Palace, Jaipur, India
You'll live very much like royalty if you stay at the Raj Palace, a restored ancient royal castle in India. The over-the-top Maharajah Pavilion (from $65,000 per night) is a multilevel suite with double-height ceilings, crystal chandeliers, a terrace, and even a private museum.
Sky Villa, Palms Casino Resort, Las Vegas
courtesy of Palms Casino Resort
Las Vegas is known for its high rollers, and you'll pay a steep price (starting at $35,000 for a weekend night) for this 2-floor, 9,000-square-foot villa, which comes with a private glass elevator, glass-encased pool, terraces, massage and fitness rooms, and around-the-clock butler service.
The Apartment, Connaught Hotel, London
Hotel rooms don't come more gorgeous than the lavender Apartment. From $24,000 per night, the London spot in the luxe Mayfair district is awash in natural light and has a wrap-around balcony and a personal butler. Plus it's so tastefully appointed, you'll want to move in full-time.
Penthouse Suite, Hotel Cala di Volpe, Sardinia, Italy
The top-floor space at Hotel Cala di Volpe (from $41,177) has three bedrooms, a private pool, wine cellar, and its own rooftop with stellar views of the coastline.
The Royal Villa, Grand Resort Lagonissi, Athens, Greece

courtesy of the Grand Resort Lag
The perks never seem to end at the seaside Royal Villa in Athens, Greece. The $50,000-a-night, 3-bedroom suite has 2 pools (outdoor and indoor), a garden, a private beach, a massage area, a gym, and you get your own chef, butler, personal trainer, pianist, plus limo and helicopter service. In case the traffic is just that bad.