The Apple Watch Edition Not Only Tells Time, It Also Tells Plenty About You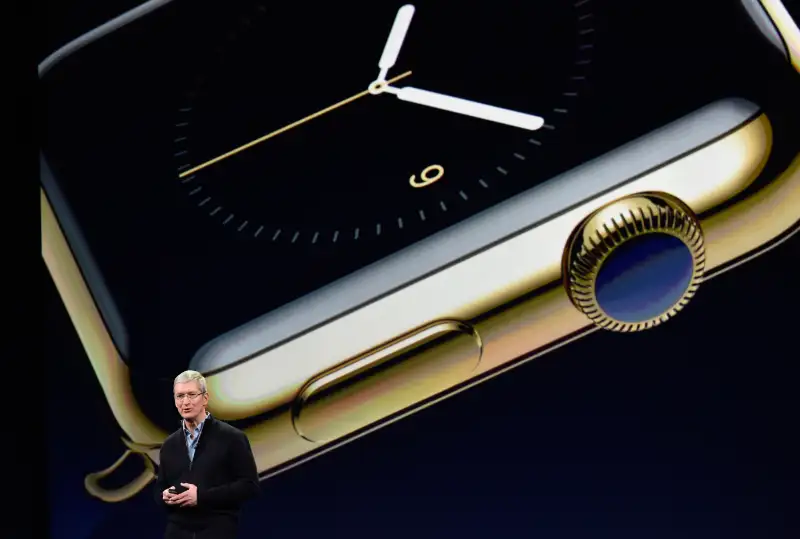 David Paul Morris—Bloomberg via Getty Images
Well, the secret is out. A top-of-the-line Apple Watch Edition will cost $17,000. Yes, that's a 17 and then three zeroes. A $10,000 version of the 18-karat gold smartwatch is also available, presumably for aristocrats on a budget.
[time-related-module]
While the price tag has popped a number of eyes on Twitter, the dollar figure alone shouldn't be very surprising. Watches have always been a popular vehicle for the rich, and particularly rich men, to flaunt their wealth.
You could say the same of a lot of status symbols—cars, clothes, handbags—but it's especially true of watches, because the most expensive timepieces are delicate mechanical creations and therefore not even very good at keeping time compared with cheaper electronic alternatives. As one watch museum curator explained to the New Yorker, businessmen don't buy a Piaget Gouverneur so they don't miss a meeting.
But until now, there was at least one factor limiting watch-related flamboyance: the widely cultivated belief that a watch is more like an heirloom or work of art than your typical luxury extravagance. The image projected by major watch brands is generally, Yes, this product is expensive, but it's really an investment. You'll enjoy it for the next however many odd years, and then it will travel through your family forever.
That message is especially clear in the marketing of Patek Philippe, a Swiss watchmaker with products priced in the high six digits. The company's signature ad campaign pitches its timepieces as a way to "Begin your own tradition." In fact, you're not even really buying anything, because "You never really own a Patek Philippe. You merely look after it for the next generation." It's schmaltz, sure, but it's the kind of schmaltz that makes dropping $100k on a watch seem slightly more redeemable.
Edition owners will have no such excuse. Thanks to Apple, which has ingeniously combined the expense of luxury goods with the rapid obsolescence of consumer electronics, that $17,000 Apple Watch Edition could be an expensive gold brick within about two years. Let no one, for one second, believe an Apple Watch Edition owner has purchased his or her new accessory for the benefit of their offspring. They got it so you know they can afford a $17,000 gadget.
In fact, when you buy an Apple Watch Edition, you're not just telling the world you have enough money to get a single hyper-expensive watch. You're saying you have the cash to buy a few of these every decade until Apple goes out of business or Google makes something even more ostentatious (a gold Google Glass, perhaps?).
It's always possible Cook and company will roll out some kind of trade-in program for certain Apple Watch models, which would partially crank down the pretentiousness of the whole affair. But even so, customers would still be plunking down thousands of dollars on a regular basis.
So thanks, Apple. Thanks for giving us a new way to pick out status-seekers on sight. The gold-colored iPhone, and now a gold-colored laptop, was a good start. But a mini-computer made of actual gold? It's the best indicator yet.