The Easiest Way to Get a Flight Upgrade, According to Flight Attendants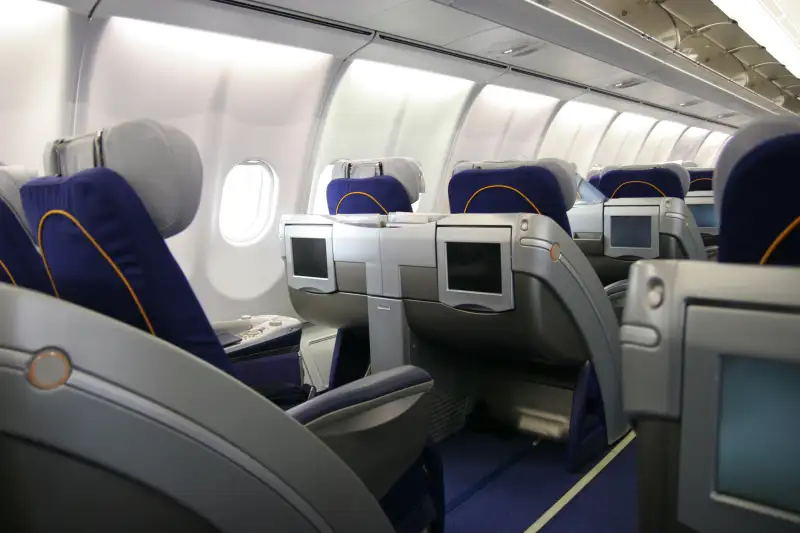 If you're stuck in the back of the plane during your holiday travel, burning through your credit card points isn't the only way to score a seat upgrade.
Flight attendants revealed to Money that the best way to nab upgrades, free drinks, and other in-flight perks is by bringing small gifts for the cabin crew.
Oak Lynn Woods, a vlogger and flight attendant for a major U.S. carrier, says flight attendants regularly deal with angry passengers ranging from rude to overtly racist. "People don't realize how rude passengers are," Woods says. "I experience that every day at work." So kindness goes a long way, especially during the holidays, and travelers who are thoughtful enough to bring treats are often well taken care of by flight attendants, she says. This can mean anything from a free drink to a free flight upgrade.
Woods practices what she preaches: When she takes personal flights, she always carries bags of treats for the flight attendants on board.
For instance, if you're sitting in the main cabin, handing out food or coffee to flight attendants could increase your chances on getting an upgrade to first or business class, if space allows. But even if your economy seat doesn't budge, flight attendants might feel generous enough to give you another perk, like free champagne or other treats from first class.
And don't forget the gate agents. When flights are cancelled or delayed, gate agents bear the brunt of anger and bad attitudes from passengers. Bring the gate agents chocolate or snacks to lighten their mood, and your chances to snag a first-class seat go up, says Treasure Elise, a flight attendant who chronicles her work life on YouTube and Instagram.
"The gate agents are the ones that handle the seating arrangements," Elise says. "I like to bring them little gifts or goodies, because they will look and go, 'Okay, we have some seats open in first class, I'll seat them.'"
Of course, both flight attendants caution that being nice doesn't guarantee flight attendants will (or even have the power to) give you treats. They suggest you wait for flight attendants to pay you back on their own terms, without explicitly asking for special treatment.
There is one thing to keep in mind. Don't bother baking a dozen brownies before your trip. Flight attendants are warned not to eat unwrapped or homemade food. Instead, bring something store-bought and in its original packaging.
To figure out how many flight attendants will be onboard—and how many gifts to bring—Woods looks up the type of aircraft she'll by flying in. (That information can be found on SeatGuru.) Then she figures out the minimum flight attendant requirement. Federal Aviation Administration law dictates that airplanes that carry 100 or fewer people will have either one or two flight attendants, but larger flights must have two, plus additional attendants per 50 seats. It's probably a better idea to bring too many treats, rather than accidentally leave someone out.
And if you're considering chipping in an extra bag of goodies for the pilot, Woods says don't bother: "They get paid a lot anyway."