This Architect Ditched His Day Job to Design $150,000 Luxury RVs for Millennials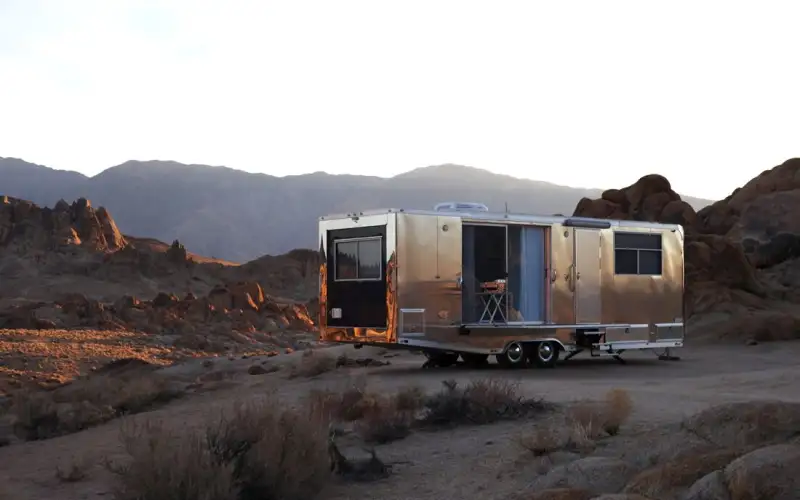 Courtesy of Matthew Hofmann
Just like record players, typewriters and Doc Martens, another iconic emblem of the 20th century is making a comeback: vintage trailers.
Part of a generation that values lifestyle and experience over conformity, millennial hipsters have spawned a "glamping" movement—camping in upgraded tents or trailers that have luxuries like hot showers, mattresses and air conditioning. RV makers have recently reported a resurgence in sales driven in part by the trend, and many owners have made upscale trailers available for rent on sites like Airbnb.
Architect Matthew Hofmann has made a career designing, revamping, and selling RVs that keep the look of vintage Airstreams, yet put in high-tech home furnishings like WiFi and iOS controlled functions.
"Millennials value connection," Hofmann says. "Glamping is one of those ways where you can have that luxury experience, but you can connect with all the other people that you're traveling with."
Like many small companies, this one started as a side gig: Hofmann, then earning $80,000 a year at a small architecture firm in Santa Barbara, bought, renovated, and sold a trailer to make a little extra money. The venture paid off, and in the middle of 2009, he parted ways with his firm to start his own company, a trailer design and renovation practice.
His timing was good, coming just as millennials were beginning to embrace the concept of glamping as vacation getaway. Hofmann, however, wants people to see it more as a full-time, nomadic, Instagram-ready lifestyle. "It's a shame for folks who are committed to their jobs and can only travel for one or two weeks a year," he says. "I think millennials are starting to appreciate and say, 'Well, I can live my life this way. This can be how I live everyday.'"
Courtesy of Matthew Hofmann
Hofmann is his own best spokesmodel, splitting his time living between a boat and a travel trailer he designed himself—called a Living Vehicle, and designed for full-time residence. The trailer, which Hofmann sells for just under $150,000, pays homage to the vintage Airstream's sleek, medal exterior design, while adding more modern technology and amenities. To keep it comfortable in variable temperatures, the trailer boasts air conditioning, a furnace, and insulation on all sides. A rooftop antenna can pick up Wi-Fi or mobile data signals; an iOS app controls sound and lighting functions. There's also a "spa-style" bathroom with teak accents and a tiny shower, plus a portable propane BBQ.
Though the mobile trailer includes off-road capabilities for vacation use, Hofmann also added storage compartments to accommodate full-time living.
Hofmann's newer venture sells the Living Vehicle online; you can submit a refundable $5,000 deposit for a shipment by summer 2018. In comparison, smaller Airstream models sell for around $50,000 to $75,000.
Courtesy of Matthew Hofmann
Hofmann says he actually saves money by living in his boat, which cost him about $60,000, and his upscale mobile home. He parks the trailer in his office parking lot, and pays up to $500 a month in ongoing dock fees—but he says those costs pale in comparison to what he would be paying for a mortgage. (The average home price in Santa Barbara, where he lives, hovers at $1.1 million according to Zillow.)
And what he saves on housing costs, Hofmann says, he spends on things he's passionate about: a gym membership, recreation and travel, eating well and going to events with his friends and family.
"With glamping, you can live a lifestyle that is rooted in that you can live in a small space," Hofmann said. "That flexibility and affordability allows you to be a lot more flexible in your life."