This Is the Best Place to Live in Every State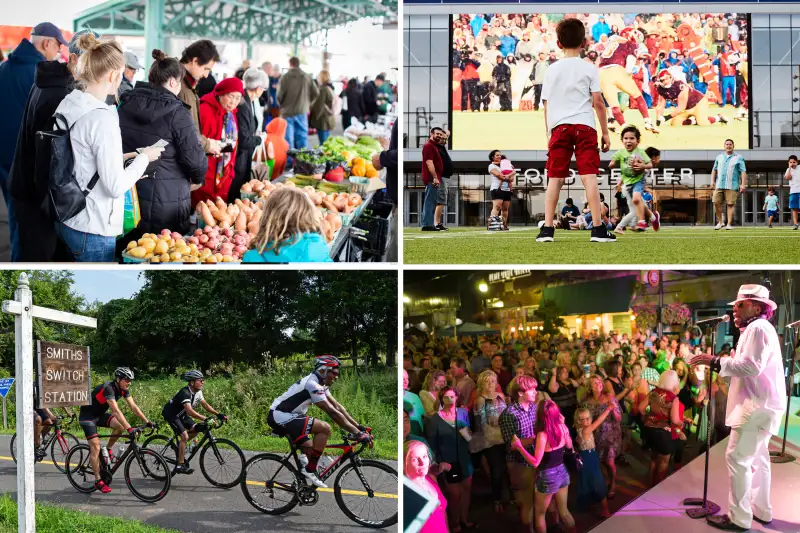 (clockwise from top left) Courtesy of Visit Overland Park; Joe Schmelzer for Money; Courtesy of the City of Carmel; Scott Suchman for Money
What makes a town worth living in? While beautiful scenery and a sense of community can help give a location character, features like affordability, safety, convenience, and a bustling economy are always critical factors.
Every year, Money ranks the Best Places to Live in the U.S. Because of the criteria considered, some states end up being represented more than once—and others not at all. Now, using data from that ranking, we crunched the numbers to find the best place to live in every state. As in our previous rankings, we considered everything from the cost of buying a home to median household income. The results surfaced favorite stand-bys, well-known cities, and plenty of hidden gems.
Since this year's Best Places to Live list only considered locations with 50,000 people or more, the top picks tend to skew toward small cities or bustling suburbs. But small towns aren't entirely left out. When five states had no places that met this year's criteria, we considered last year's Best Places to Live data, which included spots with populations between 10,000 and 100,000. (Read more about our methodology at the bottom of this list.)
While the choice of where you live is a personal one, this ranking aims to highlight notable cities—maybe even your own—all across the country. Here are the 50 places that are the best in their states. —Shaina Mishkin
---
Vasha Hunt—AP/REX/Shutterstock
Auburn, Alabama
Population: 65,792
Median Household Income: $51,977
Median Home Listing Price: $308,217
Sports fans will feel right at home in this quintessential college town. Auburn University, named Money's best college in Alabama, is the city's largest employer and home to historic NCAA Division I sports teams. (Notable alumni include Apple CEO Tim Cook and NBA Hall of Famer Charles Barkley.) Known as "The Loveliest Village on the Plains," Auburn is also home to incredible food: Head to Acre for award-winning farm-to-table fare, or get your fingers dirty at Moe's Original Bar B Que. Best of all is the relatively low cost of living. Median home sale prices are among the lowest in Alabama cities, and family incomes are about $2,000 higher than the state median.
---
Courtesy of Visit Anchorage/Jody Overstreet
Anchorage, Alaska
Population: 297,074
Median Household Income: $86,627
Median Home Listing Price: $310,000
Located in the heart of southern Alaska, Anchorage is best known for cultural sites honoring the state's unique heritage and its proximity to wildlife destinations like the Portage Glacier, Denali National Park, and Chugach National Forest. Anchorage is the best city on our list for housing affordability, which is based on factors like median household income, median list price, income growth, and home appreciation rates. And with roughly 300,000 residents, Anchorage makes up about 40% of the state's population, meaning it's home to some of Alaska's biggest facilities, including an international airport and three major hospitals.

---
Courtesy of Kerrick James
Peoria, Arizona
Population: 183,698
Median Household Income: $70,351
Median Home Listing Price: $315,000
This picturesque Phoenix suburb boasts more than just natural beauty, though visitors should take advantage of the nearly 30 miles of hiking trails through desert landscapes. A winning combination of low crime, good schools and economic opportunity—jobs will grow by more than 8% by 2022, according to Moody's Analytics—launched Peoria ahead of its Arizona counterparts. With a median household income of $70,351 and an average home listing price of $315,000, the suburb's cost of living remains relatively low, which could partly explain its growth. Peoria's population grew from just over 12,000 in 1980 to around 180,000 residents today.
---
Courtesy of the City of Rogers
Rogers, Arkansas
Population: 67,500
Median Household Income: $63,175
Median Home Listing Price: $329,000
Looking for career opportunities? Rogers might be a good bet for you. The area saw a 2.9% increase in jobs from 2010 to 2017, and will grow another 7.8% in the next four years, according to Moody's Analytics. The city's impressive growth earned it second place in Forbes' 2018 ranking of the best midsize cities for jobs. While 22% of the workforce is employed in manufacturing and construction, Rogers is also home to the first Walmart store opened by Sam Walton. (Today, the corporate giant's headquarters resides in neighboring Bentonville.) Aside from jobs, Rogers also boasts 218 clear days per year, providing ideal weather to explore one of the city's 24 parks.
---
Courtesy of the City of Dublin
Dublin, California
Population: 67,839
Median Household Income: $129,533
Median Home Listing Price: $849,900
Named for the Irish immigrants who settled there in the mid-1800s, Dublin sits about 20 miles southeast of Oakland. Its healthy housing market, robust economy, and good education system make it an ideal city to settle down in, especially for Bay Area employees. With an hour commute by public transit or car, Dublin's an easy hop to San Francisco's notable restaurants and attractions, but also boasts its own social life. Families can enjoy the St. Patrick's Day Parade, the farmers' market in nearby Pleasanton, and a number of golf courses. Plus, outdoorsy types can bike the 27-mile Iron Horse Trail that runs right through the city.
---
Courtesy of Highlands Ranch Community Association
Highlands Ranch, Colorado
Population: 106,802
Median Household Income: $114,652
Median Home Listing Price: $715,067
Located only 30 miles from Denver, this Colorado suburb has landed on Money's Best Places to Live list five times in the past decade—not bad for a community established only 37 years ago. That's in large part due to sustained job growth. The number of jobs in Highlands Ranch grew by 22% between 2010 and 2017, according to the Bureau of Labor Statistics, and the area's unemployment rate was just 2.6% in 2017, one of the lowest among all the cities we considered this year. And there's no sign of stopping: Employment is projected to grow an additional 7% by 2022, according to Moody's Analytics.
---
Courtesy of Town of West Hartford
West Hartford, Connecticut
Population: 64,156
Median Household Income: $100,355
Median Home Listing Price: $349,900
Connecticut's best city to live in features some of the state's best public schools. West Hartford's school district has a graduation rate of 94%—7% higher than the state average—and its public high school students take more college and career readiness courses compared to the state average. The result? Students enroll in college at a higher rate than the rest of the state. While average household incomes are relatively high at $100,355, the median sale price of a home in West Hartford was $295,000 in the first quarter of 2018 (while the median home listing price was $349,900), just under the median for the areas Money analyzed. Plus, finding a job in the city's growing career market means enjoying an average 19-minute commute, one of the shortest in the state.
---
Courtesy of Mt. Cuba Center
Hockessin, Delaware
Population: 13,947
Median Household Income: $115,124
Median Home Listing Price: $240,366
Along the Delaware-Pennsylvania border, about six miles from the Maryland state line, sits the town of Hockessin. Although the quaint New Castle County city is neighbors to metropolises like Philadelphia and Baltimore, it still manages to maintain its suburban feel. The education system is one of the best in the state, and there are plenty of amenities attracting families and retirees alike. Residents are drawn to the rolling hills—green in the summer months and covered with picturesque foliage in the fall—which provide the perfect backdrop to the city's many historic sites, including the classic Wilmington and Western Railroad.
---
Courtesy of City of Weston
Weston, Florida
Population: 68,458
Median Household Income: $102,875
Median Home Listing Price: $595,000
Established only in 1996, Weston is, in many ways, the image of a perfect Florida town. Hedged against the Everglades and located just 25 miles from Florida's east coast beaches, the 68,458-person planned community features two golf courses, warm weather, and winding streets of new homes interspersed with waterways. Just 40 miles outside of Miami and a half-hour drive from Fort Lauderdale-Hollywood International Airport, Weston is perfectly situated for commuters or frequent travelers, but you don't necessarily need to leave town to pursue a career. Jobs in Weston grew 17% from 2010 to 2017, according to the Bureau of Labor Statistics, and are projected to grow another 6.3% by 2022, according to Moody's Analytics.
---
Courtesy of the Alpharetta Convention & Visitors Bureau
Alpharetta, Georgia
Population: 65,861
Median Household Income: $99,718
Median Home Listing Price: $579,000
If you score a job in Atlanta but are looking to live somewhere else, Alpharetta, just 30 minutes north of the state capital, might be what you're looking for. City residents can expect an average commute of 27 minutes. But Alpharetta also stands out from other Georgia cities for its wide variety of both indoor and outdoor attractions. Shop around one of the city's five shopping districts, such as Downtown Alpharetta, where you'll also find the Food Truck Alley and a Saturday farmers' market. Warmer days are perfect for exploring the town's 750 acres of parkland: View one of the 22 large-scale contemporary and abstract art pieces at Cashin's Sculpture Garden, or try your hand at horse riding at the Wills Park Equestrian Center.
---
Courtesy of Hawaii Tourism Authority/Heather Goodman
Kapaa, Hawaii
Population: 10,962
Median Household Income: $62,546
Median Home Listing Price: $751,333
Hawaii is often an escapist fantasy for people seeking change—but where to live once you're there? Kapaa, Hawaii, a beachside community located on the island of Kauai, is the state's best city when it comes to livability. While the cost of living and housing are affordable (relative to the rest of Hawaii), Kauai also boasts one of the best education systems in the country. There are plenty of water and outdoor activities in Kapaa, of course, but Old Kapaa Town is also a foodie and shopping destination. Once a month, vendors stay open late for the First Saturday Art Walk, where residents can enjoy food, art, crafts, and live music into the night.
---
Courtesy of Boise Convention and Visitors Bureau
Boise, Idaho
Population: 224,365
Median Household Income: $59,460
Median Home Listing Price: $393,881
Boise has a lot to brag about. The city boasts Idaho's top-ranked school district, where students score well above the state average on math and reading tests. Plus, Boise had an impressive 2.8% unemployment rate in 2017, well below the 4.1% national average that year, and is expected to see jobs grow by a whopping 8.7% in the next 4 years, according to Moody's Analytics. Boise State University, one of the largest employers, also offers weekend entertainment on and around campus. Catch a Broncos college football game at Albertsons Stadium, go skiing in the winter, or check out the International Food, Song, and Dance Fest that rolls around every spring.
---
Courtesy of the City of Wheaton
Wheaton, Illinois
Population: 53,921
Median Household Income: $95,148
Median Home Listing Price: $469,000
Founded by a group of abolitionists in the 1850s and home to the Wheaton Flag antislavery newspaper, this safe, well-educated suburb of Chicago has a rich history readily discovered at the DuPage County Historical Museum, founded by John Quincy Adams—a distant relative to the president of the same name—in 1891. Take a horse-drawn carriage ride along lively Downtown Wheaton, stopping at The Little Popcorn Store, a 1920s landmark building just 49 inches wide. Forego the Lincoln Park Zoo in Chicago and head to Wheaton's Cosley Zoo to learn about species native to Illinois. Though median home sale prices in the first quarter of 2018 were around $350,000, the median family income comes in at $119,232.
---
Courtesy of the City of Carmel
Carmel, Indiana
Population: 94,854
Median Household Income: $110,660
Median Home Listing Price: $450,000
Located half an hour north of Indianapolis, Carmel has been a fixture on Money's Best Places to Live ranking for the better part of a decade. The Indiana suburb might look a little different since it first appeared on the list in 2010—the roundabout capital of America has added more than 60 rotaries to its streets since then—but the important factors that first secured Carmel's inclusion are still there. With jobs projected to grow by nearly 10% by 2022, a high school graduation rate of 96%, and an assortment of city-sponsored activities for children and parents alike, Carmel is an excellent place to live for families.
---
Courtesy of Catch Des Moines
West Des Moines, Iowa
Population: 67,645
Median Household Income: $77,923
Median Home Listing Price: $350,000
If you're looking for a Midwest locale with exceptional public schools, West Des Moines fits the bill. With a high school graduation rate of nearly 95%—higher than all the other Iowa towns analyzed by Money—the city's students also exceed national expectations on reading and math scores by significant margins. (U.S. News & World Report also placed West Des Moines' Valley High School in the top 10 schools in Iowa.) But there's plenty of charm, too. During summer, West Des Moines boasts 22 farmers' markets nearby, including one in the popular shopping district Valley Junction. There you'll also find antique stores and art galleries, plus the mom-and-pop candy shop Nan's Nummies.
---
Courtesy of Visit Overland Park
Overland Park, Kansas
Population: 191,136
Median Household Income: $86,123
Median Home Listing Price: $415,000
Overland Park is a "gateway to the Kansas City experience," according to the suburb's tourism site, but this border town—located just opposite the state line from Kansas City, MO—is also a great place to stay for good. The cost of living and average income levels strike the right balance for an affordable lifestyle, and the best-in-state education makes it an attractive choice for young families. A feeling of community abounds, with live music at the scenic Overland Park Arboretum and Botanical Gardens, and events like the Overland Park farmers' market, going strong for over three decades. Even kids can get in on the action and learn about farm life at Deanna Rose Children's Farmstead.
---
Courtesy of Bowling Green Area Convention & Visitors Bureau
Bowling Green, Kentucky
Population: 66,511
Median Household Income: $42,486
Median Home Listing Price: $259,900
Home to Kentucky's second largest university, one could call Bowling Green a college town, but the city of around 67,000 is also an excellent place to live for more than just students. First-time homeowners, for example, may be surprised to find the average home sells for $169,900. Job seekers will appreciate the city's growth, with Moody's Analytics predicting a 7.4% increase in jobs by 2022, as well as employers like Fruit of the Loom and Bowling Green Metalforming, the second largest manufacturer in the state. With 208 clear days a year, there's plenty to do outside, whether that's window shopping downtown, riding the carousel at the nearby Beech Bend Park or touring a real limestone cavern by boat at Lost River Cave.
---
Courtesy of Visit Jefferson Parish
Metairie, Louisiana
Population: 140,398
Median Household Income: $61,513
Median Home Listing Price: $265,000
Early 20th-century architecture, world-class seafood, and a bustling nightlife are all part of Metairie—much like neighboring city New Orleans, a short 15-minute drive away. If you're in the mood for classic Louisiana fare, you'll find some at Chef Ron's Gumbo Shop. Partygoers can head to the 40-square-block Fat City, the area's answer to New Orleans' French Quarter. Median household incomes are also about $15,000 higher in Metairie than in the rest of the state, and crime is significantly lower than other Louisiana cities compared by Money.
---
Courtesy of Denise Michaud
South Portland, Maine
Population: 25,799
Median Household Income: $56,472
Median Home Listing Price: $355,800
Despite its name, South Portland was never actually a part of its big-city neighbor, and doesn't need to depend on Portland to flourish. (Although workers who commute there have only a few miles' drive to downtown or the Portland International Jetport.) But Maine's "most invisible city," as some residents call it, has a bustling food and bar scene and a thriving economy of its own, with an affordable cost of living relative to the rest of the state and country. Two lighthouses—Spring Point Ledge Lighthouse and Bug Light—provide fantastic views of the city and the harbor. And on a nice day, residents can head to Willard Beach or walk along the water at the Greenbelt Walkway.
---
Ellicott City, Maryland
Population: 73,236
Median Household Income: $123,959
Median Home Listing Price: $515,000
Ellicott City has frequently found itself on Money's Best Places to Live list, most recently landing the No. 4 spot in our 50 Best Places to Live in 2018. This is a result of its low crime rates, good real estate opportunities, culturally diverse residents, and quality of education: Ellicott City's graduation rate and test scores are among the highest in the country. Thanks to a rich history dating back to 1772, the town is also a draw for tourists. Residents can enjoy restaurants, shops, and a dose of nostalgia in the downtown area, also known as the Ellicott City Historic District, which is home to Ellicott City Station—the oldest surviving train station in the U.S.
---
Courtesy of the City of Newton
Newton, Massachusetts
Population: 86,131
Median Household Income: $132,258
Median Home Listing Price: $1,470,000
Living near Boston is notoriously pricey, and Newton is no exception. But for residents of the affluent town whose median household income reaches nearly $132,258, the price is well worth it. Made up of 13 separate villages, the Boston suburb is home to several MBTA stops, making the rush-hour commute into the city much less painful. Another painless task: Picking a school. Around 97% of Newton public school students graduate, one of the highest rates on our list. And, after graduation, going off to college doesn't necessarily mean traveling far from home. The Boston area is home to 35 colleges and universities, including Boston College, which has a campus right in town.
---
Courtesy of the City of Novi
Novi, Michigan
Population: 60,356
Median Household Income: $94,025
Median Home Listing Price: $560,250
About 30 miles outside of Motor City, Novi, Michigan has some of the state's lowest unemployment, coupled with a stellar 95% high school graduation rate. Only 1.8% of residents were unemployed in 2017, 7 percentage points lower than Detroit and 2 points lower than the state. In addition to quick access to Detroit's cultural hotspots, Novi itself offers residents plenty of quintessentially Michigan attractions. When the sun's out, take a dip in Walled Lake, and when the temperature starts to drop, head to Yates Cider Mill just outside Novi for donuts, fudge, and hot apple cider.
---
Courtesy of Tom Dunn Photography
Woodbury, Minnesota
Population: 70,072
Median Household Income: $105,346
Median Home Listing Price: $419,000
Woodbury, the No. 10 city on our 50 Best Places to Live in 2018 list, is located 15 minutes from St. Paul and about 30 minutes from Minneapolis, giving residents a taste of city life while affording a family-friendly lifestyle. The suburb's housing is among the most modestly priced in the country, crime rates are low, and within Minnesota, the education system and diversity are second to none. Plus, a median family income of $105,346 means more to spend on recreation, like a day at one of the city's two golf courses. But some of the best activities are free: Woodbury is home to dozens of parks with events like the Woodbury Days festival held in Ojibway Park each summer.
---
Courtesy of Mississippi Gulf Coast
Gulfport, Mississippi
Population: 73,115
Median Household Income: $40,751
Median Home Listing Price: $165,900
Sitting along the Gulf of Mexico's soft, sandy beaches, Gulfport looks much different than it did a decade ago. Battered by Hurricane Katrina in 2005, the city's unemployment rate rose to a whopping 24.3% as it grappled with the disaster. In the years that followed, Gulfport's unemployment rate returned to pre-storm levels as the city rebuilt. Today, Gulfport is a great place to live, with affordable housing (homes are listed for a median $165,900), projected job growth of 6.1% before 2022, and large local employers like the Naval Construction Battalion Center, Memorial Hospital, and Island View Casino. Meanwhile, improvements keep coming: A $570 million expansion and restoration of the port that gives the city its name wrapped up in early December.
---
St. Charles, Missouri
Population: 68,531
Median Household Income: $60,912
Median Home Listing Price: $240,900
You don't have to empty your wallet to live in this St. Louis suburb. The town's sales tax is 5.6%, and residents pay an average of $2,677 in property taxes. Jobs are already plentiful—the town has a 2.6% unemployment rate—but you can expect even more: Moody's Analytics predicts job growth of 8.19% by 2022. Use any extra cash to stock up on antiques and fine leather goods at the 200-year-old Main Street historic district. Visitors can also learn about St. Charles' role in the expedition of Lewis & Clark and Daniel Boone at one of the 144 nearby museums, or grab views of the countryside—and a glass of award-winning wine—in Historic Missouri Wine Country.
---
Courtesy of Visit Billings
Billings, Montana
Population: 110,695
Median Household Income: $58,051
Median Home Listing Price: $255,000
Nicknamed "Montana's Trailhead" because of its city conveniences in the midst of a vast natural landscape, Billings allows its residents to still reap the benefits of being in Big Sky Country. The city's almost year-round good air quality makes it one of the most pleasant cities on our list and the 0% sales tax and minimal property tax make the state's most populous city very affordable. As for attractions, there's the wildlife and botanical garden at ZooMontana, Yellowstone Art Museum, or the unofficial "brewery district," which offers a walkable, self-guided tour of nine breweries. Billings is also within an hour of Little Bighorn Battlefield monument and Bighorn Canyon, and is the last major city before the scenic Beartooth Highway leading into Yellowstone National Park.
---
Rick Neibel—Nebraska Tourism
Bellevue, Nebraska
Population: 52,698
Median Household Income: $62,277
Median Home Listing Price: $253,813
The suburb now known as Bellevue originated as a fur trading post in the early 1800s, a few decades after Lewis and Clark crossed through on their expedition. More than a century and a half after the city's founding, business is still alive and well (though most of the fur traders are long gone). As a suburb of Omaha, Bellevue is well within commuting distance of the state's largest city, a fact reflected in the 19 minutes it takes the average Bellevue resident to get to work. Those relocating to the city for career purposes—as some likely will, since Moody's Analytics projects jobs will grow by 6.6% there over the next four years—should see their paycheck stretch further here. Bellevue's median household income is $62,277, while homes are listed for an average $253,813.
---
Courtesy of the City of Henderson
Henderson, Nevada
Population: 296,136
Median Household Income: $70,204
Median Home Listing Price: $325,000
Just outside of Las Vegas, Henderson offers access to both city entertainment and outdoor retreats. There are casinos, public pools, and the renowned Clark County History Museum, which traces the region's long development. Adventurous folks can hike the scenic 34-mile River Mountains Loop Trail, bike up several mountain ridges on the Three Sisters challenge, or observe the kings of the jungle at the Lion Habitat Ranch. The state's second-largest city has seen 13% population growth and 2.5% job growth since 2010—and the expansion shows no signs of slowing down, as experts predict area jobs will increase by 9.6% in the next four years.
---
Courtesy of Bob Bettencourt
Nashua, New Hampshire
Population: 89,960
Median Household Income: $72,007
Median Home Listing Price: $300,000
Nashua was the very first city to top Money's Best Places to Live list back in 1987, and is the only city to be named No. 1 twice. Residents enjoy the perks of being an hour's drive from the cultural and educational hub of Boston, but arrive home to a charming town with no sales tax and a rich history. In the 1800s, Nashua had a thriving textile economy, and the old mill buildings on Main Street, now converted into apartments, studios, and workspaces, still stand in an up-and-coming downtown area. Through the city runs its namesake river, and the 1.6-mile Nashua Riverwalk loop is currently being built to provide foot or bike access to historic sites. Like many cities in the U.S., Nashua has been heavily impacted by the opioid epidemic, but has established a task force and received a federal grant to deal with the problem and help people seeking treatment.
---
Parsippany-Troy Hills, New Jersey
Population: 53,910
Median Household Income: $95,779
Median Home Listing Price: $549,000
New York commuters looking for a good place to raise a family should consider Parsippany-Troy Hills, only thirty miles away from Manhattan. The area has among the best public schools in the state: 96% of city high school students graduate, and students outpace the national math and reading test averages by wide margins. Violent and property crimes are significantly lower in Parsippany-Troy Hills compared to the rest of the country, and the city is slightly more diverse than the rest of the state. Plus, the town isn't just for urbanites: Parsippany-Troy Hills boasts 30 parks, including Knoll Park, Lake Parsippany Park, and Cameron Dog Park—and is so green it became an Arbor Day Foundation-designated Tree City USA.
---
WesternWriter—Getty Images/iStockphoto
Rio Rancho, New Mexico
Population: 96,594
Median Household Income: $64,007
Median Home Listing Price: $252,000
From the top of Sandia Peak, one of the many mountain overlooks near Albuquerque, Rio Rancho looks barely visible beyond the Rio Grande. But back on the ground, the New Mexico city of about 96,000 is a center of economic development. The planned community 12 miles outside of Albuquerque is a home to Intel, the California technology company that established a campus in town in 1980. One of the Land of Enchantment's 50 largest employers, the tech company recently announced the addition of 100 new jobs at the Rio Rancho facility. That's part of the city's high projected job growth— 8.3% by 2022, according to Moody's Analytics—which makes Rio Rancho a great place to live.
---
Courtesy of Buffalo Niagara Heritage Village
Amherst, New York
Population: 126,096
Median Household Income: $74,631
Median Home Listing Price: $269,900
In New York's western corner, Amherst is a hub for students from the University of Buffalo, Daemen College, Erie Community College, and Bryant and Stratton College. A 15-minute drive from Buffalo (and only 15 minutes from Canada), it's in close proximity to Niagara, while boasting a great education system and very low crime rate of its own. There's also plenty of history: Amherst State Park has a Veterans Memorial and the Buffalo Niagara Heritage Village, a 3.5-acre recreation of America's earliest days, features objects dating back to the pre-American Revolution era.
---
Courtesy of the Town of Cary
Cary, North Carolina
Population: 162,025
Median Household Income: $99,195
Median Home Listing Price: $442,370
Money not only named Cary the best place to live in North Carolina, but the city also made it into the top 10 of the Best Places to Live in the entire country. Cary offers a quieter, suburban lifestyle with a significantly lower population than nearby Raleigh. You likely won't have trouble finding a job once you get there, as Moody's Analytics predicts the area will see a 9.6% increase in jobs by year 2022—fueled in part by the recent spike in tech sector career opportunities in nearby Raleigh, Durham and Chapel Hill (referred to as the Triangle). Within Cary itself, the median home listing is $442,370 with an average of $3,304 in property taxes. And safety counts: The crime rate is lower than in the state's cities, and also lower than the national average.
---
Credit Greater Grand Forks Convention & Visitors Bureau
Grand Forks, North Dakota
Population: 57,050
Median Household Income: $53,261
Median Home Listing Price: $264,900
The state's third largest city is home to 15,000 students enrolled at the University of North Dakota, and boasts the best average travel time of any city on our list and one of the lowest crime scores. Low housing prices, modest healthcare costs, and low income taxes also make it one of the top five most affordable places on the list, with cultural attractions including the North Dakota Museum of Art, Greater Grand Forks Symphony Orchestra, and Empire Arts Center. The Red River is ideal for outdoor activities in the warmer months (though surrounding flat terrain does make the city susceptible to seasonal flooding), and the 2,200-acre Greater Grand Forks Greenway serves as a pleasant way to spend the afternoon.
---
Gaylon Wampler Photography
West Chester Township, Ohio
Population: 65,197
Median Household Income: $87,002
Median Home Listing Price: $299,000
A suburb of Cincinnati, West Chester Township is a quintessential family community—and an affordable one. With a median household income of just over $87,000, buying a home in town is well within reach for the township's residents. You'll probably need a car to get around, but that's affordable, too: West Chester Township's average annual auto insurance premium—$919—is the lowest on our list. So what to do with the extra cash? There are many activities around West Chester that kids would love—whether that's taking a trip to the nearby Kings Island amusement park or bouncing away the afternoon at Sky Zone Trampoline Park. Adults can get in on the fun, too: The township is within 30 miles of more than 130 golf courses and over 100 museums.
---
Edmond, Oklahoma
Population: 96,602
Median Household Income: $82,502
Median Home Listing Price: $334,900
Heads up, NBA fans: Only 20 miles separate Edmond and Oklahoma City, which means you're a short drive from watching superstar Russell Westbrook and the Oklahoma City Thunder play in Chesapeake Energy Arena. Along with a vibrant sports culture, Edmond's numerous restaurants will bring out your inner foodie. Risk-takers can attempt The Cow Calf-Hay's Six Shooter Challenge, which consists of eating a six-patty cheeseburger (with 12 pieces of American cheese), onion rings, curly fries, and a piece of cake—all in under 45 minutes. Or you can simply enjoy Edmond's 235 clear days a year, and visit Arcadia Lake to fish for bluegill, catfish, and bass.
---
Adam Michaud—New World Industries
Hillsboro, Oregon
Population: 105,832
Median Household Income: $71,908
Median Home Listing Price: $536,000
Nestled in the northwestern corner of Oregon, Hillsboro is about 30 minutes from Portland by car or public transit, and an hour and a half away from the Pacific Ocean. The city itself has around 30 parks, gardens, and trails, great public transportation, and a pedestrian-friendly neighborhood known as Orenco Station. Plentiful outdoor space means there's always something to do, like the Latino Cultural Festival in April or the Saturday farmers' market from May to October. There's also a thriving tech scene in Hillsboro's Silicon Forest, where companies including Intel and IBM have opened offices. Relative to the state, Hillsboro has a low crime rate and is one of the most diverse cities, contributing to its high expected growth rate for housing.
---
Courtesy of the Township of of Lower Merion
Lower Merion Township, Pennsylvania
Population: 60,610
Median Household Income: $127,928
Median Home Listing Price: $575,000
Families will enjoy Lower Merion Township's highly-rated education system: 96% of high school students graduate, scoring well above national average on math and reading tests. (The district is currently fighting a legal battle over allegedly illegal tax hikes.) With just over 60,000 people, the township is removed from the big-city atmosphere of Philadelphia, just 14 miles to the south, and boasts a number of natural draws, such as the Arboretum of the Barnes Foundation and the nearby free public garden Stoneleigh. Hiking is even a possibility in Rolling Hill Park in the northern part of the city.
---
Courtesy of Cranston Historical Society
Cranston, Rhode Island
Population: 81,817
Median Household Income: $66,177
Median Home Listing Price: $229,900
As the state's second most-populous city after Providence, some of Cranston's recent growth may be attributed to its impressive 6.3% increase in jobs since 2010. But there's plenty to do once you arrive. Head over to the Pawtuxet Village, named after the town's former moniker, to shop in Colonial-era buildings and enjoy seasonal events like holiday carriage rides, or visit the Cranston Historical Society. The area also has 143 nearby golf courses, including a public course at Cranston Country Club used in numerous state golf tournaments. (Fun fact: Family Guy creator Seth MacFarlane—who attended college in Rhode Island—said he modeled the animated series' town after Cranston.)
---
Mount Pleasant, South Carolina
Population: 82,416
Median Household Income: $87,878
Median Home Listing Price: $559,000
Located on a South Carolina peninsula, Mount Pleasant is nestled between Charleston in one direction, and the enormous Francis Marion National Forest in the other. Thanks in part to its geography, Mount Pleasant has good air quality for about 85% of the year. The suburb boasts a median household income almost twice that of the state, the lowest crime rate of South Carolina's biggest cities, and test scores well above the state average. There's also plenty of wartime history to be explored, as seen at the Mount Pleasant Memorial Waterfront Park or Patriots Point, where the World War II-era U.S.S. Yorktown aircraft carrier lives.
---
Courtesy of Sioux Falls Convention & Visitors Bureau
Sioux Falls, South Dakota
Population: 180,048
Median Household Income: $61,673
Median Home Listing Price: $250,000
Considering a move to Sioux Falls? If so, you're in good company. The city already houses more than 20% of South Dakota's residents, with a population growth outpacing both state and country averages. Though it may be known for its namesake falls, which cascade just north of downtown, "The Heart of America" is a growing hotspot for employees in finance. Institutions like Citibank, First Premier, and Capital One have headquarters in the area, and jobs in the city are projected to grow 3.4% by 2022. That's good news for anyone looking to escape an arduous drive into the office: The average Sioux Falls commute is only 15 minutes.
---
Courtesy of Visit Franklin
Franklin, Tennessee
Population: 78,376
Median Household Income: $95,489
Median Home Listing Price: $675,000
Franklin features some of the highest median family incomes in Tennessee, but housing doesn't come cheap: the median home listing price at the start of 2018 was at $675,000. Once you do find a home, however, the city doesn't disappoint. There's a 95% graduation rate, with students testing above the state average on math and reading. Experts predict jobs will grow by as much as 10.4% in the next four years, benefiting an already low 2.7% unemployment rate. There's plenty of culture as well, including parades, museums, restaurants, and a thriving music scene. The annual Pilgrimage Music & Culture Festival features local and mainstream artists: Lionel Richie, Jack White, and Brandi Carlile all headlined in 2018.
---
Photograph by Joe Schmelzer for Money
Frisco, Texas
Population: 179,067
Median Household Income: $119,622
Median Home Listing Price: $439,990
There's good reason for Frisco to be named the top city in Texas—it also came in No. 1 overall on our Best Places to Live in 2018. With a highly-ranked education system and the highest median household income in the state, Frisco and its economy are flourishing. Job growth is up 29% since 2010, and is projected to rise another 15% by 2022, according to Moody's Analytics. The Dallas suburb is about 20 minutes from the airport and sits next to Lake Lewisville, surrounded by beaches, campgrounds, trails, and golf courses. The area promises plenty of entertainment for visitors, with Frisco Square, Frisco Heritage Museum, the National Videogame Museum, and the Sci-Tech Discovery Center for kids.
---
Courtesy of the City of Orem
Orem, Utah
Population: 99,662
Median Household Income: $61,259
Median Home Listing Price: $369,201
Just north of Provo, Orem and its residents get the benefits of living outside one of the state's largest cities, combined with the beautiful landscapes of northern Utah. The towering landmark of Mt. Timpanogos is a few hours' drive away, providing residents with hiking and sightseeing opportunities, while Utah Lake, a smaller freshwater companion to the more famous Salt Lake to the northwest, borders the town. But Orem offers more than just sightseeing. With one of our list's lowest occurrences of violent crime, a 91% high school graduation rate, and an affordable cost of living—median property taxes are among the lowest on our list—the city of nearly 100,000 offers a lifestyle that's both family (and wallet) friendly.
---
Cathy Chamberlain Photography
Colchester, Vermont
Population: 17,767
Median Household Income: $69,181
Median Home Listing Price: $389,033
A hidden gem in the Green Mountain State, Colchester has the perks of being near Burlington, the bustling college city six miles south, while saving residents a small fortune on a home. The median Colchester home is listed for 11% less than those in Burlington proper. Several state forests and ski destinations are located within short driving distance, and the 13-mile Island Line Trail, a narrow stretch across the water that connects Colchester with Lake Champlain's Grand Island, is perfect for scenic bike rides. If you're lucky, you might just catch a glimpse of Champ, the Loch Ness monster's fabled lake-dwelling New England cousin.
---
Photographs by Scott Suchman for Money
Ashburn, Virginia
Population: 53,190
Median Household Income: $119,874
Median Home Listing Price: $478,000
Ashburn, the No. 2 city on our Best Places to Live in 2018 list, is a major hub for technology companies and employees—and happens to be the place through which 70% of Internet traffic flows. The subdivision boasts low crime rates and is about an hour and a half from Washington D.C. by car or public transit. Housing is both abundant and affordable (relative to the area), and Ashburn has the best education system in the state, as well as one of the best unemployment rates. Plus, its economy promises more job growth—a projected 12% increase by 2020—than almost any other city. Wineries and breweries can be found in the city and the rest of Loudoun County, known as D.C.'s wine country, while the historic Potomac River offers plenty of activities on either bank.
---
Sammamish, Washington
Population: 52,304
Median Household Income: $154,209
Median Home Listing Price: $1,272,950
With major employers like Microsoft, Amazon, and Boeing headquartered nearby, salaries are high in Sammamish, a Washington community located about 40 minutes east of Seattle. One of the wealthiest zip codes in Washington state, Sammamish's median household earns more than $150,000 a year. So why do high earners head to the lush Washington suburb? It's not the commute—the average drive to work takes nearly half an hour—nor a bargain on home prices —the median house sold for more than $930,000 at the start of 2018—that drives high-income residents to the area. Rather, it's the community. The city of about 52,000, which Forbes named one of the friendliest towns in America in 2012, is home to good schools, low crime rates, and lots of outdoor activities, from hiking or biking down wooded trails to swimming at nearby Lake Sammamish.
---
Courtesy of Tour Morgantown
Morgantown, West Virginia
Population: 31,849
Median Household Income: $38,060
Median Home Listing Price: $241,300
Morgantown houses a top-rated public college, West Virginia University, whose campus offers residents a variety of diversions, including scenic walking and bike trails in the Core Arboretum and a photo op next to a statue of basketball legend Jerry West in the Coliseum. You'll find classic restaurants like fried chicken haven Dirty Bird and a host of annual festivals. Get to know fellow bikers at the MountainFest Motorcycle Rally, ring in the spring with a 5K and live music at the nearby Cheat River Festival, or raise a glass at the West Virginia Wine and Jazz Festival.
---
Courtesy of Travel Wisconsin
Madison, Wisconsin
Population: 249,413
Median Household Income: $61,601
Median Home Listing Price: $329,900
Get ready for some cheese curds: Wisconsin's capital is projected to see some of the highest job growth in the state, on top of an already low state unemployment rate of 2.4%. Other perks include an average 18-minute commute and 5.5% sales tax. Head to one of the five lakes or 42 nearby farmers' markets, like the one in Dane County, the largest producers-only market in the country. For some fun, check out the city's Mustard Museum to taste a few of the 6,090 condiment variations from all 50 states and 70 countries. Be sure to also swing by the University of Wisconsin's Babcock Hall Dairy Store, which serves hearty scoops of ice cream and helps the school's agricultural department with dairy research.
---
Ronald C. Modra/Sports Imagery—Getty Images
Cheyenne, Wyoming
Population: 62,237
Median Household Income: $61,275
Median Home Listing Price: $315,000
Residents of the Wyoming capital can enjoy both the outdoors and a decent cost of living—health insurance expenses and housing costs both fall well below the national media—little economic distress, and one of the best inter-city average travel times on our list. The median family income in Cheyenne is about $74,000—just above the national median—taxed at a relatively low rate. The city is home to the Cheyenne Frontier Days Old West Museum and pays tribute to the state's pre-frontier history with the Wyoming State Museum. Both are located in the quaint historic downtown area around Capitol Avenue. For non-history buffs, there's the Cheyenne Botanic Gardens, which sits off the walking path around Sloans Lake, where families can enjoy picnic tables on the 233 clear sky days of the year.
---
Methodology
To create Money's Best Places to Live in Every State ranking, we looked only at places with populations of 50,000 or greater. We eliminated any place that had more than double the national crime risk, less than 85% of its state's median household income, or a lack of ethnic diversity. This gave us 583 places.

We then collected more than 135,000 different data points to narrow the list. We considered data on each place's economic health, cost of living, diversity, public education, income, crime, ease of living, and amenities, all provided by research partner Witlytic. Money teamed up with realtor.com to leverage its knowledge of housing markets throughout the country. We put the greatest weight on economic health, public school performance, and local amenities; housing, cost of living, and diversity were also critical components.

Reporters then researched each spot, checking out neighborhoods and searching for the kinds of intangible factors that aren't revealed by statistics.

Using the process above, we discovered the best-performing city in 45 states. For Delaware, Hawaii, Maine, Vermont and West Virginia—the five states that had no eligible cities on the list due to our initial screening factors—we considered the broader set of data that informed our 2017 Best Places to Live list. In these cases, figures in the article represent 2017 numbers. The 2,400-place data set included locations with populations between 10,000 and 100,000 and similarly excluded any place that had more than double the national crime risk, less than 85% of its state's median household income, or a lack of ethnic diversity.
Rankings derived from more than 70 separate types of data, in the following categories:
Economy

— based on local unemployment rate, historical job growth, projected job growth and the level of employment opportunities available, among other factors.

Cost of living

— based on tax burden, insurance costs, commuting costs, medical spending, utility, and home expenses.

Diversity

— based on racial makeup, racial integration, and economic diversity within a place's population.

Education

— based on math and reading test scores and local and county level high school graduation rates.

Income

— based on historical median household income, projected household income, a comparison between local and state median household income and change between current and historical household income.

Housing

— based on realtor.com Housing Affordability Index and Housing Growth Index at city level, plus other realtor.com housing statistics available at

realtor.com/research

.

Crime

— based on property and violent crime risk as well as homicide and drug overdose rates.

Amenities

— based on number of doctors and hospitals in the area as well as number of leisure activities in the town and surrounding area, including bars, restaurants, museums, sports complexes, and green spaces.

Ease of living

— based on commute times, weather, and other factors.

Sources
Witlytic, realtor.com, Synergos Technologies, Federal Aviation Administration, OpenFlights, the EPA, CarInsurance.com, Infogroup, Brewers Association, Recreation.gov, POI Factory, the Council for Community and Economic Research, Economic Innovation Group, U.S. Department of Education, Kaiser Family Foundation, SchoolDigger, Bureau of Labor Statistics, Moody's Analytics, U.S. Department of Agriculture, National Center for Education Statistics, U.S. Department of Health and Human Services, MCH Data, Centers for Medicare and Medicaid Services, Internal Revenue Service, American Alliance of Museums, League of American Orchestras, ATTOM Data Solutions, Sale-tax.com, Whitebook of Ski Areas, Mountain Vertical, National Oceanic and Atmospheric Administration, American Winery Guide, Association of Zoos and Aquariums, Kiplinger, state tax departments, Tax Foundation, U.S. Geological Survey, American Community Survey, U.S. Census Bureau, University of Wisconsin Population Health Institute, Centers for Disease Control and Prevention, U.S. Department of Housing and Urban Development, Substance Abuse and Mental Health Services Administration, Institute on Taxation and Economic Policy, and U.S. Energy Information Administration.
Infogroup's human-verified business database consisting of over 16 million records across the U.S. was utilized in Money's evaluation of the volume and quality of resources available to communities. Infogroup's data consists of rich attributes such as business profiles, openings, closings, images, social URLs, lat/longs and much more.