The Future's Most Walkable Cities: Prepare to Be Surprised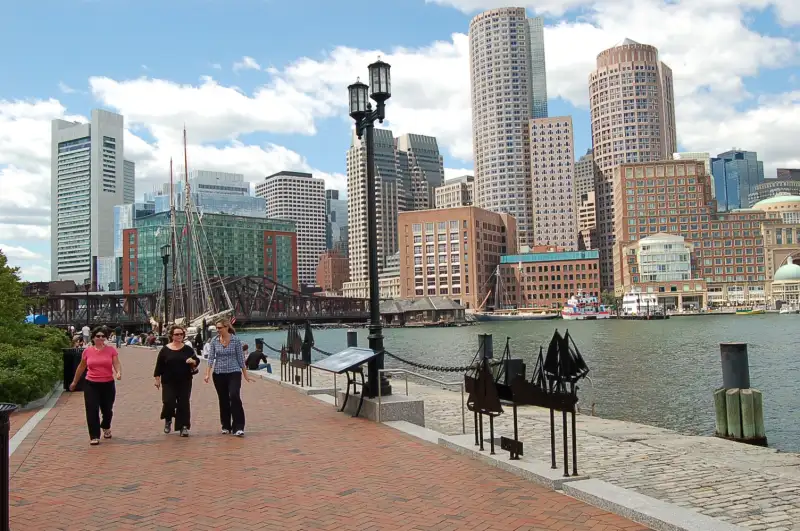 Boston Harbor Association—Boston Harbor Association
If you live in Washington D.C., New York City or Boston and your legs are your main mode of transport, this won't be news to you: These three cities rank among the country's most walkable large cities, and they are destined to remain so.
After those top three, watch out: Cities known more for suburban sprawl and traffic jams have new development planned that will shoot them up into the top scores as "walkable urban place," or, WalkUPs, as researchers at George Washington University and advocacy group Smart Growth America call them.
Miami, Detroit, Denver, and Tampa will vault into the new Top 10 large WalkUPs, according to a new study released today. Atlanta, Los Angeles and Phoenix will also take a big leap forward. Future rankings are based on things like planned investment in public transportation and commercial clusters.
Destination DC—Destination DC
"The WalkUPs are witnessing the end of sprawl," said Christopher Leinberger, a professor of urban real estate at George Washington University School of Business. "This is a change in how we built the country in the 20th century." Suburban sprawl, he argues, has constrained the country's economic growth.
Walkable urban places, sometimes referred to as urban burbs, have high concentrations of college-educated adults and demonstrate a strong correlation between urban development, education and economic growth. Office rents in urbanized areas, for example, command a 74% premium over suburban. (Researchers focused on the 30 largest metropolitan areas because they comprise 46% of the U.S. population and 58% of the country's GDP.)
And homeowners, take note: Walkability and proximity to shopping, restaurants and work are becoming increasingly important to buyers, especially young buyers. Research has shown that increases in measures of walkability such as WalkScore translate into increased property values.
Today's Top 15 Walkable Cities
1. Washington, D.C.
2. New York City
3. Boston
4. San Francisco
5. Chicago
6. Seattle
7. Portland, Ore.
8. Atlanta
9. Pittsburgh
10. Cleveland
11. Baltimore
12. Miami
13. Philadelphia
14. Denver
15. Houston
Least Walkable: Tampa, Phoenix, Orlando
The Future's Most Walkable Cities
1. Boston
2. Washington, D.C.
3. New York City
4. Miami
5. Atlanta
6. Seattle
7. San Francisco
8. Detroit
9. Denver
10. Tampa
11. Los Angeles
12. Phoenix
13. Houston
14. Portland
15. Chicago
Least Walkable: San Diego, Kansas City, San Antonio