A Thief Stole My Mother's Jewelry, and I Blame Myself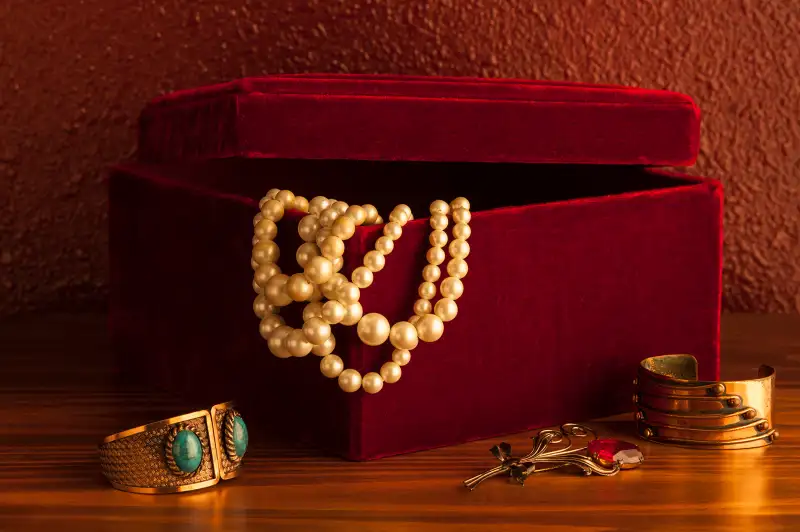 Before the burglary, there was a note of grace.
It came after my mother's funeral, after the visitors who'd brought food and consolation left, when my sister and I retreated to my bedroom to divide up the jewelry. Our method was simple. We laid it out on the bed, studied it for a few moments, and then each picked the one piece we wanted most. We were very tender with each other, determined that to be conflict-free. And we were mindful that this wasn't just for us. We both had daughters. Someday we might have daughters-in-law. There were grandchildren to consider, living and to be born. We proceeded, taking turns while reminiscing, until there were two neat and equal piles, two sisters who, though grieving, felt close and loved. I remember thinking, that was easy. Everyone should split their inheritance like that.
I put my half—my mother's Schlumberger wedding ring, my grandmother's platinum dinner ring, my grandfather's gold pocket watch, my paternal grandmother's moonstone bracelet and onyx cuff—into my jewelry box. There they sat commingled with my mother-in-law's turquoise rings, the necklace my husband's grandmother made for me out of one of her diamond studs when she learned I was going to be part of the family for good, and the pearl necklace my husband gave me on our wedding day.
The burglar—he was a front door break-in guy—had a good eye. No costume jewelry for him. He was in and out fast. The cops guessed it took five minutes, and that he hurried because my old dog was barking. That left plenty of time to collect enough gold for a big pay-off.
My first thought was this: My paternal grandmother left Nazi Germany in 1937 with one suitcase. Most likely she kept her jewelry close, hidden in the pockets of her coat. My maternal grandmother, a poor immigrant from Poland who became only slightly less poor in Brooklyn still somehow managed to scrape together enough money to buy an elegant dinner ring so she'd have something to wear to weddings. No living relative remembers where my grandfather got his gold pocket watch, but it's safe to assume it wasn't a retirement gift from the Garment District factory where he worked, making hats. All of it gone, on my casual watch.
I know people who keep their good jewelry in safety deposit boxes at banks and people who have safes in their homes. I know people with alarm systems; we have one of those now, which is always on, though there isn't any jewelry left to steal. But most of the people I know keep their jewelry in a box on their bedroom dresser, like I used to. The human heart yearns to believe the world is good and safe.
What happens when your dead mother's jewelry is stolen? If you're me, you think about value. Monetary value—why didn't I sell what I was never going to wear?—and sentimental value—why didn't I do a better job protecting the jewelry I wanted to hand down to my daughters.
When my older daughter got married the absence of my mother's jewelry was powerful. This is exactly why we sentimental types don't cash in the bracelet, the earrings, the broach. We imagine our daughters carefully examining the contents of our jewelry box and then picking out a treasure, something borrowed to wear on their special day.
After the burglary, there was another note of grace. A dear friend made this unsolicited offer: would my daughter like to borrow a gold bracelet that had belonged to her husband's grandmother, a cherished piece of jewelry that always came along on someone's wrist to every one of their family's special occasions. My daughter accepted. It wasn't her own great-grandmother's bracelet that she wore to her wedding on her slender wrist, but it was a treasured heirloom, a symbol of continuity and family love.
As for me, the jewelry I valued most turned out to be my own: the pearl necklace my husband gave me on our wedding day. He'd bought it at a small jewelry store in the neighborhood in Queens where we first lived together. Two women owned the small shop. Most of their jewelry wasn't expensive so we could afford to shop there. Some of these small early gifts were stolen as well. The pearl necklace my husband bought there was one of their more expensive items.
In the final note of grace, my husband googled that store the day after the burglary. The women who sold him the necklace were still there and remembered us. They no longer carried pearl necklaces, but they offered to help my husband find one that would be similar to the one he'd bought me twenty-five years before . He met them in city. They showed him several choices and he picked one. I wear that necklace now to all family weddings and celebrations. Note to burglars: when it's not around my neck, it's in a safety deposit in a bank.
Nancy Star is a former movie executive turned author. Her novel Sisters One, Two, Three was published Jan 1 by Lake Union. Her essays have appeared in the Washington Post, the New York Times, Publishers Weekly, and Family Circle. Visit her at www.nancystarauthor.com and follow her on Twitter @NancyStarAuthor.