These Are the Highest-Paid College Football Coaches in America Right Now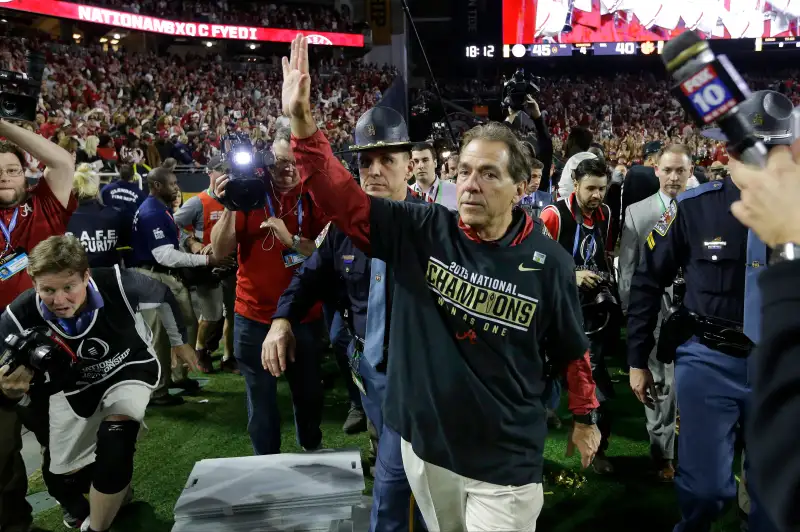 When the University of Alabama faces off against Clemson University in the 2017 College Football Playoff National Championship game Monday night, it will represent a battle between two of the highest-paid public employees in America.
But there remain large gaps between how much the NCAA's top football coaches are paid, and how their teams end up performing on the field.
You may have seen the map showing that the highest-paid public employees in each state are all athletic coaches.
In this case, it is true that the highest-paid public employee in Alabama (as well as the country), Coach Nick Saban, will compete against the highest-paid public employee in South Carolina, Coach Dabo Swinney.
Saban, currently the winningest active coach in all of college football with a record of 205-60-1, will pull in approximately $7 million this season. Saban is under contract for the next six years and is set to make at least that amount in each of them.
But the school that got the biggest bang for its coaching buck this year, relatively speaking, is Clemson. Coach Dabo Swinney will have earned $4.4 million this season, putting him 12th among all Division 1 coaches. Clemson was one of three D-1 teams to finish the season with just one loss. Swinney has a lifetime head coaching record of 88-28.
But neither Saban nor Swinney is the highest-paid coach in the sport. That distinction belongs to the University of Michigan's Jim Harbaugh, who this year earned $9 million on a $5 million base salary and an additional $4 million as a loan against a premium on a life insurance policy taken out by the university.
The Michigan Wolverines finished the season 10-4 after losing by one point in the Rose Bowl. They did not make the recently created College Football Playoff.
Indeed, just two of the top-10 highest-paid college football coaches did so, as you can see below. And three of the top-10 highest-paid coaches finished with losing records.
The highest-paid coaches in NCAA Football
(Associated Press ranking; 2016 record)
Jim Harbaugh, University of Michigan (6th; 10-2): $9,004,000
*Nick Saban, University of Alabama (1st; 13-0) : $6,939,395
*Urban Meyer, Ohio State University (2nd; 11-1) : $6,094,800
Bob Stoops, Oklahoma University (7th; 10-2): $5,550,000
Jimbo Fisher, Florida State University (10th; 9-3): $5,250,000
Charlie Strong, University of Texas (unranked; 5-7): $5,200,130
Kevin Sumlin, Texas A&M University (unranked; 5-7): $5,000,000
Gus Malzahn, Auburn (17th; 8-4): $4,725,000
Hugh Freeze, University of Mississippi (unranked; 5-7): $4,700,000
Kirk Ferentz, University of Iowa (21st; 8-4): $4,500,000
*Advanced to four-team College Football Playoff; Data via USA Today and Associated Press