These Real-Life 'Golden Girls' Moved in Together in Their 60s. Here's How They Make it Work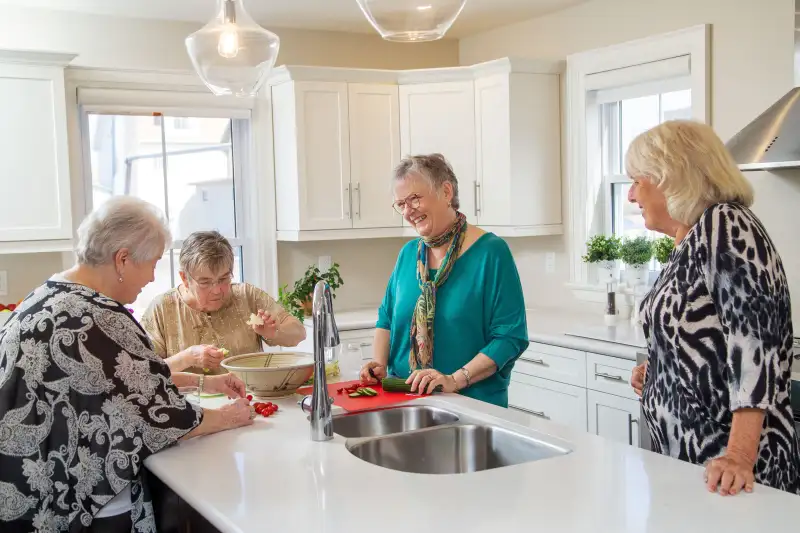 Photograph by Carlos Osorio for Money
Louise Bardswich was in her late 50s and searching for a new retirement home for her mother when she realized living in any type of care facility would never be for her.
The issues that arise from such a living situation — the lack of freedom, having to leave the comfort of your own home, and the loneliness, among others — didn't appeal to her at all. Assisted living worked well for her mother, who liked it, but Bardswich knew it didn't fit her own lifestyle. Plus, "she had more money than me," says Bardswich, of Ontario, Canada.
"Even if I wanted a retirement home, I just couldn't afford it," says Bardswich, now 67, a former college dean, of her decision to turn away from a typical retirement home.
The national median monthly cost of a private room in a nursing home in the U.S. is $8,365, according to Genworth Financial, which means it costs more than $100,000 annually to live in a retirement home, and the price tag is only going up. Living in a nursing home in Ontario is cheaper than in the U.S., at a monthly average cost of $3,038--but it is still by no means a bargain.
Instead, Bardswich embraced an unconventional housing arrangement in her later years. "I recognized that at some stage I was going to be living with other people, probably because at some point I would become infirm enough that my family said, we've got to move you in with somebody else."
Bardswich didn't want to wait for that to happen to her: "If you recognize it's going to happen anyhow, then take control, figure it out and live with people you want to live with," she says.
That take-charge attitude prompted the purchase and renovation of the residential home she now owns with three other retirees — Martha Casson, 70, Sandy McCully, 74, and Beverly Brown, 67. Before they moved in together, the women knew each other socially; Bardsiwch and Brown were in the same curling club. They've become known as the "Golden Girls" of Port Perry, Ontario (after the popular 80s TV series where four older women share a home).
With the help of a local builder who specializes in designing homes for older adults, they built their own version of a retirement paradise. They designed the property — a 6-bedroom, wheelchair-accessible 5,000 sq.-foot farmhouse — to allow them to remain independent and still enjoy the benefits of companionship and the security of knowing they can stay there forever, barring any unexpected changes to their lifestyle or health status. They moved in in November, 2016.
The Golden Girls are hardly alone in their pursuit of shared living to help lower their housing costs and enjoy a more dignified retirement: The number of older adults in search of roommates is growing fast.
Courtesy of Louise Bardswich
The Number Of Real-Life 'Golden Girls' Is Growing
People aged 50 and over are the fastest growing demographic on SpareRoom, says Matt Hutchinson, communications director of the company, an apartment-sharing service that helps roommates find each other via online ads and in-person meet ups. The number of 50-plus users on the site has grown 27% in the last year alone, he says.
Women are also more likely than men to home share, in part because they tend to make less money and can also end up in worse shape financially after a divorce, according to Anne Glass, a professor and gerontology program coordinator at the University of North Carolina Wilmington.
"While it is still only a small percentage of older people, the numbers are unprecedented and rising," she says.
Many factors contribute to needing a roommate later in life, like divorce or lack of children or a support system to take care of you. But the most common reason older people bunk together is financial, experts say.
Yet cohabiting out of financial necessity turned out to be one of the best things that happened to Bardswich and her new housemates in retirement.
"What surprised me is that I like it and it works," she says. "I was really just going into it as a pragmatic solution. In that very first week, I found myself waking up in the morning and hearing voices downstairs and thinking 'this is pretty cool, I wonder what they're talking about,' and I'd go downstairs and coffee was ready."
But living with other people can be hard if you've been living alone for a few decades. The solution for Bardswich and her three housemates was to hire lawyers to create two legal legal documents — one for the joint purchase of the home (the technical real estate term is "tenants in common") and a legal operating agreement outlining the boundaries for day-to-day communal living in their new abode.
The operating agreement addresses issues like what happens if someone needs to sell her share of the house or her estate needs to sell. It also includes an approval process for new roommates: Everyone has to agree, and if no agreement is reached after one year, they put the house up for sale.
To avoid clashes when it comes to style and taste, the women enlisted the help of an interior designer to decorate the common spaces.
The operating agreement also tackles other delicate, but equally important issues regarding aging in place together.
"As you get older, personalities can change. If something gets truly ugly we have a process for "voting someone off the island"," Bardswich says.
Courtesy of Louise Bardswich
Sharing Finances Requires Lots of Planning
Trickiest of all when it comes to home sharing may be finances. Purchasing their Port Perry, Ontario, property was just the beginning of pooling their money for Louise, Martha, Sandy and Bev. The initial financial commitment for each woman was $252,800 Canadian dollars (about $189,000 U.S. dollars) to buy and renovate the home, plus any individual upgrades to their bedrooms or bathrooms. They also each put $20,000 in a joint account for things like upgrading the kitchen, new common-area furniture and extra lighting.
With guidance from the Toronto Rehab Institute, they also outfitted the home for aging in place: They installed an elevator that goes to all three floors, roll-in showers, extra wide doorways, stair treads and a full caregiver suite should anyone ever require live-in care.
The women don't plan to be each other's caretakers, however. "Certainly if somebody's sick we'll bring them a cup of tea, but if you need real care? No. Pay for it, and if you can't or if you need more care than can be provided in the house, then it's time to go," Bardswich explains.
But the women have talked about being able to share a live-in caretaker or at least someone who does most of their cooking and housekeeping if they need help.
After the upfront costs, they worked out the details of the daily "operating" costs of their retirement home. All four women contribute $1,100 a month to a joint account for expenses like utilities, taxes, maintenance and yard work, and the cleaning service they have come once a week (they wanted to avoid disagreements about frequency and quality of cleaning amongst themselves). Right now, they're each adding an additional $200 a month to build up a $30,000 contingency fund, should the house require a major repair like a new roof, Bardswich says.
Streamlining their grocery shopping process also helps, she says, and they now each contribute $100 a week for food, while alternating who does the shopping every week. All of the food is communal.
"The rule is you never get to say 'that's my yogurt.' If it's in the fridge or in the cupboard, you can take it," Bardswich says.
Built-In Companionship Has Benefits
The women don't aim to be best friends. Bardswich thinks the arrangement has been healthy that way, but says they often have dinner and one or two glasses of wine together. Maintaining open and direct communication is also a part of their agreement, and so far it has worked well. They discuss everything in advance to avoid potential conflict in the moment, and generally share the same values.
One in three Americans over the age of 45 say they are lonely, according to AARP, and social isolation can lead to a higher risk of hospitalization and early death.
"We now know that social isolation is as bad for you as smoking cigarettes," says Glass. So living with companions can actually be good for your health. "Plus, there is the security of having someone know if something happens to you," Glass adds.
Overnight guests and visits from family are allowed, along with Bev's bridge club gatherings, or hosting the occasional political reception or social get together, "spontaneous porch parties" included, all of which provide a sense of community in their home.
Bardswich says the women also get to "share grandchildren."
"My grandsons...are there all the time and talk about how it's almost like having four grandmas," she says. "Sandy bakes with them, Martha gardens with them. The same thing happens with Bev's grandkids when they come over."