6 Things That Are Getting More Expensive Even as Inflation Cools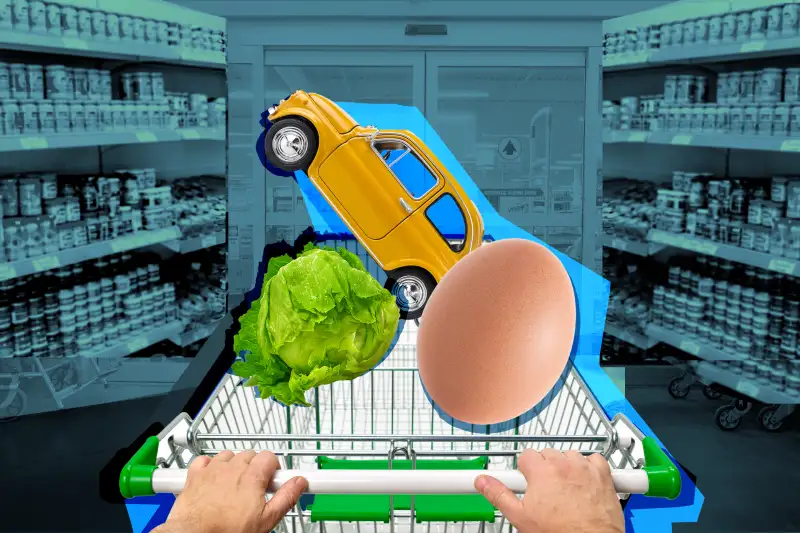 Eddie Lee / Money; Getty Images
Inflation is finally slowing down, and the Federal Reserve is expected to opt for a smaller interest rate hike this week, but certain items just keep getting more expensive.
The inflation rate for the past year is 6.5%, according to the U.S. government's latest consumer price index (CPI) report. That figure has declined for three consecutive months, but it remains high by historical standards. And some 15% of Americans still think inflation is the top issue facing the country.
Though not everything can be blamed on inflation, high and rising prices for essentials like groceries and fuel remain frustrating — and top-of-mind — for consumers. Here are six things that are rising in price:
Groceries
Grocery prices are up 11.8% in the past year, outpacing overall inflation, according to the "food at home" index in the CPI.
In particular, the cost of eggs has skyrocketed by 59.9%, in part because avian flu outbreaks have been forcing farms to cull chickens.
Crop failure in California's Salinas Valley has led to lettuce shortages and a 24.9% price increase for the greens. Warm weather contributed to higher levels of plant diseases, according to the Grower-Shipper Association of Central California. In December, the shortages reached the point that Subway implemented a "temporary lettuce portion reduction," as Supply Chain Dive reported, limiting the amount of lettuce it added to sandwiches.
At the grocery store, shoppers will also likely find they're paying more for the following items, all of which have seen double-digit price increases in the past year: butter (prices up 31.4% from 2021), flour (23.4%), bread (15.9%), roasted coffee (15.5%), cereal (13%) and potatoes (12.9%).
Food prices may continue to rise a fast rate in 2023, as well. Researchers with the U.S. Department of Agriculture have forecast that food-at-home prices will increase by 8% this year.
Gas
The cost of the average gallon of gas has risen to $3.49, a 44-cent increase from a recent low of $3.05 in late December, according to price comparison app GasBuddy. The higher prices come after winter weather impacted refineries last month and as China's post-pandemic reopening has put upward pressure on oil prices.
Jet fuel prices have also soared since December, which doesn't bode well for the spring travel season. Airfares are currently up 28.5% in the past year, according to the CPI.
Cars
The average sale price for a new vehicle reached a record high in December of $49,507 after increasing by about $2,300 in the past year and by more than $10,500 in the past three years, according to Kelley Blue Book.
Used car prices shot up during the pandemic, but they're down 8.8% over the past year, according to CPI data.
Other costs that come with owning a car have also been getting more expensive, too. Vehicle repair costs are 19.5% higher than they were a year ago, while the price of auto insurance is up 14.2%.
Streaming
A number of major streaming services have raised their prices in recent months.
HBO Max just increased the cost of its ad-free plan from $14.99 to $15.99, and the cost of an ad-free Disney+ subscription went from $7.99 to $10.99 in December. Apple hiked the monthly price of its Apple TV+ subscription from $4.99 to $6.99 in October.
If you share a Netflix password with friends, family or exes, that's also likely to start weighing on your wallet. Executives have announced their intentions to crack down on password-sharing by the end of March, saying the widespread practice "undermines our long-term ability to invest in and improve Netflix, as well as build our business."
Beer
It's getting more expensive to crack open a cold one. The prices that consumers pay for beer in stores have been rising since September and have increased by 8.6% in the past year, per the CPI.
Industry experts attribute the trend to a bad crop year in 2021 for barley, which led to higher malt prices, as well as rising canning costs, according to a Central Oregon Daily News report.
Health care
In 2022, a record share of Americans put off medical treatment due to high costs, according to a Gallup survey. Nearly 4 in 10 people say that they or a family member skipped care last year for cost reasons.
The price of health insurance is up 7.9% in the past year, while medical care services are 4.1% more expensive, according to the CPI report. Within that latter category, the price of dental services has increased by an even higher rate of 6.4%.
More from Money:
Inflation Is No Longer the No. 1 Problem Facing the Country: Poll
Gas Prices Are Back Above $3 in All 50 States
A Record Share of Families Delayed Medical Care Last Year Because It Was Too Expensive