This 11-Year-Old Started a Body Scrub Business to Help Her Furloughed Mom. She's Made $6,300 and Counting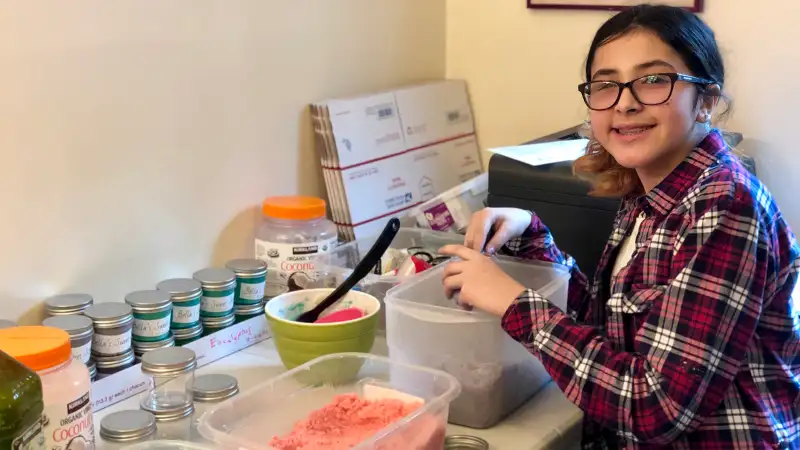 Courtesy of Jessica Berrellez
The government shutdown has persisted for over a month, leaving approximately 800,000 federal workers without pay. While Washington, D.C. is at a standoff, one budding entrepreneur is taking matters into her own hands. Guess what? She's 11 years old.
Bella Berrellez, a fifth-grader in Gaithersburg, Maryland, is the daughter of furloughed federal employee Jessica Berrellez, who works for the U.S. Food and Drug Administration and has spent the last month without a paycheck. Bella decided to help the family's situation by creating and selling homemade sugar body scrubs.
"I wanted to help my family and my mom," she tells Money. "I heard my parents talking about [the shutdown] and I also saw it on the news. The first thing was: How can I help? And then it started off as a mother-and-daughter activity. Then I decided it really works and it's a lot of fun. I could use this to make a profit and donate."
Berrellez got her mom's help to test and create the original recipe for Bella Sweet Scrubs. For those not in the know, a body scrub contains coconut oil, olive oil, and sugar granules and exfoliates the skin, supposedly resulting in smoother, more glowing skin. She's selling them on Etsy for $7 each, with scents including rose, coconut, brown sugar, and lavender. In the few weeks the product has been available, the young Berrellez says she has taken over 900 orders.
Due to the increased demand, she hasn't been able to ship out all the orders quite yet, but the plucky pre-teen says, "We're on our way to fulfilling all of them." She also wants to expand the line to lotions, soaps, and bath bombs.
Berrellez is already a seasoned small-business entrepreneur, calling this her third startup. She previously began selling earrings and slime, before her slime sales were shut down by her school. But now she's landed on something that not only has demand, but a true social benefit. Using proceeds from the scrub sales, she donated $100 to the nonprofit Nourish Now, which provides meals to families in need. "I get to think of creative ways to help people," Berrellez says.
And for what it's worth, Mom approves of the new venture. "I think it's fantastic," Jessica Berrellez says. "Initially when she proposed this, we didn't think much of it. She's a natural entrepreneur. We were just glad it wasn't an illegal slime business, so we were like, 'Go for it!'"