This 39-Year-Old Saves 75% of Every Paycheck and Is Almost Ready to Retire. Here's How She Does It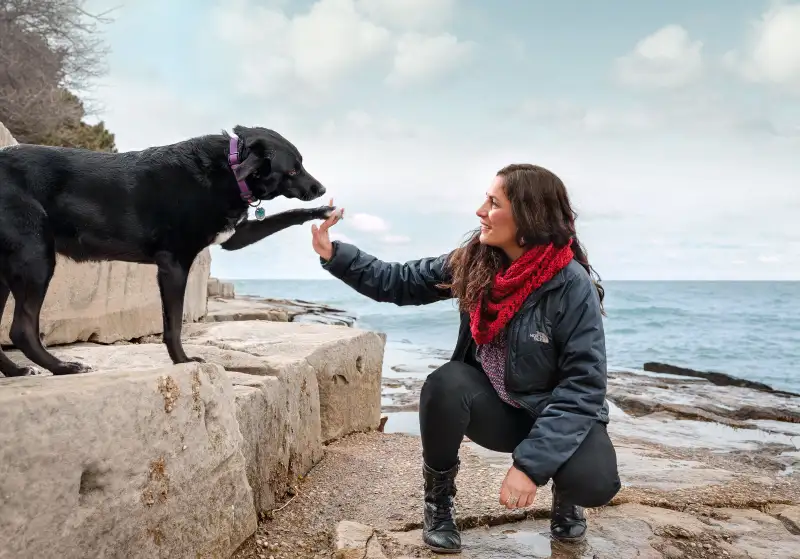 Photograph by Saverio Truglia
Just five years ago, Bianca DiValerio was struggling through a divorce and the last of three short sales that nearly wiped her savings out during the financial crisis. Today the Chicago flight attendant, 39, projects she'll reach financial independence within a year—that is, she calculates she will have saved enough so she won't need to work for the rest of her life.
"I am in disbelief that I am where I am," says DiValerio. "But the numbers don't lie, and I worked my butt off to get here."
DiValerio belongs to the FIRE movement, short for Financial Independence/Retire Early. It's a term adopted by super savers who aim to quit the rat race decades before their peers, typically before they reach 40. They hang out on blogs and Reddit, swapping tips about Roth retirement accounts and the best mortgages for their multi-family investment properties, and sometimes meet up in real life at conferences and retreats.
For her part, DiValerio doesn't plan to do nothing when she reaches financial independence. She loves her job too much for that. But she does plan to be choosier about her shifts, and to take extended breaks to travel and volunteer. Here's how she went from being a near-broke divorcee to standing on the cusp of financial freedom.
Photograph by Saverio Truglia.
Find Your Tribe
DiValerio is a woman who doesn't have a college degree and math was never her best subject. But she didn't let this intimidate her.
She'd always been a good saver, and since discovering the FIRE community in 2015, DiValerio began teaching herself the path to financial independence. She found Mr. Money Mustache, an influential blog written by Pete Adeney, a former engineer who retired at 30 and lives in Colorado with his wife and son. His Jan. 13, 2012 post called "The Shockingly Simple Math Behind Early Retirement" is widely considered the playbook for constructing a portfolio to sustain you for decades after you stop collecting a paycheck. She herself started blogging herself in 2016, at missmazuma.com.
"There are money nerds anywhere," DiValerio says.
She is grateful to have some nearby, and in the cities she visits for work, with whom she can picnic and otherwise hang out on the cheap. She loves inviting friends over to cook and drink wine. She'll still occasionally go out for a nice restaurant meal, and it's a conscious splurge when she does. "I like me some fancy stuff, too, but I don't want to work too long to afford it," she says.
Embrace Boxed Wine
DiValerio says she saves three-quarters of her $75,000 flight attendant salary, plus has a additional income from side hustles including selling furniture she refurbishes on Craigslist and eBay as well as house and dog sitting. She lives on roughly $20,000 a year. And no, as she writes on her blog, it's not because she has a sugar daddy footing her bills. So how does she do it?
For starters, she owns her small studio apartment outright, and it's in a not-so-fancy part of town. She has no children. And she's all trimmed the fat out of her budget…literally. DiValerio eats mostly vegetarian, with some fish. Once she discovered how much of her paycheck went to Whole Foods — meticulously tracking spending is a key part of the FIRE discipline — she stopped going there altogether and now shops for groceries at Aldi's and Costco instead. Bottled wine went out too, in favor of the cheaper, boxed version.
It helps that her hobbies are free or low-cost. "Hiking is one of my greatest joys, and that costs nothing," she says. Thanks to her job, she can fly free to many destinations, slashing her vacation costs; she also does low-cost volunteer vacations.
Photograph by Saverio Truglia
Find Your Groove
Many folks go overboard when they first start down the FIRE path, DiValerio says, slashing their spending to the bone. "You could wind up being miserable for months or years," she says. And if you get hit by the proverbial bus, or get a terminal diagnosis, then your sacrifices will be for nothing.
So DiValerio says it's good to recalibrate and find a comfortable groove, as she did last year. In 2016, she boosted her earnings by setting a monthly goal of 100 flight hours, compared to her prior average of around 60. (Flight attendants are paid only for hours actually in the air; they're not compensated for layovers or delays.) This boosted her pay by 40%, and she banked all of it.
While that decision helped her turbo-charge her savings, it also took a toll. She came to dread the start of the month, imagining all the hotel rooms that she'd be occupying, away from her dog and her boyfriend at the time. Flying so much is also hard on the body, with erratic sleep and eating schedules.
DiValerio eased her flying goals for last year and loosened her budget a bit. After all, she says, "You don't want to frugal yourself into a corner." That is, you don't want to reach financial independence through draconian means, because that could lock you into a low spending rate that makes you miserable. Her goal is to amass a portfolio that throws off $2,000 a month for life, a comfortable amount for her that she expects to achieve next year if the market doesn't tank.
"The point of this is to thrive in your life," she says, "and to not feel like you're missing out."