This Man Has Bet $100 Million That He Can Make Americans Love Soccer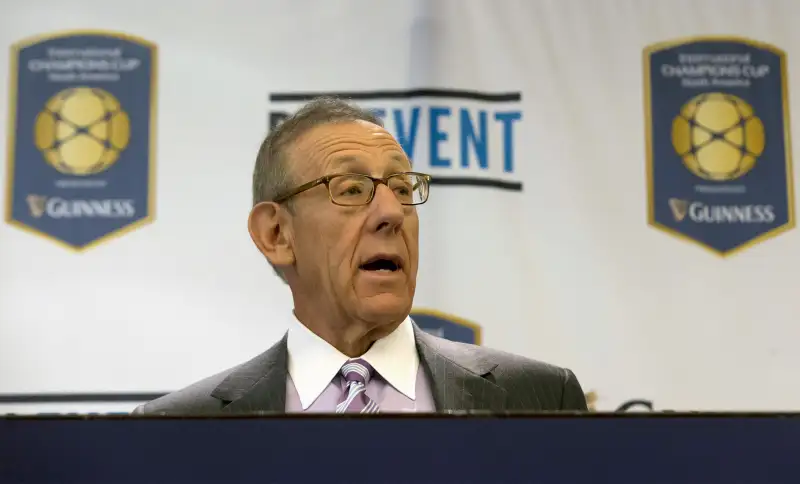 Most people turn to driving for Uber or doing odd jobs for Task Rabbit as a side hustle. For billionaire Stephen M. Ross, it's starting an international soccer tournament in the United States.
Launched in 2013, the International Champions Cup was based around his epiphany that American fans would pay top dollar "to see the best teams and players" in the world. In formatting this new tournament, Ross championed the idea of consolidating what used to be a series of one-off friendly matches into a month-long competition with a trophy. In recent years it has expanded beyond the U.S. to encompass multiple continents, with several matches in China and Singapore this year.
Ross, who owns the NFL's Miami Dolphins but made his fortune through real estate and is worth $7.4 billion, first started kicking the idea around in 2011 while watching F.C. Barcelona play Mexican club Gaudalajara at the Dolphins' stadium in Miami Gardens. The game attracted over 70,000 fans - at the time, the biggest soccer crowd in Florida's history.
Getting the I.C.C. up and running wasn't easy — it took time to build a rapport with the best teams, as well as a "significant up front investment," according to his business partner Matt Higgins, a former New York Jets exec with whom he founded RSE Ventures - a collection of sports-related businesses.
By his own estimates, Ross has invested over $100 million into the I.C.C. "We've made a lot of mistakes, and we've lost a good deal of money," he says. "But I really believe that in the long term, this is what America wants to see."
This year's edition is poised to make a large impact, boasting the best line up yet — including the world's top teams: Barcelona, Real Madrid, Manchester United, Manchester City, Bayern Munich, Paris Saint-Germain, and Juventus. The 15 participating clubs have a combined market value of $8.7 billion, or an average of $580 million, according to industry experts Transfermarkt.
The tournament has seemingly caught on: The first nine matches played across the U.S. drew a total of 528,121 fans, with an average of 58,680 per game. With three games still left, this is already higher than last year's comparable average of 57,081. Two attendance records have been broken so far this year, too, with 82,104 fans attending Barcelona's 2-1 defeat of Juventus at MetLife Stadium last weekend, and 93,098 in attendance for Manchester City 's 4-1 victory over Real Madrid at the L.A. Coliseum earlier this week.
The marquee matchup, dubbed the "El Clasico Miami," is set for this Saturday. It will be the first-ever match in North America between Barcelona and Real Madrid, and the first outside of Spain in over 30 years. It's one of the most historic rivalries in sports and Ross has capitalized on that aspect by putting on a series of events leading up to it, including concerts, branded parties, team rallies, art activations and more. Tickets have gone for between $250 and $4,500.
He says the goal is to create a "super-bowl type of event" that will become an annual fixture due to its enormous impact on South Florida — "not only the excitement it generates, but also what it does for the economy."
Ross admits that in terms of the I.C.C.'s overall profitability, "we haven't turned the corner yet, but we expect to this year." Even though it has taken five years to do so, he says that perhaps the biggest stress isn't related to the cash, but instead related to the grass.
In order to meet the standards of the world's best teams, the fields have to be in tip-top shape. "In a lot of places we had to go in and put sod on top of the turf just for that game," he says. "That's one of the really delicate parts of putting these together that people don't really think about."
As the chairman of global real estate firm Related Companies, which he founded in 1972 and now has over $50 billion in assets owned or still under development, Ross has also gained widespread recognition as the man behind America's largest private real estate project in history – the $15 billion Hudson Yards mega-development in New York City.
Despite not being a full-time gig, the I.C.C. is certainly taking up more time, adding hours to his already cramped day. He wakes up at 6:30 every morning to make sure he has time to work out at the gym, and when not at a business dinner, likes to take his wife out for date night.
"My family knows that I'm nuts – I've been successful and they're not worried about it," he said with a chuckle. "I love what I'm doing, and when you love what you're doing, you're never working a day in your life."