This Ordinary 21-Year-Old Is Going to the Royal Wedding. Here's Everything He's Doing to Prepare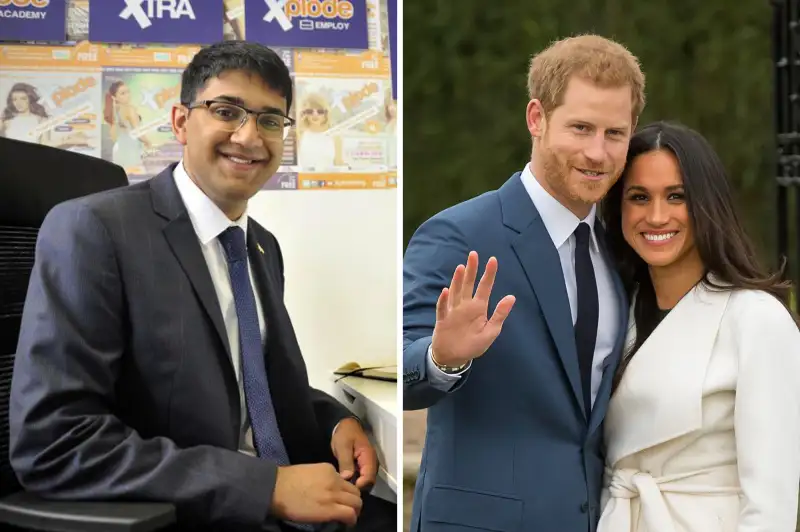 (left) courtesy of Saeed Atcha; (right) Dominic Lipinski/PA Images via Getty Images
For 21-year-old Saeed Atcha, getting one of the internationally coveted invitations to Prince Harry and Meghan Markle's upcoming royal wedding was an unbelievable honor. But it's also turning out to be an expensive one. The young Brit tells Money he's already spent more than £1,000 — the equivalent of roughly $1,300 — preparing for the May 19 celebrations.
The royal family is footing the bill for the wedding at Windsor Castle, which most experts estimate will end up costing more than $40 million, but guests are on their own. And while dropping a few thousand pounds on formalwear and fascinators may be no problem for high-profile guests like Princess Eugenie or Priyanka Chopra, it's kind of a big deal for the 1,200 lucky members of the public who were nominated to attend for their community service and leadership.
Atcha is in that latter group, having been selected by Harry and Markle because of his work as the CEO of Xplode, a magazine and youth charity he created a few years ago in his teen years, as well as a trustee at the Prince of Wales' Step Up To Serve initiative supporting youth volunteerism.
"I suppose it's one of those events you want to sort of go all out for, because you really want to enjoy it," he says. "It is a piece of history."
Road-Tripping to the Royals
Atcha lives in Bolton, which is about a four hour drive from Windsor on a good day. (Yes, he is worried about traffic, thank you for asking.)
According to JourneyPrice, it'll cost about £77, or $105, in gas to drive from his home to Windsor and back. Atcha is planning to take himself and his plus-one, a family member whose identity he's keeping a secret for now, in his car.
Normally, he'd hop on the train to London and then travel to Windsor, but in this case he thinks it'll be easier to just go directly to his destination. Plus, he adds, driving means he can stop mid-route at McDonald's.
What to Wear to the Wedding of the Decade
Atcha says that guests haven't received any official word on what the dress code is, but he thinks he should wear either a lounge suit or a morning coat.
He decided to purchase a new outfit for the big day mostly out of practicality: Once the palace confirmed in a news release that he'd been chosen as a guest, he became a mini celebrity in British media. Atcha recently did nine interviews over three days, as a result he says "I've been seen in all the suits I've got."
To switch up his appearance, Atcha purchased a navy suit from the luxury retailer Ted Baker. It cost about £450, or about $600.
"I'll probably spend more on this than I will on my own wedding suit," he jokes.
Fortunately, Atcha's aunt is a tailor who is doing his alterations for free.
Staying Over in Style
The wedding is not a one-day affair for Atcha. He's actually planning to head to Windsor on May 17 because he has (more) interviews lined up ahead of the event.
That means he needs to stay in a hotel. He says he looked into reserving a place through AirBnB, but all the options were about £3,000 ($4,000). So he booked a room at De Vere Beaumont Estate, which is about three miles away from the castle. It's £300 pounds, or about $400, a night.
"It's a nice hotel," he admits. "I'm not scrimping because you've got to have somewhere nice to make sure you're looking your best."
To Pack: a Picnic and a Present
Some 600 special guests have been invited to a luncheon at St. George's Hall, but Atcha says he and the other members of the public have been asked to bring food for a picnic. He'll probably stop by the local Waitrose — which, he points out, is the supermarket Queen Elizabeth famously visited in 2016.
Atcha is also planning to give the couple a wedding gift. Harry and Markle have asked that well-wishers donate to one of seven charities in lieu of buying them physical presents. Atcha says he'll send money to the organization that he aligns most closely with — likely one focused on supporting young people, in keeping with his own cause.
The Top Hat Conundrum
Even after all of this, Atcha isn't done spending. He says he still needs to procure a pocket square, tie and shoes to go with his suit.
Most importantly, though, he's internally debating whether he should buy a top hat.
"I'm going to be looking through pictures of Prince William's and Duchess Kate's wedding to see what the guests wore and draw my inspiration from that," he says.