Meet the Drivers Making Toll Booth Lines Even Longer This Weekend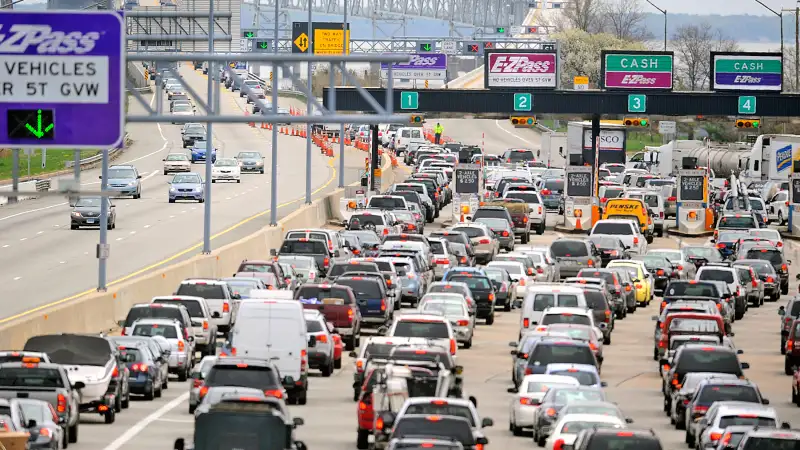 "Why would anyone NOT have E-ZPass?"
That question was posted at a Yelp forum … in 2007. The puzzled, frustrated individual asking the question pointed out that E-ZPass is "free and it saves so much time. It also reduces traffic for everyone. Someone, please please please tell me why everyone doesn't have it?"
And yet, here we are, seven years later, with one of the year's busiest road trip weekends upon us, and there will still be drivers backed up in gigantic lines at toll booths to pay cash—clogging up traffic in general while they're at it—because they don't have E-ZPass accounts. If anything, it's even more difficult now to get around by car without an E-ZPass or another toll-paying transponder from a corresponding program, what with the expansion of cashless toll roads across the country. So what gives?
The Boston Globe recently reached out and talked with some "conscientious objectors" who refused to get on board with E-ZPass. Their reasons for sticking with cash and enduring longer-than-necessary waits at toll booths include:
Is there validity to these concerns? Well, sure, there's some. One of the big reasons states are pushing for cashless tolls is because doing so allows them to cut costs by getting rid of toll taker salaries. And there's certainly nothing wrong with wanting to take a stance to help protect these workers and human contact in general in an increasingly cold, impersonal, automated world.
As for privacy and mistakes that could cost account holders money, there's some evidence that they too are of legitimate concern. Occasionally, credit card errors or payment mix-ups result in huge bills for account holders. In one notorious case in the Seattle area, a couple with a Good to Go pass—a program that's similar to E-ZPass—got hit with a bill for $8,346.82 because when their bank merged, the pass account was never updated, and tolls went unpaid for months. (The fines for nonpayment far surpassed the actual tolls themselves.)
By far, though, the biggest thing motivating E-ZPass refuseniks is the privacy issue. Bloggers have raised alarm bells by spreading word that the police and other authorities track E-ZPass travels all over metropolitan areas, not just at spots where tolls are paid. This summer, states such as Pennsylvania warned that phishing scammers somehow got hold of the email addresses of E-ZPass holders and were trying to get more personal information via fraudulent messages. The FTC later issued a national warning about phishing scams related to E-ZPass.
"Do I really want the government to keep a paper record on my comings and goings? No," one E-ZPass-refusing driver told the Boston Globe. "It's a slippery slope. Where does it end? I don't like the trend."
Still, considering the recent history of NSA surveillance programs and the news that a billion passwords were stolen by Russian hackers, it's not like dumping your E-ZPass account is suddenly going to protect you from all forms of identity theft and other scams. In fact, privacy and Internet security experts generally say that everyday transactions like credit card payments and logging into email and other online accounts should be of far higher concern than using an E-ZPass.
None of this negates the need to be vigilant about protecting one's personal information, of course. All in all, most people understand the individual's fear of hackers and discomfort with government surveillance. Most people respect the individual's right to make a stand about protecting privacy and workers' jobs. It's just that the vast majority of drivers would prefer that people wouldn't be making this stand during Labor Day Weekend, when doing so makes already crowded roads and annoying tolls even more of a pain.