Toyota Could Ban Dealers From Advertising Below Invoice Price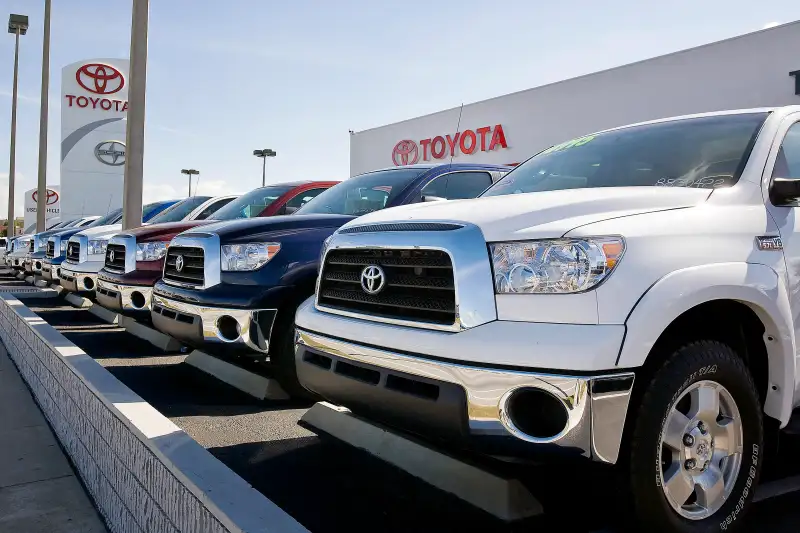 Stroshane, Matt—Bloomberg/Getty Images
While Lexus tests out a new, no-haggling policy at its dealerships, Toyota is keeping the haggle alive with a plan to prohibit dealers from advertising below invoice price.
Toyota dealers across the country told Automotive News that starting in January new guidelines from the car maker will explicitly prohibit them from advertising vehicles below invoice. They said they learned of the plan from national and regional Toyota sales representatives, who added that Toyota plans to release details at its National Dealer meeting next month. Toyota declined to comment on the plan, saying, "As is customary at our National Dealer Meeting, we will discuss a number of business-related topics, including marketing covenants."
Since dealers get a check from the manufacturer each time they sell a car, they still make money off cars sold below invoice. For high-volume dealers, selling the majority of cars with a one-price strategy below invoice can make for good business and happy customers, who don't have to get stressed out haggling. One high-volume dealer in Florida told Automotive News he doesn't want to stop advertising the below invoice pricing because consumers would have a hard time searching online for cheaper local prices.
Other dealers back the proposed change, saying below invoice pricing encourages a "race to the bottom" and increases risk of bait-and-switch selling practices, when a customer will come in on the strength of an attractive advertisement and find the desired car unavailable and a more expensive option in its place.
Prohibiting the advertising of a below invoice price isn't new. Honda has a similar ban in place and has implemented severe penalties like withdrawing marketing assistance of $400 per car if dealers break the marketing covenant three times by pricing too low.
Read next: This Car Safety Demo Went Terribly Wrong