Travel Insurance When Pregnant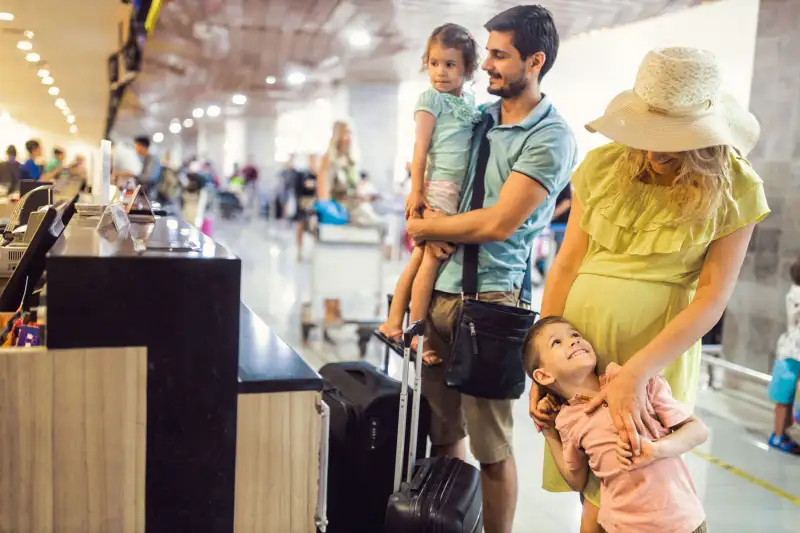 If you're pregnant and have upcoming travel plans, your protection and peace of mind are important. Though there are some exceptions and special considerations, the best travel medical insurance might be a good idea if you're traveling when pregnant.
Read on to learn about travel insurance options when you're expecting, what it does and doesn't cover and suggestions to get the most out of your policy.
Does Travel Insurance cover Pregnancy?
Travel insurance does cover pregnancy, but only under certain circumstances. While the specifics vary by policy, travel insurance can cover emergency medical costs associated with unforeseen complications if you travel while pregnant. If you become pregnant after purchasing insurance and decide to cancel your trip, trip cancellation coverage may reimburse you.
Unexpected pregnancy and trip cancellation insurance
Let's say you and your spouse are planning a two-week vacation to Japan — a trip at the top of your bucket list. A year in advance, you book the flights and purchase travel insurance, only to find out three weeks later that you're pregnant. Does travel insurance cover pregnancy in this case?
An unexpected pregnancy after purchasing travel insurance is not an uncommon situation, and it's one that's covered by many travel insurance policies. Check with your provider to see if unexpected pregnancy is a covered reason for trip cancellation. If it is, then not wanting to travel when pregnant or having a due date that's too close to your trip would be considered valid reasons to cancel your travel plans. However, you'll likely need to provide medical proof that the pregnancy occurred after you purchased your policy.
Pregnancy complications
Imagine that towards the end of your first trimester, just a few days before you're scheduled to visit France for business, you begin to feel unusually thirsty and fatigued. During a visit to your doctor, you're diagnosed with gestational diabetes and told that your pregnancy is now high-risk. Can you cancel your trip and get reimbursed?
If you were already pregnant when you purchased travel insurance, cancellation because of normal pregnancy symptoms likely isn't covered. However, if you experience unforeseen complications before your trip and your doctor advises you not to travel, you can file a trip cancellation insurance claim to have non refundable trip costs reimbursed. Health conditions like gestational diabetes, hyperemesis gravidarum and acute nephritis may be covered.
If you start getting pregnancy-related complications during your trip, your medical expenses can be reimbursed with travel insurance that covers pregnancy, up to policy limits. Dig into the details when choosing your policy, as different travel insurance companies define complications of pregnancy differently. Your plan may also help you recoup travel costs if complications interrupt your trip or end it early.
Pregnancy and Cruises
Don't try to sneak in that ten-day Caribbean cruise a month before your due date. The major cruise lines all have the same pregnancy policy: guests may not sail beyond 23 weeks of pregnancy. If you enter your 24th week of pregnancy before or at any point during your trip, you won't be allowed to board.
While a restful cruise with 24/7 food offerings to satisfy any craving may sound like a welcome escape, there's a good reason why you can't cruise during your third trimester. Emergency medical care is limited on board and at many ports of call, and the third trimester is a riskier time for both mother and child. In the U.S., fetuses are considered viable at the gestational age of 24 weeks, but a cruise ship's medical facilities are not equipped to care for a preterm baby.
Though you shouldn't be out on the high seas and far from medical care towards the end of your pregnancy, you can still sail before 24 weeks. However, many cruise lines will require a doctor's certificate stating that you are fit to travel and that your pregnancy is not high-risk. Consider looking into the best cruise travel insurance companies to learn more about coverage while pregnant.
Overseas births
If you travel internationally in a late stage of pregnancy and go into labor during your trip, normal childbirth will likely not be covered by your travel insurance policy. This means you'll need to pay out of pocket for labor and delivery costs, as well as your family's extended stay in your vacation destination.
However, if you experience complications during delivery, travel insurance may cover the associated emergency medical expenses.
If you give birth overseas, you'll need to report the birth of your child as soon as possible to the nearest U.S. embassy or consulate. Keep in mind, too, that many airlines don't allow newborns on flights.
Travel medical coverage
In addition to reimbursing emergency care expenses if you travel during pregnancy, travel medical coverage can help in a lot of other scenarios as well. Most travel insurance plans cover the costs of doctor's visits, hospitalization, prescription medications, surgeries, emergency services (like ambulance rides and ER visits), lab tests and x-rays if you become ill or injured during your vacation. Reimbursement is up to the specific limits listed in your policy.
However, travel medical insurance won't cover pre-existing conditions, like cancer, diabetes or asthma, unless you have an exclusion waiver. You'll only be able to use your travel medical benefits for pre-existing conditions if you get a waiver from your travel insurance company. While pregnancy itself is not considered a pre-existing condition, some pregnancy-related complications may be.
Read up on your specific policy and ask your provider plenty of questions to find out exactly what is (and isn't) included, the maximum dollar amount that's covered and whether you need a pre-existing medical condition exclusion waiver.
What Travel Insurance Won't cover if you're Pregnant
Unfortunately, travel insurance won't cover every pregnancy-related cost. If you're already pregnant when you purchase travel insurance, you won't be covered for trip cancellation due to normal pregnancy. This means that even if morning sickness has made the thought of vacationing in Cozumel unbearable, it isn't a covered reason to cancel your trip. If you're entering late-term pregnancy and your doctor advises you not to travel as a precaution, you won't be covered for trip cancellation because there aren't any complications with your pregnancy.
Normal pregnancy care expenses incurred during your trip won't be covered, even if you have a waiver for pre-existing conditions. This includes the costs of routine office visits and ultrasounds. You can't recoup expenses associated with uncomplicated childbirth, either, should you go into labor on your trip.
Other pregnancy-related costs that are excluded from coverage include traveling to seek medical advice or treatment, fertility treatments and any trips you take when you're not approved by your doctor to travel.
Best practices for getting Travel Insurance for Pregnancy
To maximize your protection, keep these best practices in mind as you search for travel insurance when pregnant.
Purchase your policy early
If you're getting travel insurance, it should be one of the first things you check off on your vacation to-do list. Purchase a plan as early as possible to give yourself the best chance at trip cancellation protection. The best travel insurance companies have plans with benefits for nonrefundable trip costs and unexpected events like delays, loss of luggage and medical emergencies.
If you buy a plan right after booking your tip, you may also be eligible for cancellation upgrades that make travel insurance even more accommodating for pregnant individuals.
Research local medical facilities in your destination country
While you're looking into some of the best international places to travel, you'll also want to research local medical facilities. Find out where the closest hospital is to your destination and what its capabilities are should you go into early labor or experience complications during your trip.
If you're embarking on international travel while pregnant, you might also consider purchasing emergency medical evacuation insurance that will cover you if you need care beyond what's locally available. This type of insurance can reimburse you for medevac costs if you need to be transported to a more adequate medical facility that's further away — or even all the way back home.
Check airline restrictions for pregnant travelers
Unfortunately, travel insurance won't reimburse you for a missed flight if your carrier doesn't allow you to board. As with cruises, airlines have specific rules about traveling while pregnant, and travel insurance companies consider it your responsibility to research restrictions for pregnant travelers.
Some carriers require a doctor's certificate to fly during later stages of pregnancy. For example, if you want to board during or after 36 weeks of pregnancy, United Airlines requires you to provide an obstetrician's certificate stating that you're cleared to travel, dated within three days of departure.
What's the best Travel Insurance for Pregnancy?
Cancel for any reason travel insurance (CFAR) may be a great travel insurance option when you're pregnant. While basic travel insurance policies will only cover trip cancellation under certain circumstances, cancel for any reason insurance allows you to call off your trip for any reason at all and still receive partial reimbursement for nonrefundable trip costs.
This type of travel insurance is a rider that you can add to your basic policy. It will likely increase the cost of your travel insurance by about 50%, but depending on your plan, it can pay up to 75% of nonrefundable trip costs. Typically, you'll have up to two weeks from when you make your first trip deposit to add a CFAR rider to your plan.
Not all travel insurance plans offer cancel for any reason upgrades, so check with your provider to see if they're available.
When should you Stop Traveling when Pregnant?
Determining when you should stop traveling when pregnant is a decision you make in partnership with your doctor. The Royal Academy of Obstetricians and Gynaecologists (RCOG) and the International Air Travel Association (IATA) recommend that individuals with normal pregnancies avoid air travel beyond the 37th week. Those with risk factors, such as carrying twins, are recommended to stop traveling after 32 weeks of pregnancy.
Keep in mind that cruise lines and airlines impose their own restrictions on pregnant travelers. Also, buses, trains and planes often have small bathrooms and narrow aisles that can be difficult to navigate while pregnant, and the motion of a cruise ship can worsen morning sickness.
Before you travel internationally, you should also talk with your doctor about immunizations and other safety considerations for yourself and your baby.
Does Travel Insurance cost more when Pregnant?
No, getting basic travel insurance while pregnant won't cost more than usual. However, add-ons such as CFAR riders can increase the cost of your plan while also providing additional benefits.
Travel Insurance when pregnant can give you peace of mind
Getting travel insurance when pregnant can enhance your vacation experience by alleviating some of your biggest worries. With many policies, you can rest assured that you're covered if you experience complications during your trip, if you unexpectedly become pregnant after purchasing travel insurance or if your doctor advises you not to travel due to an unforeseen complication. For extra protection, you can also add a cancel for any reason rider to your plan.
With so many different companies and policies out there, be sure to shop around to find a travel insurance plan that best meets your needs. Some of the best travel credit cards also have limited travel insurance benefits, in addition to bonus miles, rental car upgrades and more.
If you're traveling while pregnant, ask plenty of questions of your insurance provider to help you plan for every situation possible.