Lots of Your Favorite Things Could Cost More if Trump Adds a 20% Mexican Import Tax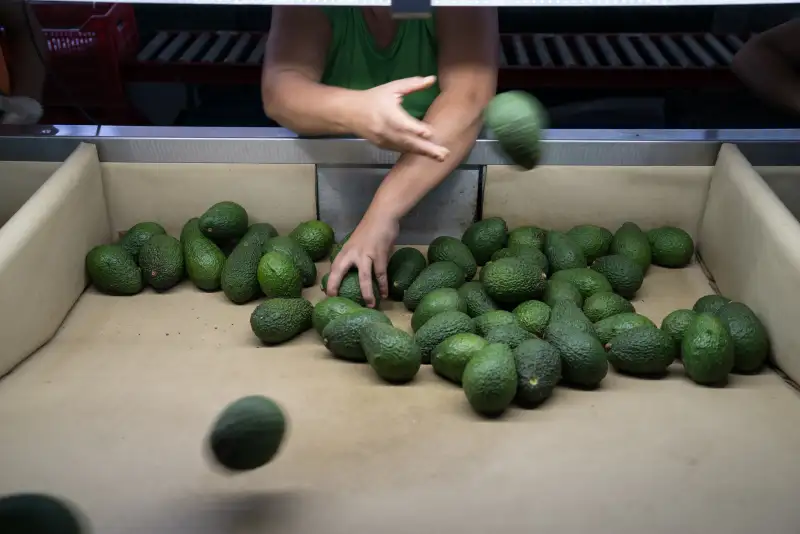 Bloomberg—Bloomberg via Getty Images
Is the U.S. going to slap a 20% tax on Mexican imports?
On Thursday, White House Press Secretary Sean Spicer indicated that such a tax could be used to pay for the border wall that Trump has promised to build. But the administration quickly backtracked, saying that the tariff is just one of several options being considered for funding the construction.
Before and after the election, Trump has remained adamant about building a wall along the Mexican border, and about increasing tariffs on Mexico and other countries. He's said he wants to renegotiate or even abandon NAFTA, the 1994 trade agreement that frees up the movement of goods and services among the U.S., Canada, and Mexico. Trump's latest thoughts on the matter were unleashed in a Tweet on Friday:
Yet as many observers noted immediately after the 20% tax idea was floated, the notion that the resulting funds would cover the wall's costs is laughable. As my colleagues at Fortune put it, this theory holds up only …
William Gale, co-director of the independent Tax Policy Center, offered essentially the same assessment to USA Today. "The irony of putting a tariff on Mexican goods is that, to the extent it raises consumer prices in the U.S., consumers will be paying for the wall, not Mexican producers," Gale said.
It's unclear how much prices would increase for American consumers. Trump recently criticized General Motors for making some Chevy Cruzes in Mexico, but it's not like the price of a Premier RS Chevy Cruze Hatch would increase 20%—or $5,000 on a vehicle that now costs around $25,000—overnight if a 20% Mexican import tax took effect. Presumably, the companies involved would absorb some of the costs, or they'd find new trade partners, or they'd make items with cheaper materials, or stop production of some goods entirely. Or they'd take action with some combination of such strategies.
In one way or another, however, American consumers would feel the impact, most likely in the form of higher prices for a wide range of foods and goods. Here are some of the items that will cost you more if and when imports are hit with a hefty tax increase:
Alcohol
Nearly two-thirds of the beer imported into the U.S. comes from Mexico. Roughly 80% of the tequila exported from Mexico winds up in the U.S. They would all see price increases, alongside Mezcal, Mexican wines, and other alcohol produced south of the border.
Fresh Produce
According to the Department of Agriculture, Mexico and Canada are the leading sources overall of agricultural imports in the U.S., with $19.3 billion and $22.2 billion, respectively, imported from 2013 to 2015. America imports more strawberries, avocados, tomatoes, onions, chili peppers, and raspberries from Mexico than it does from any other country. Roughly 60% of all avocados in the U.S. circa 2014 were grown in Mexico.
So if you're a fan of guacamole, you have extra reason to fear a trade war with Mexico. Overall, a wide range of fresh fruits and vegetables would potentially become more expensive or scarce if an import tax goes into effect.
What's more, interestingly, if Trump's broader immigration policies become reality, even food grown within the U.S. could be more expensive. Roughly half of the people hired by U.S. farms for crop production are undocumented immigrants, and the vast majority of them are from Mexico.
If Trump's wall and other policies succeed in ridding the country of undocumented workers, wages paid by farmers would have to increase nearly threefold, a 2014 Wall Street Journal editorial noted, in order to attract American citizens for the jobs. And if the costs of farming increase, then the prices of the crops they're growing will naturally increase as well.
Cars Made in Mexico
Manufacturing automobiles today is a truly global endeavor, in which a car's transmission might be made in one country, with parts gathered from a half-dozen others, and it's then assembled and exported from a different country. Nonetheless, an import tax would presumably apply to any vehicle completed in Mexico and sent to the U.S. for sale. And it would affect a wide variety of cars from brands like Volkswagen, Dodge, Honda, and Nissan. All together, Americans purchased $74 billion worth of cars assembled in Mexico in 2015.
Cars Made in the U.S.
During the first 10 months of 2016, America imported $89 million worth of auto parts from Mexico, CNBC noted. It's by far the highest source of foreign-made auto parts. If the price of these parts increases as a consequence of a Mexican import tax or a full-on trade war, production costs go up for the American factories using them. And those costs are passed along to American buyers.