The Trump Inaugural Committee Was Just Subpoenaed. Here's What We Know About the $107 Million It Raised and Spent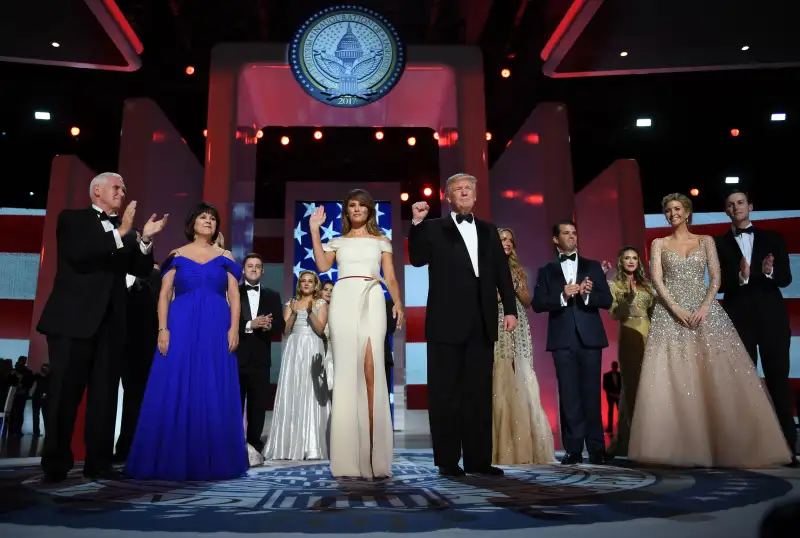 JIM WATSON—AFP/Getty Images
The Trump Inaugural Committee's finances are under the microscope again.
Federal prosecutors launched a criminal investigation more than a month ago into President Donald Trump's inaugural committee—and on Monday the committee received a subpoena requesting documents related to donors and spending, the Wall Street Journal reported.
The investigation is separate from other probes into Donald Trump's sphere of businesses and dealings, including the Robert Mueller investigation into Russia's attempts at influencing the 2016 presidential election in Trump's favor.
Here's what we know about how much money the Trump Inaugural Committee raised, why it was just subpoenaed — and how the committee may have broken federal tax laws, corruption laws, and more.
How Much Money Did the Trump Inaugural Committee Raise?
The Trump Inaugural Committee reportedly raised a record-high $107 million in donations. For the sake of comparison, President Barack Obama raised $55 million for inaugural festivities in 2009 —which was the all-time high at the time for an inauguration — and his 2013 committee raised $43 million. The latter is on par with what President George W. Bush's committees raised for each of his two inauguration celebrations.
The money raised for Trump's inauguration came from a variety of donors. Casino magnate Sheldon Adelson was easily one of Trump's biggest donors, giving $5 million for the inauguration after donating an estimated $20 million to the Trump election campaign.
Many corporations gave to the Trump Inaugural Committee as well, with AT&T leading the pack with a $2 million donation. Among the other companies that donated handsomely to the committee were Verizon, Charter Communications, Comcast, Microsoft, Google parent Alphabet, Pepsi, and Ford. According to OpenSecrets.org, 63 federal contractors donated to the Trump Inaugural Committee as well, and more than half of those companies won multimillion-dollar bids for work with the federal government in 2017. Giving money to politicians or political committees in exchange for political favors can be construed as a violation of federal corruption laws.
Overall, more than 40 individuals and corporations donated at least $1 million to the Trump Inaugural Committee, Politico reported. The list of $1 million Trump donors includes several owners of professional sports teams such as New England Patriots owner Robert Kraft, New York Jets owner Woody Johnson, Washington Redskins owner Daniel Snyder, and Los Angeles Rams owner Stan Kroenke.
Why Was There a Trump Inaugural Committee Subpoena?
In mid-December 2018, it was reported that federal prosecutors in Manhattan were "examining whether foreigners illegally funneled donations to President Trump's inaugural committee and a pro-Trump super PAC in hopes of buying influence over American policy," according to the New York Times. Foreign contributions to PACs (political action committees) and presidential inaugural funds are illegal under federal law.
On Monday, the Trump Inaugural Committee received a subpoena from the U.S. attorney's office requesting all documents related to donors and spending, the Wall Street Journal reported. A spokesperson for Trump's committee said that the group intends to cooperate with federal prosecutors' investigations.
White House press secretary Sarah Huckabee Sanders has said on multiple occasions that investigations into possible improprieties with the Trump Inaugural Committee have nothing to do with President Donald Trump, First Lady Melania Trump, or the White House.
Who Is Imaad Zuberi?
The Trump committee subpoena specifically requested documents related to donations and communications with Imaad Zuberi and the venture capital firm he runs, Avenue Ventures. Zuberi is a well-known elite political fundraiser, who in the past has helped bundle hundreds of thousands of dollars in contributions to the presidential campaigns of Barack Obama and Hillary Clinton.
Zuberi's name surfaced in a 2015 Justice Department probe, after investigators found out that the Sri Lankan government paid him $4.5 million directly and gave another $2 million to his firm for consulting services — and Zuberi allegedly did not disclose the business relationship as required by law.
Imaad Zuberi gave $900,000 to the 2017 Trump Inaugural Committee through his firm, Avenue Ventures. This week a spokesperson for Zuberi said, "Imaad knows nothing about a subpoena other than what's being written tonight," according to the Wall Street Journal. "It is well known that, after supporting President Obama and later Hillary Clinton, Imaad gave generously and directly to the Trump inaugural committee, but many others gave substantially more. If in fact he is named in the subpoena, never mind somehow alone, he is bewildered why."
How Did the Trump Inaugural Committee Spend Money It Raised?
When the Obama Inaugural Committee raised a then-record high $55 million in 2009, the money was spent on 10 days of special festivities, and there was still money left over to cover the costs of the White House Easter egg hunt and other events in his first year in office. The Trump Inaugural Committee, the New York Times reported in early 2019, spent a whopping $100 million on roughly 20 events in Washington, D.C., mostly spread over three days.
Among the ways Trump's committee spent $100 million, per the Times:
• $10,000 for makeup for event aides
• $924,000 for flowers, wreaths, and other decorations at Union Station
• $1.5 million to Trump International Hotel Washington, D.C. for event rental space
• $1.6 million "supervisory fee" to Stephanie Winston Wolkoff, a friend of Melania Trump's who helped organize events
• $26 million to WIS Media Partners, Winston Wolkoff's company created in December 2016 that served as a general contractor for events
• $5 million to charity
Among other things, federal prosecutors are looking into possibly improper spending by the Trump Inauguration Committee. As ProPublica reported recently, if the Trump Organization overcharged for inauguration events it could be a violation of tax laws.
Emails sent from Winston Wolkoff to the president's daughter, Ivanka Trump, revealed that she was concerned that the $175,000 day rate charged for use of the Trump hotel ballroom was excessive. "Please take into consideration that when this is audited it will become public knowledge," Winston Wolkoff said to Ivanka Trump and others coordinating use of the Trump hotel, in a December 2016 email planning inauguration festivities.
Beyond potential tax law violations, the inaugural committee has been criticized simply for spending at Trump-owned facilities because of the ethical issues. "The fact that the inaugural committee did business with the Trump Organization raises huge ethical questions about the potential for undue enrichment," Marcus Owens, a former head of the IRS division that oversees nonprofits, told ProPublica.