Joe Biden Is Running for President in 2020. Here's What We Know About 'Middle Class' Joe's Money, Including Speaking Fees and His $2.7 Million Beach House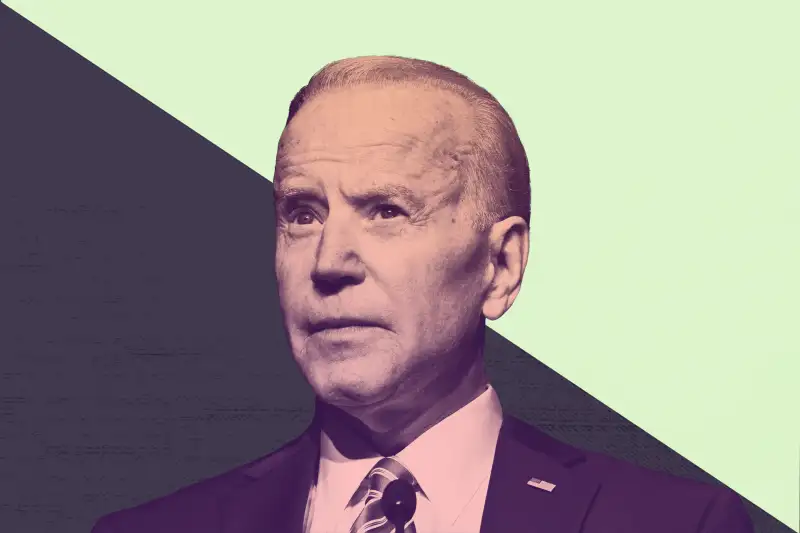 Joe Biden just officially launched his campaign as a 2020 Democratic presidential candidate. The high-profile 76-year-old former vice president known as "Middle Class Joe" immediately jumped to the top of the crowded field of contenders.
Biden's campaign got off to a good start in terms of fundraising: He reportedly received $6.3 million in donations from nearly 100,000 donors during the first 24 hours of being a presidential candidate.
Putting his fundraising efforts and status as an early 2020 frontrunner aside, is Joe Biden really a member of the middle class? Here's what we know about his finances, including estimates for Joe Biden's net worth, how he makes money, and where he stands on important money issues like taxes and health care.
Is Joe Biden Middle Class?
The long-serving U.S. Senator from Delaware and vice president to Barack Obama has been known as "middle-class Joe" for years. Joe Biden was actually considered one of the poorest members of the U.S. Senate when he joined the Obama ticket in 2008, and his financial disclosures at the time revealed that he and his wife Jill, a professor at a community college in Delaware, carried somewhere between $165,000 to $465,000 in debts.
As of 2014, government data gathered at OpenSecrets.org indicated that Joe Biden's net worth was negative $947,987. In other words, when tallying Biden's debt and assets, he was supposedly nearly $1 million in the red. More recently, the website CelebrityNetWorth.com estimated Joe Biden's net worth at $900,000.
During his eight years in the Obama White House, Joe Biden's annual salary as vice president ranged from $220,000 to $230,000. Forbes has estimated that the Bidens earned $3.1 million during Joe's years as vice president, after adding up both their salaries, plus social security benefits and rental income from a cottage they own in Delaware.
Even after serving as vice president, Biden has referred to himself as a member of the middle class. In 2017, when appearing on the "Today" show, Biden disputed the idea that Rust Belt voters would prefer Donald Trump. "They love me more," Biden said, referring to his support by blue-collar and middle-class voters.
"Donald Trump has no notion what those people are going through," Biden said. "It's not a criticism; it's an observation. They call me 'Middle Class Joe' – it's not meant as a compliment in Washington, it means I'm not sophisticated. But I understand what built this country. The only thing I know I know is the middle class, their hopes and aspirations, because it's where I come from. It's what I am."
There is no single agreed-upon definition for "middle class," but most people would say that neither Joe Biden nor anyone who has served at the highest levels in Congress and the White House qualifies.
According to one 2018 survey, 50% of Americans said that you'd be middle class if your household made between $50,000 and $99,000 per year, or if you owned assets worth as much. Pew Research Center data indicates that as of 2016, the median middle-class household in the U.S. made around $78,000 annually, while the median upper-income household earned $188,000.
Then again, many people think that one's middle-class bonafides depends on where you live in addition to how much you make. In expensive cities like San Francisco, New York, and Washington D.C., you could argue that you are still middle-class even though your household income is far higher than the median nationwide. Some people in pricey Silicon Valley earning $400,000 say they're middle-class because the local cost of living is so high.
How Joe Biden Makes Money in the Post-Obama Years
Joe Biden may no longer be paid a salary as vice president, but he does receive a federal pension that could be worth upwards of $250,000 annually.
The former vice president also gives paid speeches, and he commands six-figure checks when speaking to some groups and businesses. At an appearance in Florida recently, for example, Biden received a $150,000 fee for participating in a 45-minute moderated conversation and a 30-minute Q&A session with people who paid up to $300 to attend the event.
Biden has been criticized for some of his paid speech engagements. In particular, as the New York Times reported, Biden has come under fire for accepting $200,000 to give a talk last fall in Michigan and praising a Republican congressman, Fred Upton, who was in the audience — and who won reelection by a small margin shortly afterward.
SVEN HOPPE—AFP/Getty Images
There have also been times that Joe Biden refused to accept money for paid speeches. After originally agreeing to $100,000 for a speech at the University of Utah in late 2018, Biden waived the fee after realizing the money would come from taxpayers. Biden and his advisers "already had a policy against taking tuition dollars, and decided that accepting taxpayer dollars for such a windfall might appear just as politically distasteful," the Times reported.
Joe Biden also makes money from book sales and book contracts. Until fairly recently, Biden's book sales hadn't amounted to much. Financial disclosure forms from 2013 show that Vice President Biden received royalties worth "less than $201" for his 2008 book, Promises to Keep: On Life and Politics.
After the Obama presidency ended, though, Biden appears to be making significantly more money from books. Joe and Jill Biden reportedly signed a multi-million-dollar book deal with Flatiron Books in 2017, stipulating that he write two books and she write one. The first of these Joe Biden books was Promise Me, Dad, a bestseller published in fall 2017 that tracked the vice president's grief in the aftermath of the death of his son Beau in 2015, and his thoughts on possibly running for president in 2020.
To avoid any potential conflicts of interest, Joe Biden has plans to shut down the Biden Foundation, a nonprofit established by Jill and Joe Biden after he left office, which has raised money for initiatives like expanding gay rights and making college less expensive, the New York Times reported.
Joe Biden's Homes
In the early 1970s, Joe Biden and his first wife Neilia lived in a gorgeous 4,875-square-foot home built in 1723 in North Star, Delaware. Neilia and their 13-month-old daughter Naomi died in a tragic car accident in 1972, and Biden sold the home in 1975. The historic farmhouse, which has five fireplaces and is set on three acres, was resold in 2018 for $785,000.
Today, Jill and Joe Biden's main home is a 7,000-square-foot custom home built on a private lake in Greenville, Delaware, outside of Wilmington. In 2012, the Bidens hosted 200 guests at their lakeside estate for wedding reception of their daughter Ashley.
William Thomas Cain—Getty Images
After leaving his post as vice president, Joe Biden and his wife Jill reportedly used some of their book advances to buy a $2.7 million vacation home in Rehoboth Beach, Delaware. The six-bedroom home overlooks Cape Henlopen State Park and has ocean views, and it has a gourmet kitchen, elevator, and three fireplaces.
Yet Vanity Fair noted that the property is not directly on the beach and doesn't stand out from other homes in the neighborhood, offering the quip, "The house projects prosperous dentist more than 47th vice president of the United States."
Joe Biden 2020: Controversies and Stances on Key Money Issues
Long before Joe Biden officially announced his candidacy for president in 2020, he received high support among likely Democratic voters. Even so, critics from within his party have said that the former vice president shouldn't run for president because he is too old, or because his candidacy is problematic in the "#metoo" era given his alleged history of making women uncomfortable by invading their personal space.
In response to accusations by women that Joe Biden kissed or hugged them without their consent or otherwise had been acting creepy, the former vice president released a video in early April stating that he was aware "social norms are changing," and promising to "be more mindful about respecting personal space in the future."
Some Democrats have also derided Biden's candidacy because his long record in politics has sometimes seemed out of step with his party's progressive faction. Lately Biden has engaged in an "apology tour" for some of his past behavior, including his treatment of Anita Hill during her 1991 testimony during the hearing for then-Supreme Court nominee Clarence Thomas. "I regret I couldn't come up with a way to get her the kind of hearing she deserved," Biden said recently of Hill, who accused Thomas of sexual harassment before he was confirmed to the court.
Still, the combative Biden has said recently, "I have the most progressive record of anybody … who would run" for president in 2020, the Wall Street Journal reported.
Joe Biden's presidential campaign may also face headwinds because other candidates have a head start in fundraising. The New York Times noted that Biden's campaign is starting with $0 in the bank, compared to over $25 million for Bernie Sanders. Unlike 2020 presidential competitors like Sanders and Beto O'Rourke, Joe Biden is not known as a great grassroots fundraiser and does not have lists full of hundreds of thousands donors ready to write checks.
As for Joe Biden's platform as a presidential candidate, it's unclear exactly where he stands on many issues — though it's generally thought that he would continue pursuing policies supported by his former campaign-ticket partner, President Barack Obama.
Biden presumably supports Obamacare and increased health care coverage for all Americans, but he has not endorsed Medicare for all (or any specific health care plan) like many other 2020 Democratic presidential candidates have.
Biden also hasn't released any specific policy plans for taxes and other money issues. He has, however, consistently stated that he supports a broad range policies that would help the middle class — after all, he is "Middle Class Joe." Among the issues Biden backs are increased opportunities for free public college, adjustments to the tax code to address income inequality, and put more money in the hands of middle-class households.