Ivanka Trump Made $12 Million Last Year While Working for Free at the White House. Here's How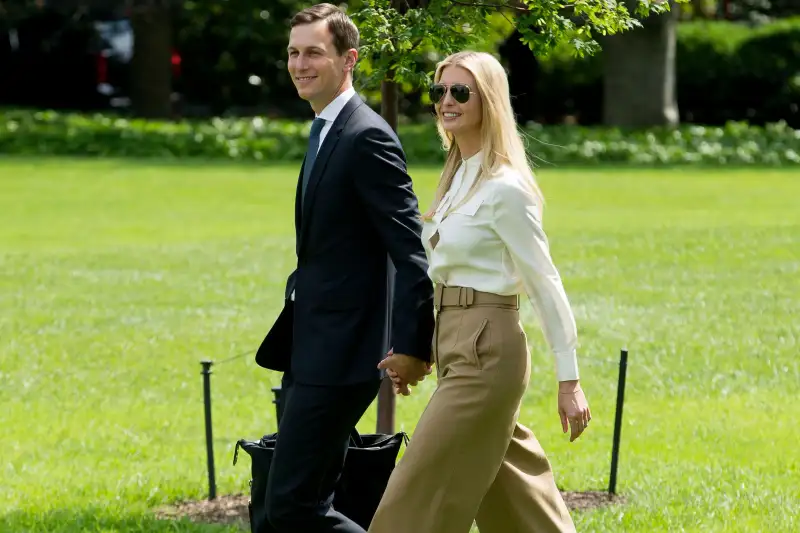 Michael Reynolds/EPA-EFE/Rex—Shutterstock
Ivanka Trump and Jared Kushner, the daughter and son-in-law of the president who both serve as unpaid senior advisors in the White House, made at least $82 million last year.
The couple's income originates from a wide variety of sources, including investments, trusts, dozens of real estate transactions, a book advance of nearly $300,000 for Ivanka Trump, and stakes in businesses like the nearly $4 million Ivanka Trump earned from her interest in the Trump International Hotel in Washington, D.C.
The figures were released by the White House as part of an ethics filing on Monday night—the same evening that much of the world's attention was turned to Singapore, where President Donald Trump and North Korea leader Kim Jong Un were meeting for a historic summit.
According to the New York Times, the ethics filing shows that Ivanka Trump and Jared Kushner earned at least $82 million in income last year, and could have made up to $222 million, compared to an estimate of $89 million to $201 million in 2016.
As CNN noted, the broad ranges come as a result of it being "impossible to calculate precise totals of income and assets because the documents — which are used throughout government — ask officeholders to disclose figures in ranges, such as '$100,000 to $1,000,000.'"
What is the net worth of Ivanka Trump and Jared Kushner now? The answer isn't clear. The New York Times reported in early 2017 that the couple's real estate and investment holdings could be worth up to $740 million. This week, the Times stated that the couple's holdings had increased to up to $811 million. Other sources have estimated that Ivanka Trump's net worth is roughly $300 million, and Jared Kushner's net worth could be $800 million.
A spokesman for Ivanka Trump and Jared Kushner said that they have not significantly increased their wealth over the past year. "Their net worth remains largely the same, with changes reflecting more the way the form requires disclosure than any substantial difference in assets or liabilities," Peter Mirijanian, a spokesman for the couple's ethics lawyer, Abbe Lowell, said, according to the Associated Press.
Critics say that the many investments and transactions of Ivanka Trump and Jared Kushner raise serious concerns about conflicts of interest. It's unprecedented for individuals to be blood relatives and top advisors to a U.S. president, all while making tens of millions of dollars in the private sector.
Here's some of what we know about how much money Ivanka Trump and Jared Kushner made last year.
Ivanka Trump Income
Altogether, Ivanka Trump made at least $12 million in 2017. She took in $289,300 in an advance for Women Who Work, the forthcoming book she is writing for Penguin Random House. When Trump left her position at the Trump Organization, she received $2 million in severance, paid after the inauguration of her father as president. Ivanka Trump also earned a reported $3.9 million last year from her stake in the Trump International Hotel in Washington, D.C., and $5 million from the Ivanka M. Trump Business Trust, which oversees her fashion brand and was created in March 2017.
AaronP/Bauer-Griffin—GC Images
Jared Kushner Income and Debt
Monday's disclosures show that Jared Kusher holds assets worth at least $181 million, compared to at least $140 million disclosed in the spring of 2017. He also earned at least $5 million in passive income from holdings in real estate developments, and reported more than $5 million in capital gains in 2017 just from the sale of one shopping mall, in the Bronx.
In addition to earning tens of millions last year, the Trump-Kushner power couple have taken on significant debt, apparently mostly due to real estate purchases. "Kushner reported at least $27 million and as much as $135 million in outstanding liabilities," Bloomberg reported.