How Trump Could Start a Trade War in His First 100 Days
Money is not a client of any investment adviser featured on this page. The information provided on this page is for educational purposes only and is not intended as investment advice. Money does not offer advisory services.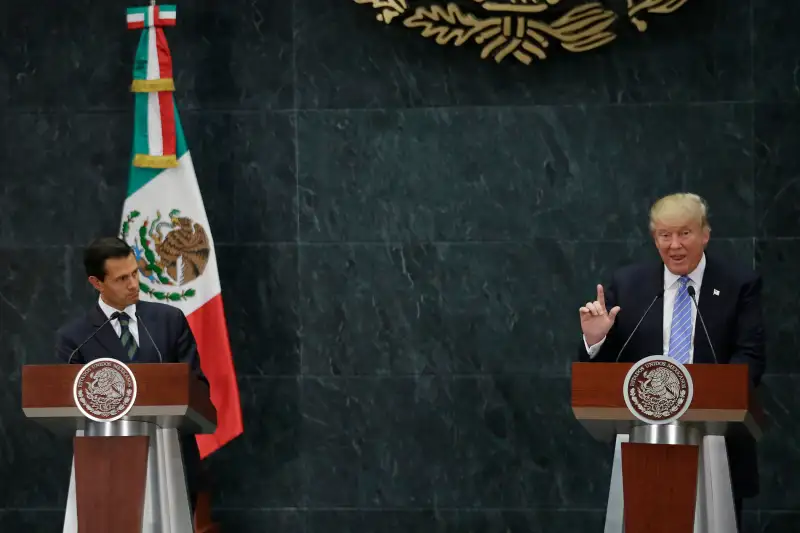 It's no secret that President-elect Trump and most of the nation's Ph.D economists don't see eye to eye.
While the differences range from taxes to immigration, one of the first flash points between the new president and the free-market-oriented political establishment (Democrat as well as Republican) could well be trade. That's because—unlike the nation's tax policy, which is set by Congress—the president has wide authority to both negotiate and, in Trump's words, "rip up" trade deals.
That in turn is a big reason that many mainstream economists, including Republicans, have been worried about a Trump presidency -- warning that the new administration will have wide latitude to antagonize the country's trading partners at any time, potentially even sparking a recession.
What Trump Wants
Throughout the fall, Trump made trade a centerpiece of his campaign. During the first debate, he called the North American Free Trade Agreement, one of President Bill Clinton's signature economic achievements, "the single worst trade deal ever approved in this country." Instead of aiming to lower trade barriers—as most recent presidents have done—Trump has suggested adding a 35% tariff on goods from Mexico.
In addition to blasting NAFTA, Trump has called for backing out of the Trans-Pacific Partnership, a trade deal with eleven Pacific Rim countries, including Australia, Japan, Chile and Vietnam, which the U.S. has signed onto but has yet to formally adopt.
He also taken aim at China— which he has accused of unfairly manipulating its currency to boost exports and purloining U.S. intellectual property—by threatening Chinese goods with tariffs of 45%. And, while the "Trade" section of his campaign Web site doesn't mention it, Trump also suggested pulling out of the World Trade Organization during a television interview in July.
How He Could Do It
Trump wouldn't need to have GOP lawmakers on board in order to turn many of his threats into reality, analysts say. The laws that govern the U.S.'s international trade agreements are complex, with authority split between the White House and Congress. But legislators have, in general, made it even easier over the years for the president to directly enact a trade-related agenda.
One widely cited legal analysis published in September by the Peterson Institute for International Economics, a pro-free-market Washington think tank, concluded: "The question arises whether a President Trump could unilaterally carry out his threats. The short answer, at least in the short term, is 'yes.'"
Of course, promises made in the heat of the campaign should often be taken with a grain of salt. The Peterson report also says Trump has hinted that those big tariffs may be a stratagem to gain leverage when he moves to renegotiate America's existing trade agreements, which he considers unfair.
Indeed, soon after the U.K. voted to extricate itself from some of its longstanding trade commitments this June, it became clear the process would be more tentative than it often seemed on the campaign trail. Nearly five months later, the country is still debating when and how to proceed with the so-called Brexit.
What Would Be the Cost?
All the same, it's also worth examining what might happen if his plans become a reality. This is what worries many economists—who, after all, tend to be number crunchers rather than political handicappers.
One Wall Street research firm, Moody's Analytics, has forecast that the new tariffs on Chinese and Mexican goods would lift the overall cost of U.S. consumer prices by roughly 3% by about a year and a half after the new rules take effect. And retaliatory tariffs could then take a big toll on U.S. exports, about one-fourth of which go to China and Mexico.
Combined with Trump's tax and immigration proposals, Moody's predicts Trump's plan, if enacted as is, could spark a U.S. recession by 2018.