Many Travelers Think TSA PreCheck Isn't Worth It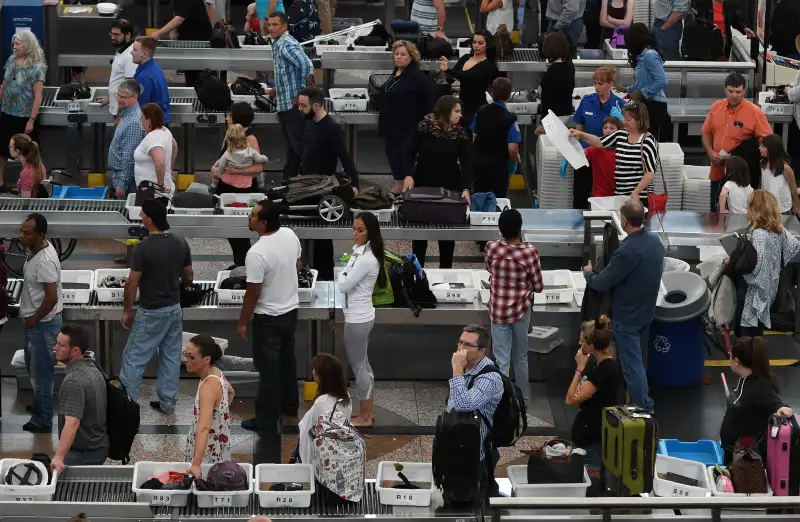 RJ Sangosti—Denver Post via Getty Images
Many flyers plagued by record security lines at airports this spring have turned to TSA PreCheck, a program that expedites their wait in line. However, the price of $85 for five years in the program serves as a deterrent to travelers who don't consider themselves frequent flyers.
In a survey of 1,000 domestic travelers, half said the fee was the reason they likely would not enroll. More than 20%, however, said they would probably enroll in the program as it exists now. A lower fee and simpler application process would encourage about 7 million more people to enroll in PreCheck, Bloomberg reports.
About 2.77 million people have signed up for PreCheck, far below projections. The TSA hopes to have 25 million people signed up for federal "trusted traveler" programs, such as PreCheck for domestic travel and Global Entry, the program for international travelers run by the U.S. Customs and Border Protection.
Long security lines this spring led to a spike in PreCheck enrollment. Daily applications doubled from April to May, increasing to 16,000 each day. "I won't say we were caught off guard with this, but I will tell you the surge happened much more rapidly than anyone could anticipate," Charlie Carroll, a senior vice president at MorphoTrust USA, which runs the program, told Bloomberg.
The U.S. Travel Association said a lower PreCheck fee would increase enrollment and alleviate some bottlenecks in TSA lines at major airports. The group estimates that security clogs will cause $4.3 billion in lost travel due to people choosing to avoid flying this summer.
If you're a traveler who finds the program too expensive, there could be other incentives to join. Some credit cards with annual fees will reimburse the cost of PreCheck, while several airlines offer the amenity for free to members at the top tiers of their frequent flier programs.
How to Get TSA PreCheck
To sign up for PreCheck, you must first complete an application online or in person at one of 370 enrollment locations. At the locations, you can either schedule an appointment or walk in. The wait has increased to a few weeks to obtain a date at many locations, though those with an appointment are prioritized over walk-ins. The company takes fingerprints for a criminal background check and verifies identification, a process the TSA claims takes five minutes or less.
Of the $85 fee, $38 goes to the TSA, and the FBI receives $12.50 for handling the criminal background check. MorphoTrust takes $34.50 for each application and has declined to comment on its profits from the program.