The Borderline Inappropriate Christmas Sweater Everyone's Selling This Year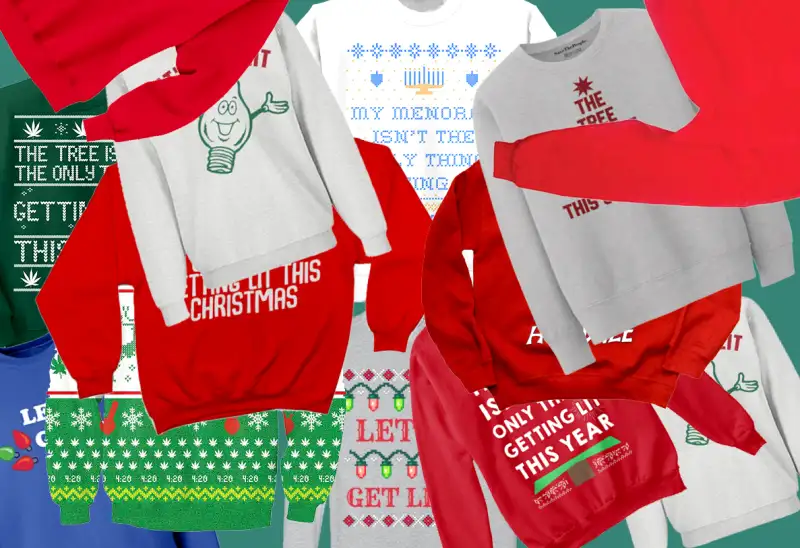 Visually offensive but cheerful sweaters—once reserved for ironic college parties and your Great Aunt Jill—have become a staple of the holiday season. According to business owners who make and/or sell the tacky threads for $30 to $100+ a pop, their marketability isn't likely to flame out anytime soon—the real measure of success is just how outlandish they can get.
In 2014, the season's hit Ugly Christmas Sweater featured Jesus with the words "Birthday Boy" stitched across it, according to Bloomberg.
This year, that distinction appears to belong to garments emblazoned with some variation of "It's Lit," a double entendre for a shining Christmas tree (or a menorah) and an...inebriated partygoer. Think of the sweaters as the IRL embodiment of internet nostalgia and an off-kilter meme, combined in one irresistible holiday package.
Naturally it also comes in koozie form.
It's hard to put an exact number on the Ugly Christmas Sweater industry, but as other outlets have explained, it's become extremely profitable for massive sports apparel sellers and stay-at-home moms alike. Grab a thrift store sweater and add some tinsel, and you can sell your creation at a $50 to $150 mark-up to an Atlanta frat star or Midwesterner looking for something besides politics to talk about at Christmas dinner.
Those who noticed the trend early have been able to build out their inventory to match the ever-increasing demand. Meri Barnes, head of business development at Michael Gerald, LTD (which owns Ugly Christmas Sweater Kit), says sales have exploded over the past four to five years, with the site experiencing 200% growth between 2015 and 2016. And rather than reserving the bedazzled, bejeweled, and be-lighted sweaters for the one-off college or office party, they've become staples for the entire holiday season.
Barnes anticipates sales will continue to climb, and the kitschier the sweater, the better. Like a meme your mom has definitely shared on Facebook, those featuring cats, pugs, and other "quirky animals" have been especially popular this year, she says, as has the addition of LED lights.
"If it's novel enough and it sets (a consumer) apart, they're willing to pay," says Barnes. "I do think social media has definitely helped us, the whole trend."
On the nostalgia side, most of the top-sellers on UglyChristmasSweater.com combine decades-old popular culture with sweater design you might see a decades-old character wearing, according to the site's president, Fred Hajjar. They include a National Lampoon-inspired red and white number, a Home Alone green and white pullover, and an "officially licensed" Festivus creation. Hajjar notes the site has experienced growth each year since 2012.
Etsy and Amazon offer thousands of ugly sweater options, as do national retailers like Urban Outfitters, Target, and Walmart. Rent-the-Runway will lend consumers one sweater for four days, for just $15, and Uber handed them out, free of charge. You can customize sweaters, or make your own. The trend has expanded to Christmas-themed suits, leggings, and other accessories. One site has a "Christmas cats and pizza" sweater section, which seems almost too specific and twee until you remember the internet's infatuation with baby goats and rating dogs.
And as Debby McClain, who has sold tailor-made sweaters on Etsy for eight years, said, there's more to the ugly sweaters trend than meets the eye.
"I really don't see an end to the ugly sweater parties in the near future. I have many customers that come back year after year for a new design to win their parties with," says McClain. "It is a great way to let off steam and stress during the holiday season and have fun."