You Can Use Your Tax Refund to Buy Extra I Bonds. Should You?
Money is not a client of any investment adviser featured on this page. The information provided on this page is for educational purposes only and is not intended as investment advice. Money does not offer advisory services.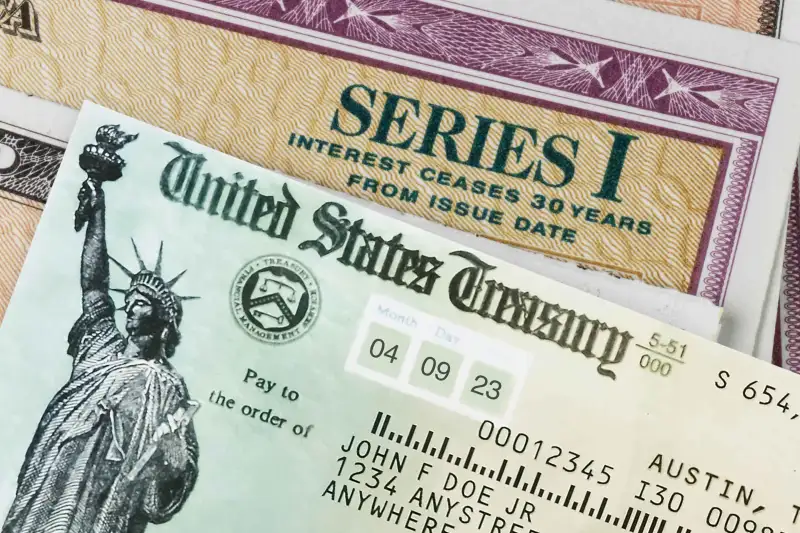 Series I savings bonds, aka I bonds, have swelled in popularity lately thanks to their inflation-hedging design. The low-risk government bonds also boast a lesser-known perk: a way to directly enlist your tax refund in the fight against rising prices.
The U.S. Department of the Treasury, which oversees the IRS, issues I bonds, and when you are filing your federal taxes, you have the option to buy them with your refund dollars. Buying I bonds with your tax refund allows you to sidestep the typical $10,000 individual-purchase limit and potentially hit the maximum of $15,000.
But should you buy them with this year's refund?
In 2022, I bonds were all the rage — especially after their interest rate hit an eye-popping 9.62%, a record high. At the time, the recommendation to buy I bonds was a no-brainer for many financial experts, including David Enna, founder of the financial site TIPS Watch and co-author of the I Bonds Manifesto.
Now, with a lower-but-still-historically-high rate of 6.89%, the calculus is a little different.
Pros and cons of buying I bonds right now
As inflation abates and the interest rates rise for certificates of deposit (CDs) and high-yield savings accounts, I bonds now have competition, Enna wrote in his 2023 I bonds outlook guide.
Nominally speaking, the current rate for I bonds still looks much more attractive than, say, the 3% you could earn with a high-yield savings account. But don't forget the fine print when making these comparisons.
With I bonds, "your funds will be locked up for a year," says Randall Watsek, a financial advisor at Raymond James. And "if you redeem them before five years, you're gonna lose three months of interest" as an early-withdrawal penalty.
Also note that the 6.89% interest rate is an annualized combination of two separate rates. One, the "variable rate," is recalculated every six months based on inflation trends. The "fixed rate," on the other hand, is locked in at the time of purchase and will not change over the life of the bond.
On the first business day of each May and November, the Treasury Department announces new rates based on inflation trends and may choose to set a new fixed rate for I bonds purchased after that date.
What that realistically looks like: I bonds bought right now at the 6.89% annualized rate will yield about a 3.45% return over the next six months, guaranteed. Once that six-month period is up, the bonds' variable rate will switch to the new one that is to be announced in May. This ever-changing rate is how I bonds shield your money from the erosive effects of inflation. (Here's more on how I bonds work.)
The early withdrawal restrictions may dissuade folks looking for a quick one-year investment. But in terms of a safe, long-term protection against inflation — it's tough to beat I bonds at their own game.
"Having that inflation protection," Watsek says, "is a good thing for conservative investors."
Pros
5.27% annualized interest rate
Designed to protect savings from inflation
Tax deferred interest
Interest exempt from state and local taxes
Exempt from federal taxes if used toward higher education expenses
Fairly liquid investment
30-year maturity
Backed by full faith of U.S. government
Cons
Limited potential for real earnings
Annual purchase limit of $15,000 per individual, $5,000 of which is only purchasable with your tax refund
Can not be cashed out within one year (emergency notwithstanding)
Three month interest penalty for cashing out within five years
Not as liquid as a regular savings account
The tax refund I bonds loophole
I bonds have an annual purchase limit of $15,000 per person, but using your tax refund is the only way to hit that threshold.
The Treasury Department set a $10,000 annual limit on digital I bond purchases and a $5,000 limit for paper I bond purchases. The thing is, the only way to buy paper I bonds is to use the money from your tax refund at the time of filing. (This is a fairly recent change: Prior to 2011, paper I bonds were available to purchase at banks and other financial institutions.)
FYI: Paper I bonds can be converted into digital I bonds for free without affecting your annual purchase limit (and while maintaining their interest rate). However, digital I bonds can never be converted to paper versions.
How to buy I bonds with your tax refund
You can elect to use as much — or as little — of your refund money to buy paper I bonds using IRS form 8888. And if maximizing your I bond annual purchase limit is of little concern, you can use this form to put your refund toward digital I bonds, as well.
The purpose of the form is to direct the IRS where to put your refund money. Under "Part I" of the form, you can tell the IRS to direct deposit part of your refund into various types of financial accounts — including a TreasuryDirect account, which is required to purchase digital I bonds. If you haven't purchased digital I bonds before and want to use your refund to buy digital versions, you will need to set up a TreasuryDirect account first.
Otherwise, you can proceed to purchase physical I bonds under "Part II" of form 8888, which will only count toward your $5,000 paper I bond limit. You can choose to have the remaining refund — if any — sent by check or direct deposited into another account.
More from Money:
When Are Taxes Due in 2023? Here Are the Deadlines You Need to Know
Here's Why You're Probably Getting a Smaller Tax Refund This Year
How Big Will Your Tax Refund Be? Many Taxpayers Have No Idea