Judge Orders USPS to Pay $3.5 Million for Statue of Liberty Stamp Blunder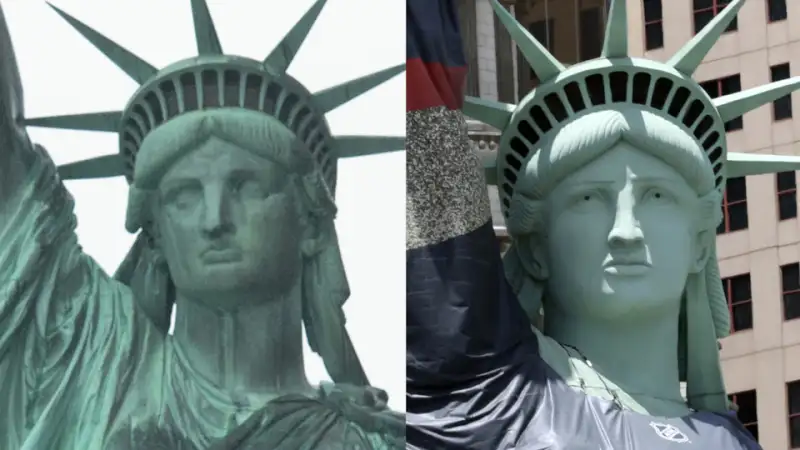 Noam Galai/Getty Images and Marc Sanchez/Icon Sportswire via Getty Images
The U.S. Postal Service (USPS) was ordered to pay a Las Vegas sculptor more than $3.5 million last week, after it inadvertently used an image of his Statue of Liberty replica on stamps.
Artist Robert Davidson sued the USPS for copyright infringement five years ago, arguing that "Forever" stamps issued in 2011 bore the likeness not of the original Lady Liberty, but of the recreation Davidson produced for the New York-New York Hotel & Casino on the Las Vegas Strip.
Court documents show that that the USPS did accidentally base the stamp design — which featured a close-up image of the statue's face — off a photograph of Davidson's statue. The USPS did not realize its mistake until informed by a stock photography company employee more than three months after the stamps were issued.
When Davidson eventually filed his lawsuit, the agency's attorneys argued that the two statues were too similar for the sculptor to claim copyright.
Davidson, however, claimed that his statue's face is "more modern, a little more contemporary face, definitely more feminine" than the original, according to the court documents. Davidson also said he specifically wanted to distinguish his work from the original in New York, to create something "more appropriate for Las Vegas."
In the end, Federal Judge Eric Bruggink sided with Davidson, writing in his decision that, "A comparison of the two faces unmistakably shows that they are different." Bruggink ordered the USPS to pay Davidson $3,554,946.95, plus interest.
"Robert Davidson is pleased that after a full trial, the Federal Court of Claims recognized the significance of his artistic work in creating the Las Vegas Lady Liberty statue and enforcing his copyright," Davidson's lawyer, Todd Bice, told Money in a statement. "As the court noted, Mr. Davidson's artistic creation of the Las Vegas Lady Liberty is highly unique and attractive, which is what prompted the US Postal Service to select a photo of his work for the second ever Forever Stamp, over hundreds of other images."
"We are reviewing the decision and will comment if and when appropriate," a USPS representative told Money by email.
Court documents show that the USPS, which sold 4,948,761,166 of the stamps between 2011 and 2014, made about $70 million off the design.