Vassar College President Says Free College Is a Bad Idea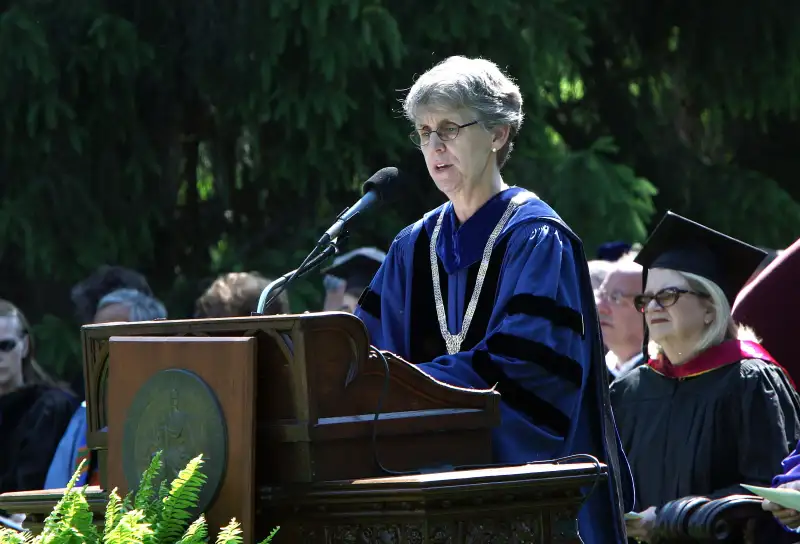 Paul Zimmerman—Getty Images
There are two schools of thought on lowering the cost of college these days—one that maintains that universally free tuition would be a boon to our society by recognizing the fact that a college degree carries the weight a high school diploma used to, and one that argues that we should try to reel tuition back to reasonable prices and continue to subsidize financial aid for those who need it.
While Hillary Clinton, who supports the latter solution, generally cites her aversion to paying for Donald Trump's children's schooling as the reason she opposes free college for all, Vassar College president Catharine Hill laid out her attacks on the proposal from another angle—that it would help the rich more than the poor, and hurt the quality of colleges themselves.
In an editorial for the New York Times, Hill wrote, "Any policy reducing tuition to zero would primarily benefit students whose families earn the most, who currently pay all or nearly all of a school's full tuition price because they can afford to."
Hill maintains that free college tuition, as laid out by presidential candidate Sen. Bernie Sanders wouldn't help lower-income families that much. "Lowering tuition would have less impact on moderate- and low-income students if they already receive some need-based financial aid grants that reduce what they are asked to pay—known as the 'net price.'"
Hill continues, "Even zero tuition wouldn't eliminate the need for loans, since room, board and travel expenses would still be a constraint for some students."

NEWSLETTER: COLLEGE_PLANNERSign up for COLLEGE_PLANNER and more View Sample
Supporters of Sanders' free college plan plan might argue that it would help lower-income families. While the actual dollars saved by higher-income families might be higher, the impact would still be higher for lower-income families. What's more, higher income families would actually pay more via due to higher taxes. (In Sanders' plan, taxpayers would collectively pay $70 billion for free tuition for all at public colleges.)
With her background as an economics professor and president of Vassar, which costs $63,280 including room and board, Hill's concerns go further than a debate over who pays what. "If the revenue is not replaced, free tuition means fewer resources to teach students," she writes.
Read Next: This Is the Most Popular Solution to the College Affordability Crisis