3 Amazing Perks Retirees Can Get at Their Volunteer Jobs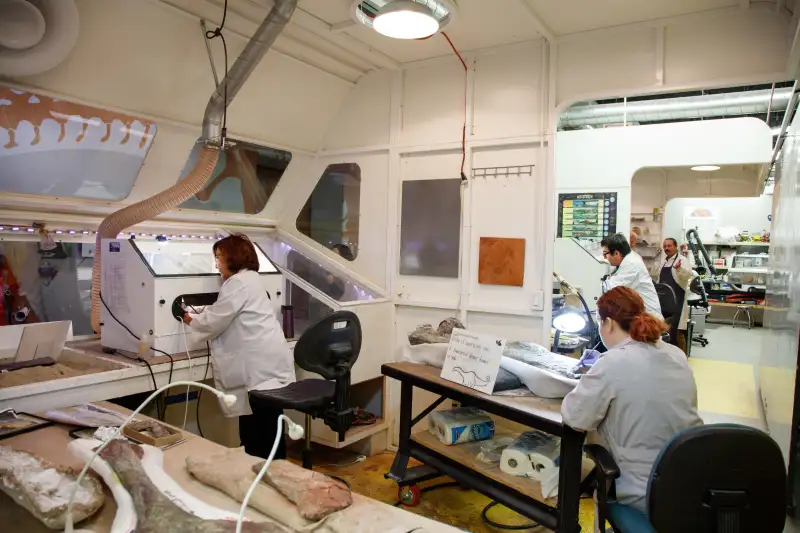 courtesy of the Natural History Museum of L.A. County
A few years after he retired from his professorship at the UCLA School of Dentistry, Stuart White began volunteering at the Natural History Museum of Los Angeles County, where he was initially assigned to help in the Dinosaur Hall and Butterfly Pavilion.
"Before they put you out on the floor, the professional staff give you training, both on the content but also how to communicate information to the general public," says White, now 75. "That in itself was just fascinating."
Even so, after about a year at the museum, White approached the volunteer coordinator about putting his professional expertise — in oral radiology — to work elsewhere at the museum. That landed him a volunteer spot working behind the scenes analyzing digital images of fossils.
For the last five years, White has analyzed about a dozen skulls — including one from 6 million years ago — and worked with thousands of images. His work has supported discoveries that resulted in scientific publication, and he's seen some pretty cool things along the way. "It was such a wonderful match," says White, who frequently got up-close looks at fossils being prepared by the paleontology department. "They had more images than they had time to analyze, while I knew enough about anatomy and digital imagery to make a contribution."
There are myriad reasons to volunteer in retirement — chief among them giving back to your community or helping a cause you care about. But with nonprofit organizations eager to tap retirees' copious free time, many offer gigs with sweet benefits — not just intellectual stimulation, but also insider access, freebies, and other perks — that more than compensate for the time you spend helping out.
VIP Access
Film festivals, music festivals, sports competitions and other big productions tend to rely heavily on volunteers to help organize and run these events. In exchange, volunteers are often privy to all kinds of perks, including discounted and free tickets, complimentary meals and schwag. Even your favorite charity may have a gala or fundraiser that you could help with.
Better yet, volunteers often get to see these events unfold from a unique angle — and rub elbows with the speakers, performers, authors, and athletes who participate.
Volunteers with the United States Olympic Committee, for example, have an opportunity to lend a hand at Olympic qualifying events across different sports and in locations around the country. There's even the potential to help out at the Olympic Games.
The Sundance Film Festival relies on 2,500 volunteers to support its platform of independent films and put on its annual flagship event in Utah every January. In turn, volunteers have an opportunity to see world premieres of top indie movies, in some cases alongside the cast and crew.
Likewise, volunteers at the Los Angeles Times' Festival of Books receive complimentary lunch and cool t-shirts — and in many cases, VIP access to authors.
The best strategy for finding such a gig? Search your favorite event and the word "volunteer," and odds are you'll turn up an application page. Event organizers are rarely oversubscribed when it comes to finding great volunteers.
Unique Travel
Volunteering abroad is a far cry from seeing the world by rental car or cruise ship. For retirees wanting to do good overseas, that's exactly the point.
The United Nations typically calls on about 2,000 volunteers a year to help with specialized roles around the world through its Global Talent Pool. While there is no compensation, volunteers receive allowances to cover travel, living expenses, insurance, and other benefits.
While Habitat for Humanity's short-stay Global Village trips expect volunteers to shoulder their own costs, the group may cover some expenses for long-term participants in its international volunteer program — an opportunity that's better suited to retirees with more time to give. The same is true of similar organizations focused on such areas as healthcare, farming, environmental rehabilitation and more.
Although for many of these programs, you'll have to pay for your travel to or from an assignment, the groups often connect you with affordable local accommodations and may even provide some housing or other allowances. (What you pay out of pocket may also be tax deductible, in the case of qualified nonprofits.)
Health Improvements
There's one more perk to expect — but in this case, it may not matter which gig you pick. Volunteering appears to be good for both physical and mental health, according to a study published last fall by United Healthcare and VolunteerMatch, a website that connects volunteers with organizations seeking extra help.
Three quarters of the U.S. adults surveyed said volunteering made them feel physically healthier, and nearly everyone said volunteering improved their mood. Other commonly reported benefits included a boost to self-esteem (reported by 88% of respondents) and lower stress levels (79%).
To find a volunteer project that's right for you, start with the causes you care about or items that interest you and go from there. If you need some inspiration, VolunteerMatch makes it easy to search more than 100,000 volunteer opportunities across 29 different categories. You can filter by location, cause, generation (i.e. 55+) and keyword. If you're still stumped, try this quiz.