Vote! You Just Might Win $50,000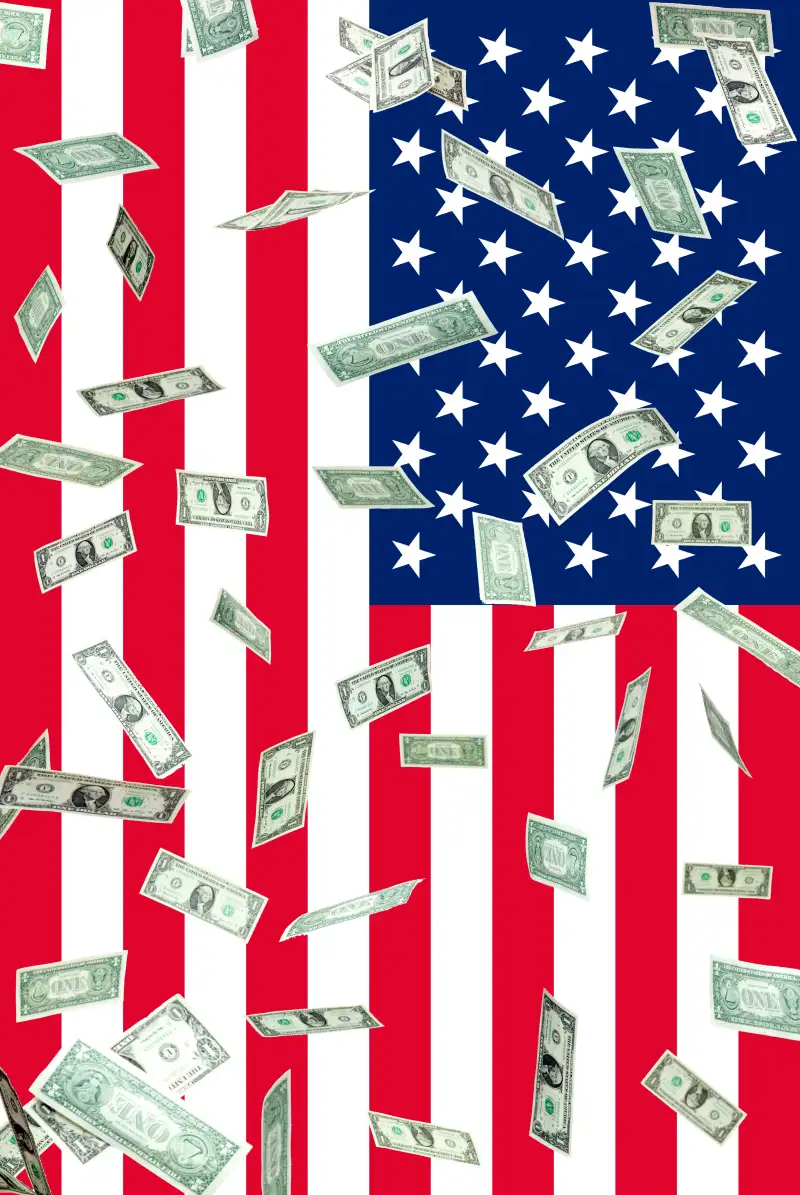 Money (photo illustration)—iStock (flag); Getty Images (cash)
In Los Angeles, as in many cities, voter turnout for local elections tends to be pathetic. In 2013, only 16% of registered voters weighed in on an election that would help determine the city council, mayor, school board, and a potential tax increase. In other words, 84% of registered voters didn't bother to vote. And the number of potential voters is much higher, of course, since plenty of eligible voters aren't registered.
The results of a special school board election held earlier this week in L.A. were even more embarrassing: As few as 8% of voters actually voted.
To get people more involved—and prevent further embarrassment—the city is now considering a pilot program that would use lottery-type cash prizes as enticement to get locals to participate in elections. The Los Angeles Times reported that on Thursday night, the Los Angeles Ethics Commission voted unanimously to recommend that the city council begin offering cash prizes to voters randomly as soon as next year. "Maybe it's $25,000 maybe it's $50,000," said [Ethics] Commission President Nathan Hochman. "That's where the pilot program comes in—to figure out what ... number and amount of prizes would actually get people to the voting box."
The idea of cash prizes began circulating in California in June, soon after news spread that voter turnout for a primary election was only 18% statewide, and worst of all in Los Angeles County, where the figure was 13%. On Southern California Public Radio, Fernando Guerra, a researcher at the Center for the Study of Los Angeles at Loyola Marymount University, suggested a radical solution to increasing voter turnout: Enter all voters automatically into a $1 million lottery.
"Wouldn't we get a lot of people who know nothing about politics or the candidates jumping in and voting and just checking the box so they could get a million bucks?" the radio host asked Guerra.
"Absolutely," Guerra responded. But, he added, that might not be a bad thing. "That might produce better results. There is no data to show that uninformed voters make worse decisions than informed voters."
Let that sink in. The suggestion is that it's a good idea for uninformed voters to vote—fairly randomly, one might assume. Actually, the idea is that it's not just okay, but so worthwhile that we'd want to incentivize them to vote randomly, using the random awarding of a cash prize as a hook.
It might come as something of a relief that the current measure under consideration in Los Angeles wouldn't actually require anyone to vote to be entered into the lottery. Instead, all someone would need to do is show up on election day and go into the voting booth to be eligible for the prizes. It's not necessary to check the names of any candidates or weigh in on any proposals. All you'd have to do is show up, vote or not vote, randomly or thoughtfully, and you could win big money.
While cash prizes for voting may seem like a wild concept, it's hardly the only instance of lotteries being used to entice people to do what they're supposed to be doing. Lotteries have been used to lure people in the U.S. and around the world into saving money, going to school, taking your prescription medications, and even things like cleaning up after your dog, paying your taxes, and driving under the speed limit.
And yes, the idea of a random cash prize for voters has been proposed before. Arizona considered (but rejected) the idea of a $1 million prize in 2006. One local columnist bashed the proposal at the time: "The last thing we need is for people to vote without thinking, other than thinking about winning the million dollars."
Prizes for voting have also been around in California for a while. One Los Angeles suburb was known to reward voters with donuts for showing up on election day. The donuts weren't doled out randomly to lucky voters either—everybody who voted got some.