3 Ways Walmart Is Trying to Out-Amazon Amazon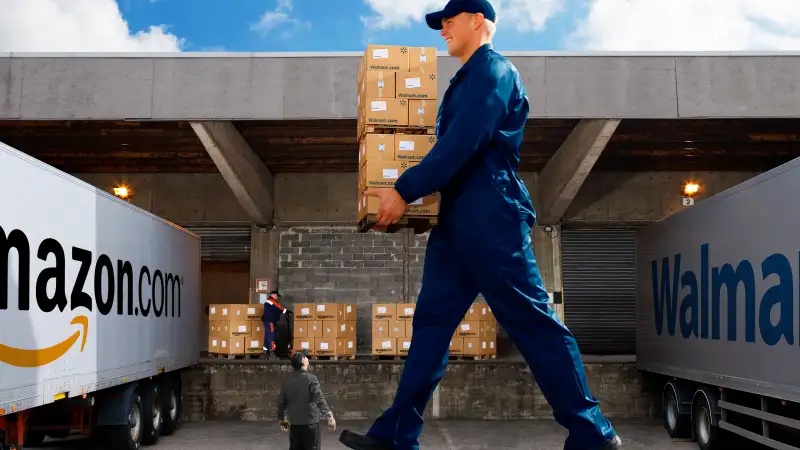 Okko Oinonen/GalleryStock
On Monday, Walmart announced a major overhaul of its e-commerce offerings. The brick-and-mortar Goliath plans to add new features to its website in the coming months, including more personalized product recommendations, discounts available in the user's local store, and significantly faster check-out. The moves are presumably aimed at making Walmart more competitive online with Amazon, the other dominant force in American retail.
Walmart still dwarfs Amazon in terms of total revenue, having pulled in $473 billion in 2014 compared to Amazon's mere $60.3 billion. But Walmart's been woefully slow to embrace online commerce, a realm where Amazon outsold the biggest-box retailer seven-to-one last year. And the larger trends have to concern the executives in Bentonville: E-commerce in the U.S. grew at about six times the rate of conventional retail over the past year.
On the other hand, Walmart is hardly the sleeping giant that it's often portrayed as. A closer look at the company's moves in recent years reveals a slow but consistent effort to catch up to Amazon's online offerings. That effort is starting to pay off: Walmart's online sales grew 30% in the 2013 fiscal year, to $10 billion. (Amazon's online sales started at a much higher number, but grew "only" 20% during that time.)
Meanwhile, Walmart may have an ace in the hole -- in the form, ironically, of its 4,900 U.S. retail outlets. Generally seen as a symbol of Walmart's lumbering inability to adapt to the digital world, those stores may prove to be Walmart's one big advantage in the online space.
Here are three ways Walmart is trying to turn up the heat on its major e-commerce adversary.
1. A Better Online Experience
Walmart's Monday announcement was entirely web-centric, and focussed on an area that has long been one of Amazon's great strengths: usability. Amazon pretty much invented one-click shopping, and has the patent to prove it. Meanwhile, users of Walmart's old site had to go through six pages before they were allowed to click the buy button. That's not how you win customers from the market leader. The new Walmart site, which is being rolled out gradually (about half of Walmart.com's visitors have been using a portion of its new features), makes major strides in this area by turning the buying experience into a simple, one-page process.
Walmart will also be introducing a custom recommendation engine that serves users with customized product suggestions based on past searches, purchase history, and location. This personalization even extends into the brick-and-mortar stores by showing customers deals and coupons that they can cash in at nearby Walmart locations.
2. Same-Day Delivery
Amazon, eBay, and other e-retailers know their next big opportunity for growth — and the one huge disadvantage they face vis a vis brick-and-mortar stores — is the human desire for instant gratification. Overnight delivery is great, but if your iPad/TV/groceries are just a five-minute drive away, even the next day can seem like too long to wait. As a result, Amazon has been spending through the nose to build the infrastructure necessary to make same-day delivery a reality. Already, Bezos and Co. offer it in 12 metro areas.
That might sound like a lot, but Walmart has the potential to put Amazon's same-day coverage to shame. The chain has thousands of locations across the country, and has long advertised a "Site-to-Store" feature that allows customers to order online and then pick up their order at a nearby Walmart location right away. Lately, the company has been putting increased effort behind this hybrid digital/conventional form of retail: The number of products available for same day pick-up has tripled in the past 18 months. And having a store with an actual cashier also means Walmart customers who purchase online can choose to pay for their order in cash.
If the item isn't on shelves at the moment, Site-to-Store also replicates (and pre-dates) one of Amazon's most useful features, Amazon lockers, by allowing customers to order nearly any item and have it delivered to a store location.
So why isn't Walmart dominating when it comes to delivery? Well, it turns out that executing on the promise of same-day delivery isn't so easy. Amazon Prime typically still beats Walmart shipping times on all but a select few products. But Walmart is getting better. The chain has rolled out traditional save day delivery in an increasing number of test markets, and according to spokesman Dan Toporek, has begun building out its next-generation order-fulfillment network in which online fulfillment centers work in concert with distribution centers and stores that are set up to deliver web orders to create shorter delivery times.
3. War For Your Groceries
While everything from calling a cab to shaving has been disrupted by an online ordering model, stocking up on groceries has remained a chore most of us still have to do in person. But Amazon and Walmart have been one-upping each other in recent years to change that. Amazon made the first move, having launched AmazonFresh in 2007, enabling customers to order meat, veggies, and comestibles the same way they would a new printer. Initially available only to those in the Seattle area, Fresh has expanded into Northern and Southern California.
But Walmart has battled back with Walmart To Go, which the company tested in San Francisco for three years and recently expanded to the Denver area. What's more, To Go has at least one advantage that Amazon can't yet offer: Shoppers can order online and then pick up in stores. Walmart claims this as a real competitive advantage: Fifty-five percent of those surveyed supposedly told the retailer that they prefer to pick groceries up themselves so they can grab any forgotten items on the way through the checkout.
Still the Underdog... For Now
Make no mistake, Amazon is still king of the online retail space, and looks likely to retain its crown for the foreseeable future. But Walmart's online redesign and roll-out of Amazon-like features that leverage its army of stores, make it a force that no one can ignore, especially as Amazon looks less focussed than ever on its core e-commerce business.
Either way, when two giants like Amazon and Walmart fight, the consumer tends to win.