Warren Buffett's Net Worth Just Dropped by $5 Billion in a Single Day
Money is not a client of any investment adviser featured on this page. The information provided on this page is for educational purposes only and is not intended as investment advice. Money does not offer advisory services.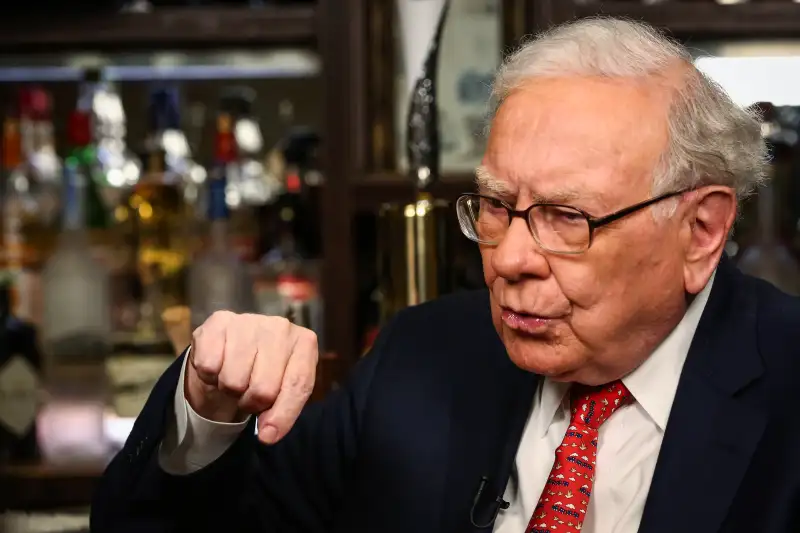 Bloomberg—Bloomberg via Getty Images
As stocks plunged on Monday, some of the world's richest men—including Warren Buffett, Mark Zuckerberg, and Jeff Bezos—lost billions in a matter of hours, at least on paper.
The net worth of billionaires like Berkshire Hathaway CEO and chairman Warren Buffett is tied closely to the rise and fall of the stock market. Shares of Berkshire Hathaway were down nearly 6% on Monday afternoon, and the Dow declined more than 1,500 points during the day, the Wall Street Journal reported.
According to the Forbes Billionaires list, which is updated in real time, the drastic selloff resulted in a huge hit for several billionaires. No one was impacted more than renowned investing genius Warren Buffett, whose personal net worth dropped by as much as $5 billion on Monday.
When the market opened on Monday morning, Buffett was worth slightly over $90 billion. By the afternoon, however, Buffett's net worth was down to around $85 billion, a decline of 5.5%.
Several of Buffett's billionaire peers lost billions during the stock market rout on Monday as well. Facebook founder, chairman, and CEO Mark Zuckerberg saw his fortune drop by $3 billion during the day, as Facebook shares were down 5%.
Google cofounders Larry Page and Sergey Brin were each down over $2 billion by Monday afternoon, as shares of Google's parent company, Alphabet, fell by as much as 5%. Meanwhile, at last check the world's richest man, Amazon founder and CEO Jeff Bezos, was down $3.5 billion for the day, as Amazon shares were off 3%.
Microsoft founder Bill Gates, the world's second-richest man, has been faring better than most billionaires lately, though he too has lost a fortune, at least on paper. As of Monday afternoon, Gates' net worth was $90.6 billion, down "only" $1.5 billion for the day.
All together, the collective net worths of 10 billionaires—those cited above, as well as Oracle CEO Larry Ellison and the three heirs to the Walmart fortune—declined by a hefty $26.8 billion on Monday.
Bear in mind that while these billionaires may be having a bad day, alongside investors everywhere, they have also seen their fortunes skyrocket because of the astonishing recent rise in the stock market. Before Monday, Jeff Bezos's net worth was up $20 billion thus far in 2018, while Buffett was up $4.75 billion and Zuckerberg was up $5.5 billion.