Jeff Bezos, the Richest Person on the Planet, Made $40 Billion in the Last Year
Money is not a client of any investment adviser featured on this page. The information provided on this page is for educational purposes only and is not intended as investment advice. Money does not offer advisory services.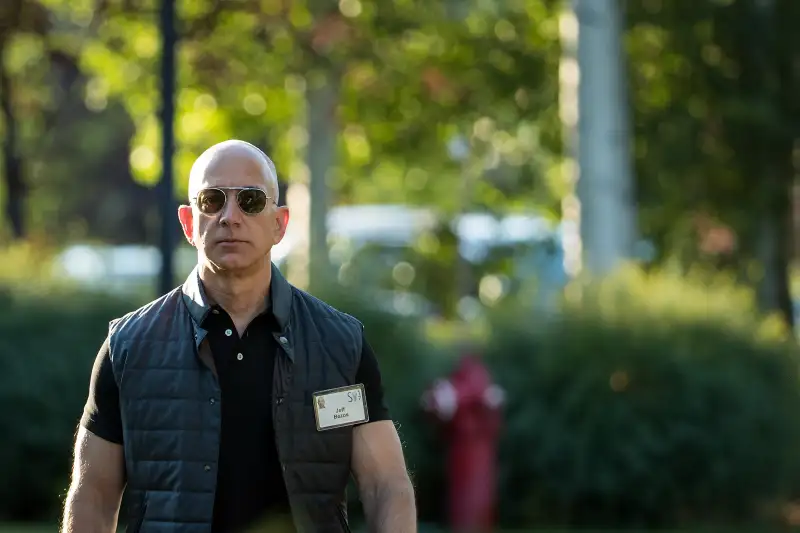 Drew Angerer—Getty Images
The richest man in the world just keeps getting richer.
Amazon CEO Jeff Bezos, already the richest person on the planet, got an extra notch in his belt this week with the release of Forbes' 2018 Billionaires List. With a net worth of $112 billion, Bezos surpassed Microsoft founder Bill Gates, the longtime leader on the list, and became the first billionaire to surpass a net worth of $100 billion.
Gates and Berkshire Hathaway CEO Warren Buffett both rounded out Forbes's top three richest people this year, with net worths of $90 billion and $84 billion, respectively. Another notable move this year included President Donald Trump, the first billionaire to serve in the White House, dropping more than 200 spots on the list.
Bezos officially became the richest man in the world in late 2017, but this was the first year he bested Gates to get the No. 1 spot on Forbes' annual list of billionaires. Previously, Bezos was one of the top three richest people — coming in No. 3 in 2017 with a net worth of $72.8 billion. The Amazon founder's net worth climbed throughout the year thanks to growing Amazon share prices and key acquisitions at the company, including the purchase of Whole Foods for $13 billion in June 2017.
According to Morgan Stanley, Amazon could soon be worth $1 trillion, and is especially bullish on its advertising and streaming business. The Amazon CEO's earnings in the first month of this year are more than halfway to all of last year's total: $35.1 billion.
"The company continues to drive its high margin revenue stream businesses that enable it to invest harder than ever and deliver upward revisions," analyst Brian Nowak said in a note in January.
The country is waiting with bated breath for Amazon to announce which of its location for its second headquarters — an opportunity that would create 50,000 jobs and see the company investing $5 billion in the chosen metro's local economy. Bezos has not tipped his hand about which of the finalists will ultimately end up as the winner, but many have noted that Bezos already owns a large house (plus a newspaper) in the Washington, D.C. area.
Indeed, as Amazon continues to expand, so will Bezos's net worth.
The same cannot be said for Trump, who saw his fortune fall by $400 million over the last year due to a struggling retail real estate market, among other factors. Since the president took office, a number of hotels dropped the Trump branding from their properties, resulting in a $50 million loss this year, according to Forbes.
This story has been updated.