How to Watch the 2018 FIFA World Cup Online for Free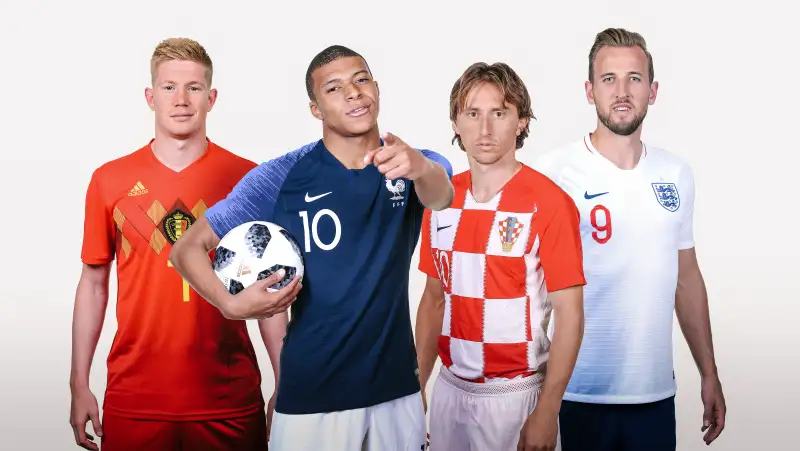 FIFA—FIFA via Getty Images
The men's FIFA World Cup 2018 kicked off on Thursday, June 14, in Russia — with 32 teams from around the globe competing for a soccer championship that goes on the line only once every four years. Now there are only two matches remaining in the tournament, including the World Cup final game, France vs. Croatia.
The European teams started out the FIFA 2018 World Cup in Russia by dominating the opening rounds, so it makes sense that there were two all-Europe semifinal games, and (obviously) an all-Europe final for the championship. In the first semifinal match, on Tuesday, France beat Belgium 1-0. Then Croatia beat England in another very close game (2-1).
The World Cup 2018 tournament's championship match is on Sunday, July 15. A full TV schedule for the World Cup games that remain is below.
It is possible to watch the FIFA World Cup 2018 for free, no matter whether you want to tune in on TV or stream the games online. Fox Sports has the rights for English broadcasts of all games, and throughout the tournament they have been aired on a combination of local Fox broadcast stations — which are always free with a digital antenna — and the pay TV channel FS1. The World Cup Spanish broadcasts are available on either Telemundo or NBC Universo. (You may not understand all the commentary, but you can certainly appreciate the announcer's notable "Gooooooool!" call at every score.)
Here are all the details on how to watch the 2018 FIFA World Cup for free, including England vs. Belgium on Saturday and France vs. Croatia in the finals on Sunday.
How to Watch the 2018 World Cup on TV
If you have satellite or cable TV, simply find your local Fox station or FS1 to watch World Cup games in English, or Telemundo if you want to watch the Spanish broadcast.
Even if you don't have pay TV or don't have a package with FS1, you can watch the 2018 World Cup matches being broadcast on Fox stations for free: All you need is a digital antenna, which can cost under $30 and provides free, over-the-air broadcasts of networks like ABC and Fox.
You can also watch Spanish broadcasts of the 2018 World Cup on Telemundo for free in most of the country with a digital antenna.
What Channel Is the 2018 World Cup On?
Here's the TV broadcast schedule for the 2018 FIFA World Cup games in the semifinals. Note that the timing below refers to when the games actually start. In other listings and social media posts, TV networks may cite times when their broadcasts start (and sometimes the broadcasts begin an hour or half-hour before the matches get underway).
World Cup Game Time Saturday, July 14
• England vs. Belgium, 10 a.m. ET, on Fox and Telemundo
World Cup Game Time Sunday, July 15
• France vs. Croatia, 11 a.m. ET, on Fox and Telemundo
How to Live Stream the 2018 World Cup Online for Free
There are many ways to live stream the 2018 World Cup — and yes, it's pretty easy to watch soccer online for free.
Every World Cup game can be streamed in English with the Fox Sports Go app. There is no charge for downloading and watching via the app, but you must log in with an appropriate pay TV provider account to get access.
To get the Spanish broadcasts, you can stream World Cup games in any browser at TelemundoDeportes.com, or with the Telemundo Deportes En Vivo or NBC Sports apps. Up until June 25, you could stream World Cup games live for free on Telemundo in a browser, without any log-in. Now, however, you can watch online for 30 minutes for free. After that, you must log in online with a pay TV account to live stream the World Cup that way.
Most live-streaming TV services will also let you watch the World Cup online. Services including Hulu Live, Fubo TV, DirecTV Now, Playstation Vue, Sling TV, and YouTube TV all have packages available with some or all of the channels broadcasting 2018 World Cup matches.
Each of these services has a free trial period, allowing you to watch at no charge for roughly one week. Just remember to cancel the service if you don't want to pay the monthly fee, which will cost $20 and up.