How to Watch the 2018 NBA Finals Game 3 Online for Free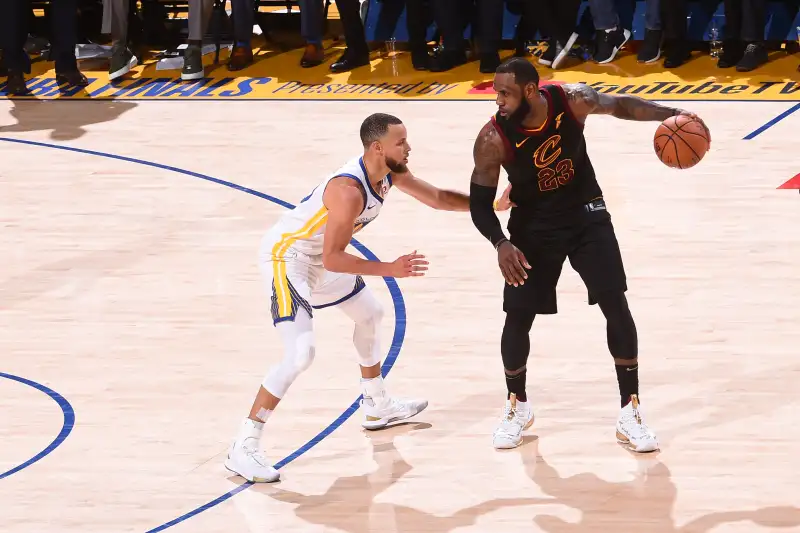 Noah Graham—NBAE/Getty Images
The 2018 NBA Finals Game 3 is scheduled for Wednesday, June 6, with tipoff just after 9 p.m. ET. The Golden State Warriors are now up 2-0 in the best-of-seven series. The Warriors beat the Cleveland Cavaliers in overtime in a thrilling Game 1, and followed that up with a 103-122 victory in Game 2 thanks to an insane shooting performance from Stephen Curry, who made an NBA Finals-record nine three-pointers in the game.
It's easy—and free-to watch the NBA Finals on TV, and there are also plenty of options to listen to radio broadcasts or live stream the Cavaliers-Warriors series on a laptop, smartphone, or any other device. Here's how to watch the 2018 NBA Finals Game 3, as well as the rest of the series.
What channel is the 2018 NBA Finals on?
ABC is broadcasting all of the 2018 NBA Finals games. Just find your local ABC channel on TV to tune in. If you don't have a pay TV package with free, over-the-air channels like ABC, you can get access to these networks in most of the country for free with a digital antenna.
What time is Game 3 of the 2018 NBA Finals?
The ABC broadcast of Game 3 of the NBA Finals starts at 9 p.m. ET, on Wednesday, June 6, at the Quicken Loans Arena in Cleveland. Game 4 of the 2018 NBA Finals gets underway at 9 p.m. ET on Friday, June 8, also in Cleveland. Here's the full 2018 NBA Finals schedule.
How to live stream the 2018 NBA Finals
You can live stream all 2018 NBA Finals games on the ABC app, but ABC will require you to log in with a participating pay TV provider account.
You can also stream the NBA Finals by using a live-streaming TV service such as Hulu Live, DirecTV Now, Playstation Vue, Sling TV, or YouTube TV. In many markets around the country, streaming packages from these services include free broadcast channels like ABC.
The prices of these streaming services start at $20 to $40 per month, but all come with free trial periods for new subscribers. In other words, you can live stream the 2018 NBA Finals for free on one or more of these services while testing them out. Just remember to cancel before the free trial period ends if you don't want to become a paying subscriber.
How to listen to the 2018 NBA Finals on radio or online
There are many ways to listen to the 2018 NBA Finals audio broadcasts. ESPN Radio is broadcasting the game on local ESPN stations around the country. You can listen to play-by-plays of the NBA Finals games on a variety of AM and FM channels based in the greater Ohio region, for Cavaliers broadcasts, and throughout northern California and the West Coast, for Warriors broadcasts. SiriusXM also has 2018 NBA Finals audio broadcasts, if you're a subscriber to the satellite radio service or are trying it out during a free trial period. All of the above options have broadcasts available in English or Spanish
As for listening to the 2018 NBA Finals radio broadcasts online, you've got a choice of options there as well. You can listen to ESPN Radio and other channels live in your browser, and there are apps available for most radio stations, including ESPN Radio. Fans in the San Francisco Bay area can download the free Warriors mobile app if they want to listen to Golden State's home announcers call the game.