How to Watch the Brewers vs. Cubs and Rockies vs. Dodgers Tiebreaker Games Online for Free Today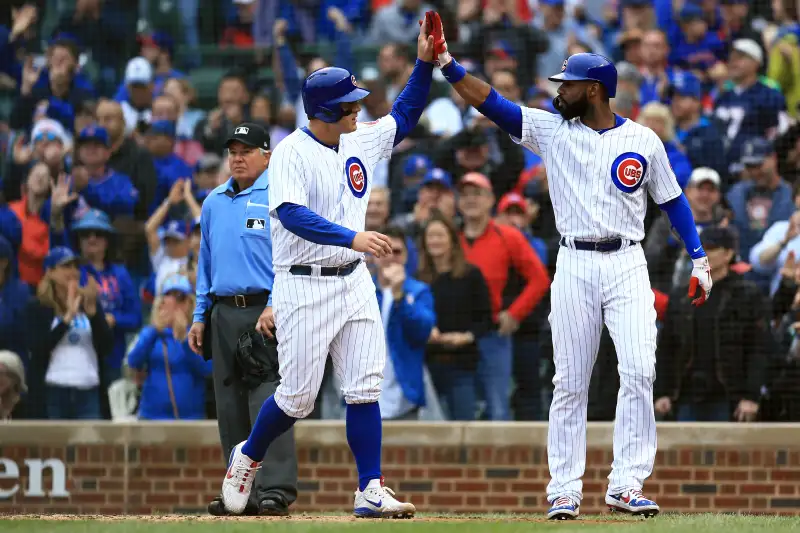 Andrew Weber—Getty Images
Major League Baseball is making history today with not one but two tiebreaker games scheduled to determine the National League Central and National League West division winners.
Before today, there have been 15 such tiebreaker games — which are played when two teams in the same division end the regular 162-game season with the same record and must face off for a playoff spot. But today marks the first time in MLB history that there will be two tiebreaker games on the same day: Milwaukee Brewers vs. Chicago Cubs, and Colorado Rockies vs. Los Angeles Dodgers.
The tiebreaker games determine which teams will be named division winners and move on to the 2018 National League Division Series, which begins on Thursday. The two losers in today's tiebreakers will play against each other in a National League Wild Card game on Tuesday, and only the winner of that game gets to play in the 2018 NLDS.
Here is everything you need to know about how to watch the Brewers vs. Cubs and Rockies vs. Dodgers games today.
What Time Does the Brewers vs. Cubs Game Start Today?
The Chicago Cubs host the Milwaukee Brewers today at Wrigley Field to determine the National League Central division winner. The first pitch is scheduled for 1:05 p.m. ET (12:05 p.m. Central Time), and while Jose Quintana will be the starting pitcher for the Cubs, the Brewers hadn't named a starter as of Monday morning.
The Cubs vs. Brewers game is being broadcast on ESPN. It's a pay TV channel, of course. If you have ESPN in your cable, satellite, or streaming TV package, simply find the channel and tune in. You can also live stream the Cubs vs. Brewers game today on the WatchESPN app, but doing so requires that you log in with your subscription account info and password.
If you don't have cable and want to watch the Brewers vs. Cubs game online for free, consider signing up for a free trial of a streaming TV service that includes ESPN. Hulu Live, DirecTV Now, PlayStation Vue, YouTube TV, and Sling TV's Orange package all include ESPN. All allow streaming on any device you want, with free trials of five to seven days for new subscribers.
Packages from these services start at $25 to $45 per month. If you're a new subscriber, you could sign up today and watch the Cubs vs. Brewers game online for free during the free trial period. But if you don't want to become a paid subscriber, you must remember to cancel the service before the trial period ends or you'll be charged for the first month in full.
What Times Is the Rockies vs. Dodgers Game Today?
The Colorado Rockies and Los Angeles Dodgers play today to determine the winner of the National League West, with the first pitch scheduled for 4:09 p.m. ET (1:09 p.m. PT).
The Dodgers are hosting today's game in Los Angeles at Dodger Stadium. The starting pitchers are expected to be German Marquez for the Rockies and Walker Buehler for the Dodgers.
Like the earlier game, today's National League West tiebreaker game is being broadcast on ESPN. To watch the Rockies vs. Dodgers on TV — or online for free — consider all of the same options listed above for the Brewers-Cubs game.
How to Listen to the Brewers vs. Cubs and Rockies vs. Dodgers Games Today
ESPN Radio is broadcasting both National League tiebreaker games today. Fans can listen to the Brewers-Cubs and Rockies-Dodgers games on their local radio station broadcasting ESPN's play call, or stream ESPN Radio online.
Anyone can listen to ESPN Radio free of charge. There is no requirement to subscribe to a service or log in with a pay TV account.
We've included affiliate links into this article. Click here to learn what those are.