Eagles vs. Falcons: How to Watch the NFL 2018 Season's First Game Tonight Online for Free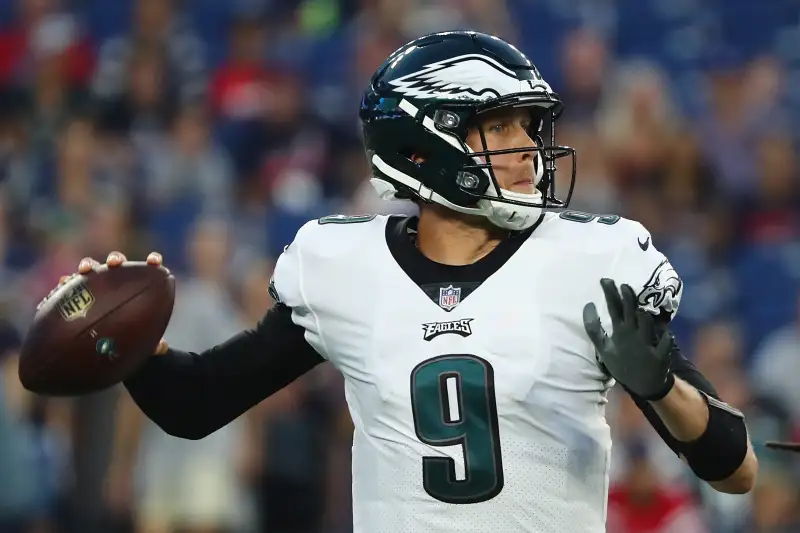 Tim Bradbury—Getty Images
Are you ready for some football? The first NFL game of the 2018 season takes places tonight: Thursday, September 6.
The 2018 NFL season's first game features the Super Bowl champion Philadelphia Eagles against the Atlanta Falcons. The two teams happen to have been the NFC representatives in the last two Super Bowls. Both faced the New England Patriots in dramatic championship games — with the Eagles winning an upset victory this year, and the Falcons losing after an epic comeback by Tom Brady and the Patriots.
What Channel Is the Eagles vs. Falcons Game On?
NBC is broadcasting the 2018 NFL season's first game on Thursday night. Kickoff is scheduled for 8:20 p.m. ET at Lincoln Financial Field in Philadelphia.
To watch the Eagles-Falcons game for free on TV, just tune in to your local NBC station. Networks like NBC, ABC, and Fox are included in most pay TV packages, so it should be no trouble to watch the NFL season opener if you have satellite or cable TV.
If you don't have a pay TV service, you can still watch the Eagles-Falcons game for free in most of the country with a digital antenna. You can buy one for around $25, and when it is hooked up to your TV you'll get free access to local affiliates of over-the-air networks like PBS and NBC.
After Thursday night's game, NBC will be airing premier matchups on Sunday Night Football throughout the season. In Week One, on Sunday, September 9, the Chicago Bears face the Green Bay Packers, with kickoff at 8:20 p.m. ET. The announcers for NBC's broadcasts of the Eagles-Falcons on Thursday, and for Sunday Night Football for the rest of the season, are Al Michaels and Cris Collinsworth.
How to Stream the Eagles vs. Falcons Game Free
To watch the Eagles-Falcons game online, you could head to NBCSports.com/Live or use the NBC Sports app. Watching online through these services is free — but only for subscribers. In order to access the NBC Sports live stream, you must log in with the account number and password of a cable, satellite, or streaming TV service that includes the pay TV channel NBCSN.
However, no password or pay TV account is required for streaming tonight's Eagles game — and many others throughout the 2018 season — with the NFL Mobile app. Download it to your preferred device and you'll be able to watch live stream locally televised games, as well as nationally broadcast primetime games like the Eagles-Falcons game today, for free all season long. Free live streams of local and primetime NFL games are also available this season for the first time ever — totally for free — at Yahoo Sports.
For yet another possibility to live stream NFL action, you can watch the Falcons-Eagles game online for free by signing up for a trial of a streaming TV service that includes NBC. In much of the country, services such as Hulu Live, Fubo TV, DirecTV Now, PlayStation Vue, Sling TV, and YouTube TV all have packages that include access to NBC and other broadcast channels.
Each of these services has a free trial period, allowing new subscribers to stream tonight's NFL game and other programming at no charge for roughly one week. Just remember to cancel the service if you don't want to pay the monthly fee, which could cost roughly $25 or more.
What Are the Betting Odds on the Eagles-Falcons Game?
Despite playing at home and coming off of a Super Bowl victory, the Philadelphia Eagles are only minor favorites in today's game against the Atlanta Falcons. At last check, the Eagles were picked as the favorite with a point spread of 2.5 points. "By contrast, after the New England Patriots won Super Bowl LI, they entered their 2017 season opener as eight-point favorites," Sports Illustrated noted.
Analysts say one reason that the Eagles aren't bigger favorites is that Nick Foles has been named the team's starting quarterback for Thursday night's game. Foles led the Eagles to their Super Bowl win over the Patriots back in February, but he is still considered the backup to All-Pro Carson Wentz. Wentz, however, is recovering from an ACL injury, and the Eagles recently decided he wasn't ready to play in the opening week of the 2018 season.