How to Watch NFL Games Online for Free Today, Including Chiefs vs. Patriots on 'Sunday Night Football'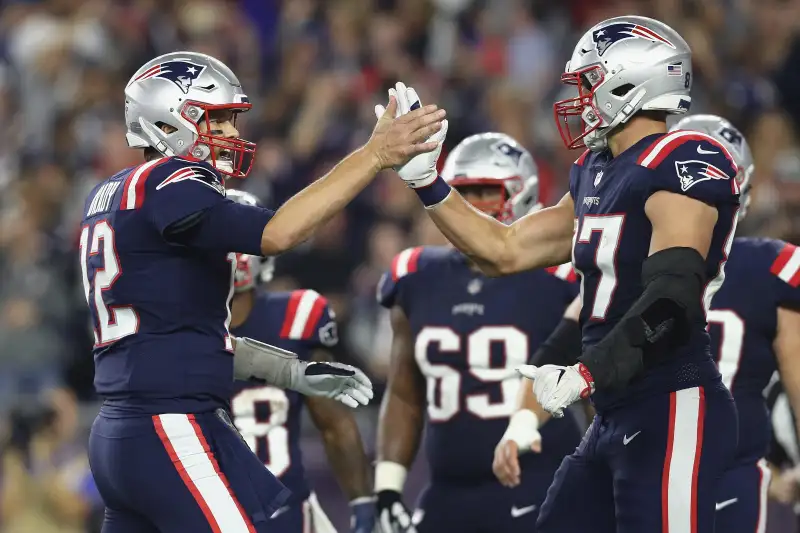 Maddie Meyer—Getty Images
It's week six of the 2018 regular season, and the NFL games today include the Indianapolis Colts vs. New York Jets, Pittsburgh Steelers vs. Cincinnati Bengals, Los Angeles Rams vs. Denver Broncos, and Jacksonville Jaguars vs. Dallas Cowboys.
Arguably the day's best matchup is tonight's "Sunday Night Football" game: Kansas City Chiefs vs. New England Patriots. At 5-0, the Chiefs are one of only two NFL teams that remain undefeated (the Rams are also 5-0). Meanwhile, after looking shaky early in the season, the Patriots have won its last two games in lopsided fashion, against the Miami Dolphins and Indianapolis Colts, and are now 3-2.
The Chiefs vs. Patriots "Sunday Night Football" game is being played at Gillette Stadium in Foxborough, Mass., with kickoff scheduled for 8:20 p.m. ET. In terms of the Chiefs-Patriots betting odds, the Patriots are 3.5-point favorites to win at home and give Patrick Mahomes, Travis Kelce, and the rest of the Chiefs their first loss.
If you're wondering how to watch the Chiefs vs. Patriots game today, we've got you covered. Here's all the info you need to watch NFL games for free — online or on TV — on Sunday, Oct. 14.
What Channel Is the Chiefs vs. Patriots Game On?
All "Sunday Night Football" games, including tonight's Patriots-Chiefs game, are broadcast on NBC.
To watch on TV, simply find your local NBC station. If you have a pay TV package, it probably includes NBC and other major networks like ABC and Fox. In most of the country, you can still watch the Chiefs vs. Patriots game for free with a digital antenna if you don't have cable or another pay TV service. You can buy a decent digital antenna for around $25 and use it to watch free, hi-def broadcasts of over-the-air networks like CBS, Fox, ABC, and PBS.
Beyond "Sunday Night Football," the other NFL games today are being televised on Fox and CBS. The broadcasts available to you depend on where you live: Local stations will air the regional team's games, in addition to one or more games of interest to a broad fan base.
How to Live Stream NFL Games for Free Today
Football fans have many options for watching NFL games online for free. If you are content to live stream games on your phone, you can use the Yahoo Sports app or NFL App. Each app offers live streams for the NFL games broadcast on TV in your area, as well as nationally televised primetime games, including "Monday Night Football" on ESPN, "Thursday Night Football" on Fox or the NFL Network, and the Chiefs vs. Patriots game tonight on NBC's "Sunday Night Football."
Unfortunately, these apps only allow live streaming on phones. You cannot use one of the apps for watching the NFL live online with a larger screen, such as a laptop, tablet, or connected TV.
If you want to watch the NFL live online for free on a screen larger than your phone, consider signing up for a free trial of a streaming TV service. Providers such as Fubo TV, Hulu Live, DirecTV Now, PlayStation Vue, and YouTube TV all include broadcasts of local networks in most of the country. And they all come with free trial periods of five to seven days for new subscribers. Sign up today, and you can live stream many NFL games for free on any screen you like.
Take careful note of when the free trial period ends. You will be charged in full for the first month's service if you don't cancel in time. Packages start at around $40 per month.
How to Watch Any NFL Game You Want
All of the options above to watch the NFL for free are limited: Fans only get to see the games being broadcast locally or on major networks in primetime.
If you want to watch out-of-market NFL games on Sunday, you'll have to subscribe to a special package — and these packages can be costly. With the DirecTV NFL Sunday Ticket, you can watch (or stream) many out-of-market games, starting at around $300 for the 2018 season.
Alternately, the NFL Game Pass starts at $99.99 for the 2018 NFL season and lets you watch any NFL game you want — with the caveat that you can only watch the broadcast after the games are over. In other words, you can't watch live games with this version of NFL Game Pass. On the other hand, the package does let you watch special condensed, no-commercial versions of each game, which is a huge time saver.
Before subscribing to NFL Game Pass, you can test out the service during a free seven-day trial period.
We've included affiliate links into this article. Click here to learn what those are.