How to Watch the NFL Games Today Online for Free, Including Packers vs. Patriots on 'Sunday Night Football'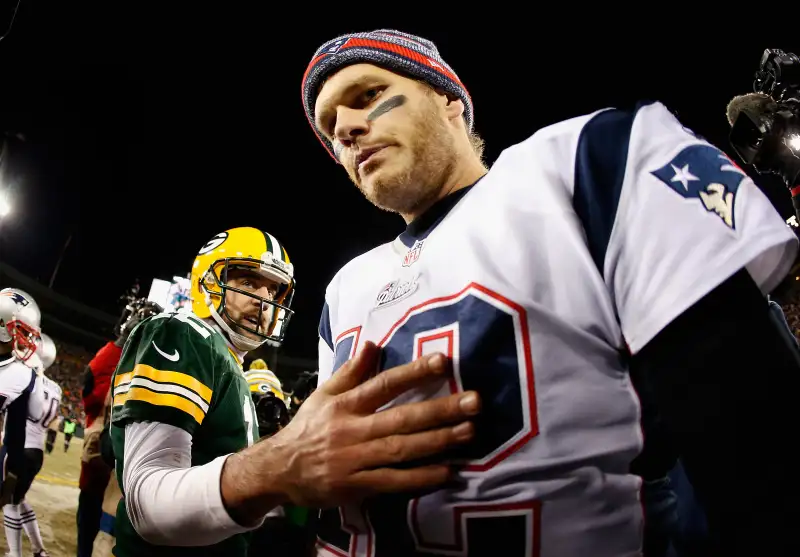 Christian Petersen—Getty Images
Each product we feature has been independently selected and reviewed by our editorial team. If you make a purchase using the links included, we may earn commission.
The roster of NFL games today includes a matchup of the ages: Packers vs. Patriots, featuring two of the greatest quarterbacks of all time, Aaron Rodgers and Tom Brady.
Entering week nine of the 2018 NFL season, Tom Brady and the New England Patriots are having a better year, with a 6-2 record that's good enough for first place in the AFC East. Rodgers and the Green Bay Packers are 3-3-1, and the team will have to play well in the second half of the season for a chance to be in the playoffs.
Sunday night's game is being played at Gillette Stadium, the Patriots' home field, and the Packers vs. Patriots betting odds indicate that the home team is a 6-point favorite to win. "Sunday Night Football" is always broadcast nationally on NBC, so it's easy for fans all over the country to watch the Packers vs. Patriots game for free.
You'll also be able to watch other games on the NFL game schedule today for free — online or on TV — though which ones you get to see will be determined by where you live. Fans in certain parts of the country may get to watch games like Steelers vs. Ravens, Texans vs. Saints, Jets vs. Dolphins, and Rams vs. Saints. Here's our guide for how to watch NFL games for free on Sunday, November 4.
What NFL Games Are on TV Today?
Here is the full NFL game schedule today, including info on when the Packers and Patriots game is on for "Sunday Night Football."
• Chicago Bears vs. Buffalo Bills, 1 p.m. ET on Fox
• Tampa Bay Buccaneers vs. Carolina Panthers, 1 p.m. ET on Fox
• Kansas City Chiefs vs. Cleveland Browns, 1 p.m. ET on CBS
• New York Jets vs. Miami Dolphins, 1 p.m. ET on CBS
• Pittsburgh Steelers vs. Baltimore Ravens, 1 p.m. ET on CBS
• Detroit Lions vs. Minnesota Vikings, 1 p.m. ET on Fox
• Atlanta Falcons vs. Washington Redskins, 1 p.m. ET on Fox
• Houston Texans vs. Denver Broncos, 4:05 p.m. ET on CBS
• Los Angeles Chargers vs. Seattle Seahawks, 4:05 p.m. ET on CBS
• Los Angeles Rams vs. New Orleans Saints, 4:25 p.m. ET on Fox
• Green Bay Packers vs. New England Patriots, 8:20 p.m. ET on NBC
As you can see, all of the NFL games today are being broadcast on free, over-the-air networks: CBS, Fox, and NBC. Remember, though, that your local CBS and Fox station can only broadcast one game at a time, and which game is on TV is determined by where you live. The "Sunday Night Football" Packers vs. Patriots game, meanwhile, is being broadcast nationally on all NBC stations.
How to Watch Today's NFL Games if You Don't Have Cable
Most satellite and cable TV packages include broadcast channels like NBC, CBS, and Fox in their bundles. But you don't need to pay a monthly cable bill to watch NFL games on TV today.
In most of the country, all you need to do is hook up your TV to a digital antenna. A basic digital TV antenna costs around $25, and it works similarly to old-fashioned "rabbit ears" antennas, only the digital version lets you watch in hi-def — and also might pull in dozens and dozens of channels, depending on where you live and how powerful it is. In much of the country, a basic digital antenna is all you need to watch NFL games for free today on CBS, Fox, and NBC.
How to Live Stream the NFL Games Today for Free
If you would rather watch the NFL games online on your phone, that's easy too. As we have previously reported, fans have access to a new way to live stream NFL games for free during the 2018 season:
How to Watch NFL Games Online for Free on Any Screen
Even if you have a large phone, it's hardly the optimal viewing experience for watching spots. To watch NFL games today online on a larger screen, like a tablet, laptop, or TV, consider signing up for a free trial of a streaming TV service such as Fubo TV, Hulu Live, DirecTV Now, PlayStation Vue, or YouTube TV.
These streaming TV services let you watch dozens of pay channels, and in most of the country they also come with access to local broadcast channels, including CBS, Fox, and NBC. Packages with these streaming TV services start at $40, but you can test each out during a free trial period that lasts about a week for new subscribers.
How to Watch Every NFL Game Today
Fans are generally limited by what games are being broadcast on their local CBS and Fox stations. If you would rather watch an out-of-market game, you'll have to subscribe to a special package such as DirecTV's NFL Sunday Ticket. Prices start at $300 for the 2018 NFL season, and subscribers get to watch games all over the country, regardless of what's being aired on their local channels.
Yet another option to watch out-of-market NFL games is the NFL Game Pass package. NFL Game Pass lets subscribers watch (or stream) out-of-market NFL games each week, but the games are only available after they are played. So it's wise for fans using the NFL Game Pass to stay off of social media or ESPN to avoid spoilers.
One upside to NFL Game Pass is that it includes a feature allowing you to watch condensed, no-commercial versions of each game. NFL Game Pass packages start at $99.99 for the 2018 NFL season, and new subscribers can try it out for free during a seven-day trial period.
We've included affiliate links into this article. Click here to learn what those are.