Your Guide to Watching World Cup Soccer—Legally, for the Most Part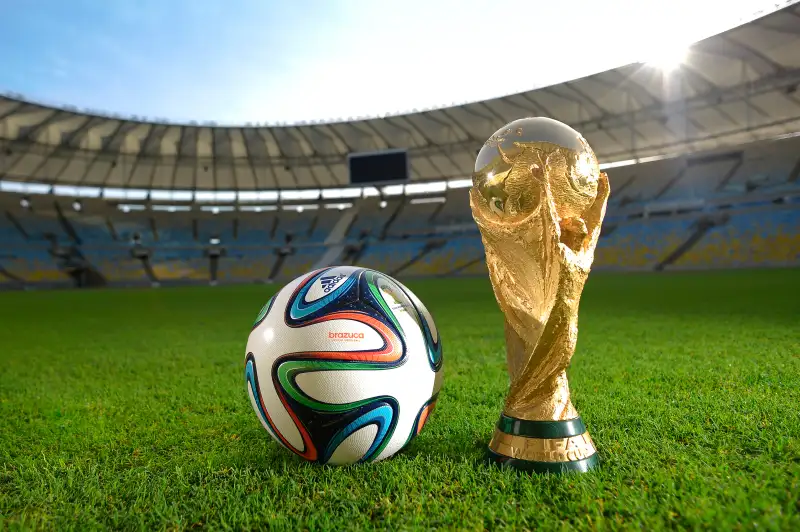 The World Cup starts on Thursday, and if you're like pretty much everyone in the world (the 2010 Cup drew an audience of 3.2 billion), you're looking for ways to watch this event at home, at work, on the train, maybe in the shower. Here are all the legal methods -- plus a couple ambiguously legal ones -- to get your soccer football fix.
Regular Old Television
If you own a TV (or can sneak one into your office), you automatically have access to the 10 matches that will air on ABC. Have cable or a satellite TV package? Then you can watch the other 54 matches exclusive to ESPN and ESPN 2. Here's a TV schedule to help you keep track of all the channels. As you might guess, the first two scheduled matches for the United States team, on Monday, June 16 (versus Ghana) and Sunday, June 22 (versus Portugal) are being shown on ESPN, not ABC.
Streaming Via ESPN
TV? What is this, 2010? Nowadays it's all about watching everything on your computer, smartphone, or tablet, and ESPN has delivered with the relaunched ESPN FC. The website is a soccer news and video hub that sports both a website and a downloadable app for your mobile devices. During the World Cup, ESPN FC will be airing all of ESPN and parent company ABC's World Cup coverage. That means you can watch all 64 matches online as well (assuming your cable provider is on this list). The problem? Just like with NBC's online streaming of the Winter Olympics, you need a cable or satellite subscription to access any of the content.
Stream Directly From Your TV
Want to watch at work, but don't have a TV at your desk? Devices like Slingbox let you stream direct from your home TV and then watch on the Slingbox website or app. It also offers a 1080p viewing experience in case ESPN's quality dips. You can stream anything you could normally watch on your home TV, meaning no ESPN unless you pay for cable or satellite. However, Slingbox can stream ABC matches from your TV if you own a digital TV tuner (which comes included in certain Slingbox models).
Try Aereo (Before the Supreme Court Bans It)
Aereo is a service that has planted thousands of tiny TV antennas all around the U.S. and then streams that content to a subscriber's computer or mobile device. (This creative method of skirting copyright law has led to a bit of legal trouble.) Because it largely depends on what it can pick up off the air, Aereo's content essentially consists of the major networks. Luckily for you, that means all 10 matches being shown on ABC. (Unlucky for you, no matches featuring Team USA, at least not in the beginning.) The best part? The company is offering a 30-day free trial (after that, it will cost $8 a month). Just make sure you live in one of its coverage areas.
Stream for Free ... in Spanish
Spanish language channel Univision is streaming every single match from the first two rounds for free, without requiring the viewer to be a cable or satellite pay TV subscriber. Even better, the company offers an Android and iOS app in addition to its website. The catch? Well, obviously, broadcasts are in Spanish. If you speak the language, this is muy bueno, and if you don't, you can listen to EPSN radio with the match on mute. Consider giving the original broadcast a chance, though. Spanish announcing is always better. Gooooooool!
Cross the border
As for the more… creative methods for World Cup viewing, many U.S.-based soccer fans head across the border -- virtually. Canada's CBC, the U.K.'s BBC, Ireland's RTE and Australia's SBS are all streaming everything for free—but only to people who live in their respective home countries. To get around the regional lock, hard-core fans use services like TunnelBear that create a virtual private network, masking one's true location.
Is it legal? Accessing content from outside these networks' region is a clear violation of their terms of service; but whether users are actually breaking the law is apparently a grey area. "While there are differences among the courts about the use of masking IP addresses to gain access to a site," Electronic Frontier Foundation staff attorney Mitch Stoltz told Forbes, "it is pretty well established that simply violating the Terms of Service alone is not sufficient to warrant a violation of the Computer Fraud and Abuse Act."
Stoltz admits that authorities might go after a TunnelBear user as an example to others, but says such an outcome is "very unlikely." For its part, TunnelBear emphasizes that it is based in Canada, outside U.S. jurisdiction, and that there is "no Canadian law that requires us to keep logs on customer usage."