'We Could be Living in the 1890s': How Housing Discrimination is Still Perpetuated Today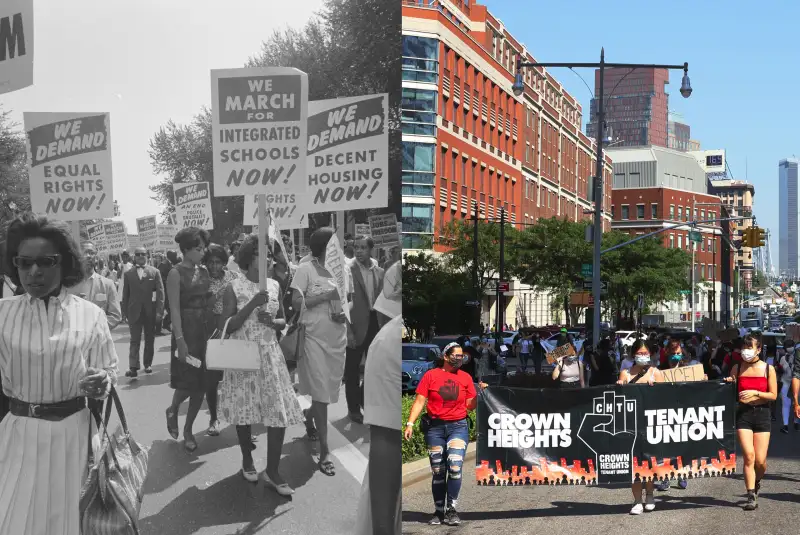 More than a half century after its passage, a landmark law promoting residential integration is being undermined by political attacks.
Intended as a follow-up to the Civil Rights Act of 1964, the Fair Housing Act was signed by President Lyndon Johnson on April 11, 1968, days after the assassination of Martin Luther King. The legislation has two main purposes: to prevent housing discrimination and to promote diverse communities.
Last month, the Trump Administration set off alarm bells when it repealed the 2015 Affirmatively Furthering Fair Housing regulation. The Obama-era rule sought to reinforce the 1968 law by requiring cities to more rigorously examine local housing patterns for racial segregation and come up with plans to address any measurable bias.
After the Department of Housing and Urban Development terminated the rule in late July, President Trump tweeted:
The administration claimed local governments have been overburdened by AFFH requirements. Fair housing advocates have condemned the action. "The government helped create entrenched, pernicious residential segregation and has an obligation to undo it," said Nikitra Bailey, executive vice president at the Center for Responsible Lending. "By rejecting the Fair Housing Act's mission to dismantle segregation and the inequity it created, this administration is eschewing its responsibility and will be on the wrong side of history."
Discriminatory housing practices have reinforced systemic racism in America since the Jim Crow era. Before 1968, landlords and real estate agents could legally deny someone a rental unit or home because of race. A bank could deny a mortgage based on the homebuyer's skin color or a neighborhood's racial mix. Zoning and land-use restrictions could be designed to keep people of color out.
Illegal housing discrimination still occurs. There were 31,202 reported complaints of housing discrimination in 2018, up 8% from 2017. The National Fair Housing Alliance estimates 4 million instances of housing discrimination occur every year, since most go unreported. In the second quarter of 2020, 47% of Black households owned their homes, compared with 76% of white households, according to the Census Bureau.
"If you look at certain elements when it comes to housing access, we are actually a hundred years behind," said Lisa Rice, president and CEO of the National Fair Housing Alliance. "We could be living back in the 1890s."
Subtle forms of discrimination
The Supreme Court declared racial restrictive covenants—clauses preventing sales to people who were not white—unconstitutional in 1948. But even in the 1950s many homeowner associations had agreements with brokers to not show minority candidates homes in the neighborhood.
This practice was blatant and public, said John Logan, a Brown University sociologist who studies housing discrimination. "There were public arguments made that this is better for everybody," he said.
Today, rather than overt door-slamming discrimination, bias persists in more subtle ways. Housing providers may give incorrect information about what's available or steer home seekers to particular areas based on their race. Landlords might apply different standards to applicants of color or put different terms in a lease.
The practice of racial steering hit home for Logan about 15 years ago when he got a job at Brown and started housing hunting in Providence, Rhode Island. As his real estate agent drove through one area, he recalled that she said, "There are some nice houses in this neighborhood, but I'm not going to show you because you wouldn't want to live here."
"I had no idea of what she was saying because I didn't know anything about the neighborhoods," explained Logan. "Later, I realized that this was a part of the area not far from the university that had a sprinkling of African Americans living there. And that's what she meant. She knew I wouldn't be interested because, why, because I'm white. That's the way it works. Presumptions are made, preferences are communicated, sometimes miscommunicated, but it's part of the whole story."
One family's experience
Trump's tweet about the endangerment of the suburban lifestyle upset many Americans, including Michael Waters, a retired military officer who lives in Elmore, Alabama.
"His tweet just struck a nerve with me because of him trying to use race and the fair housing issue with all this stuff about destruction of the suburbs to divide this country," said Waters, explaining that it brought back bleak memories of the 1960s.
"My father was living that American dream of many of the World War II American vets," said Waters. "That, hey, you served your country, you served well, your country made it possible for you to buy that house with the white picket fence in the suburbs and get a decent job and so forth."
Waters' father, who worked at the Brooklyn Naval Shipyard, had worked hard to buy a home for his family on Long Island, New York. When he was transferred to Philadelphia Naval Shipyard in 1965, he was determined to do the same, but the family ran into roadblocks.
"Suddenly, in some ways, that American dream became a nightmare because we did not have at that point the Fair Housing Act," said Waters.
His parents went so far as having a white attorney negotiate the purchase of a house, only to have the real estate agent refuse to complete the deal when the couple arrived for their closing.
"I can remember long house-hunting trips that ended up with my mother in tears on the drive home," said Waters.
His father decided to keep the family in their Long Island home and commute daily to Philadelphia. For 10 years, he got up every morning at 3 a.m. and returned home around 7:30 p.m. until he was finally able to transfer to a job in Brooklyn.
"This is the price racism and discrimination in housing cost both my father and our family," said Waters.
The legacy under investment
Forced segregation has also led to under investment in Black neighborhoods, causing harm not just to individual families but also at the community level.
"The more black and brown the community got, the more disinvestment we saw," explained Rice. "It also created scenarios where municipalities, cities and jurisdictions could direct resources. In other words, who's getting the new sewer line, who's getting the upgraded water line, who's getting the deleaded piping, who's getting the new infrastructure project. Those kinds of things contribute to the infrastructure that is available, which drives access to opportunity for communities."
Race is the most significant predictor of whether a person will live in a neighborhood with contaminated air, land or water. More than half of the people who live within two miles of a waste facility are people of color. People of color are twice as likely to live in areas without potable water or proper sanitation.
Research shows food deserts, areas where people have limited access to healthy and affordable food, are more common in minority neighborhoods. Only 8% of Blacks live in a census tract with a grocery store.
"Because of residential segregation, your Zip code is a better predictor of your health than your genetic code," said Rice.
Blacks and Latinos are also more likely to live in health deserts with fewer healthcare facilities and primary care physicians. In Houston, white communities have 5.5 times as many healthcare facilities than Black communities have. In Oakland, California, white communities have almost 11 times the healthcare facilities that Latino communities have.
A resident of a community of color has a shorter life expectancy than someone who lives in a predominantly white community. "People of color are more likely to have asthma, heart disease, respiratory illnesses and other types of diseases that are connected to the environment or spaces in which they live," said Rice. "And, of course, those are all contributing factors to whether or not you will contract the COVID virus and potentially die from it."
"The Affirmatively Furthering Fair Housing provision of the Fair Housing Act helps address these structural issues," said Rice. "Unfortunately, the current administration weakened our ability to enforce the Fair Housing Act."
Rolling back fair housing rules
The Fair Housing Act mandated that in order to receive certain federal funds, state and local governments must administer programs and activities in a way that expands access to opportunity for all.
"For many years under many administrations—progressive, more progressive, more conservative—there hasn't actually been much at the federal level in terms of fair housing," said Logan. "Local authorities and HUD have been pushed—kicking and screaming—into taking some actions, in some cases where a lawsuit was successful. That's pretty much been the story."
He explained that, even if fair housing wasn't always a policy priority, it was accepted as a goal. What's different now is that the Trump administration is actively undermining the idea of fair housing.
"They are now legitimating a point of view that fair housing actually is bad policy—it's not good for localities, it's not even good for minorities to enforce fair housing," said Logan. "They are legitimating exactly the opposite point of view of what is in the original legislation and in many court decisions related to that legislation."
More from Money:
Becoming a Homeowner Isn't Easy. Here's How Three Black Families Did It
Black-Owned Businesses Saw Growth During the Protests. Here's Why the Support Matters Long-Term
How Low Are Mortgage Rates Right Now? Just Look at the Sky-High Numbers From the '80s and '90s