This 1 Thing Might Save Your Wedding From a Financial Disaster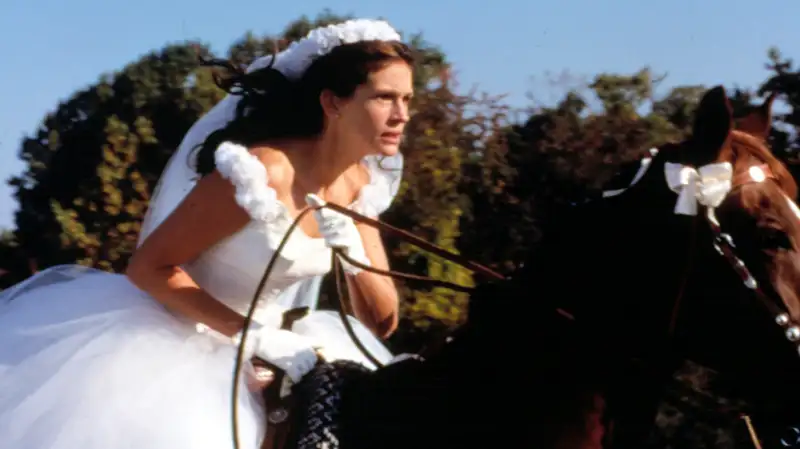 Paramount—courtesy Everett Collection
It's supposed to be one of the happiest day of your life. And then something happens that throws your wedding into disarray. And that unexpected event - whether it has to do with your soon-to-be spouse, the venue or something else entirely - can have a catastrophic impact on both your psyche and your savings account.
The national average cost of a wedding, as of last year, is $32,641, according to The Knot - a $1,400 leap over the 2014 average. (That figure, of course, varies wildly by region, falling notably in less populated states, but soaring to an average of $82,299 in New York.)
What many engaged couples don't realize, however, is there's a way to protect that investment. Wedding insurance doesn't get the same sort of attention as home, life or health insurance, but it can save you a load of money should something go wrong.
Sometimes called special event coverage, wedding insurance is available through a number of carriers, including Nationwide, Travelers, and Allstate. Prices start as low as $66 at some carriers and it can be purchased either at the beginning of planning or until days before the wedding itself (assuming nothing has gone wrong already). You can decide what to cover - from cancellations/postponements and lost deposits to issues with the photographer or caterer, depending on the carrier you choose.
"Imagine you shell out $30,000 for a deposit and when you go to check out the venue, and there's a sign on the door [saying 'closed']," says Todd Shasha, who manages wedding and boat products for Travelers Insurance. "That's a bit of a shock."
Typically, wedding insurance comes in a variety of levels, each with a higher level of protection (often ranging from $7,500 to $175,000). The real appeal for carriers, though, is in the longer-term relationship that this sort of coverage often sparks between the company and the couple.
"For Travelers, it's a unique line that complements our traditional products," says Shasha. "For agents, its a great lead in for potential new customers."
There's more to this sort of coverage than just protecting against wedding mishaps, though. Justin Deme, a customer support specialist at The Event Helper (which works with Progressive), says some wedding policies also offer liability insurance for the couple and the reception venue, in case something goes wrong after the guests leave.
"Many venues are requiring it," he says. "They don't want to have to use their insurance when they can use someone else's. ... It's more about liability in case someone gets a little too drunk and drives home."
Wedding insurers have seen more than their share of wedding disasters and speedbumps. Here are five of the most memorable.
I'm a third wheel? - The couple seemed made for each other. They put together their wedding plan and bought a policy. As the day of the wedding approached, though, the bride learned the groom had been married previously, which was something of a shock. More shocking, though, was the discovery that his divorce had not yet been finalized.
"Ultimately that wedding was cancelled," says Sasha.
No parking - Things seemed to be going as well as possible for this couple, until about one month before the ceremony, when their venue notified them of recent zoning changes that limited it to five parking spaces. Miraculously, they did manage to find another location and the wedding went as planned -- but the original venue refused to provide reimbursement. The insurance covered that - as well as the emergency transportation costs that came up, as many guests were already booked to stay at a B&B within walking distance of the first location.
Those, um, weren't included - There are a lot of moving parts to a wedding, and unclear contracts can cause problems at the worst time. One couple believed their agreement with the florist included the elaborate vases the flowers came in - and encouraged some guests to take them home as gifts. The florist had a different reading of the contract, though. Ultimately, the insurer paid a claim for the missing merchandise.
Flower failure - Delivery screw-ups happen on a daily basis, but when the flowers for your wedding are MIA, it's a bit more serious. In the case of one couple, their florist had two events planned the same day, and all of the flowers the couple had carefully picked out never showed up. Frenetic last minute scrambling yielded some flowers for the church, but nothing like what the couple had envisioned.
Say cheese - Problems with photographers and videographers are commonplace. After posing for post-wedding pictures and counting on these professionals to capture candid moments of your big day, a glitch with the memory card or film can erase the images before they're saved. Other times, the photographer neglects to send the pictures. Some policies will pay for the wedding party to reshoot the formal photos, though getting the parties back together is often too much of a hassle.