What Is Burial Insurance?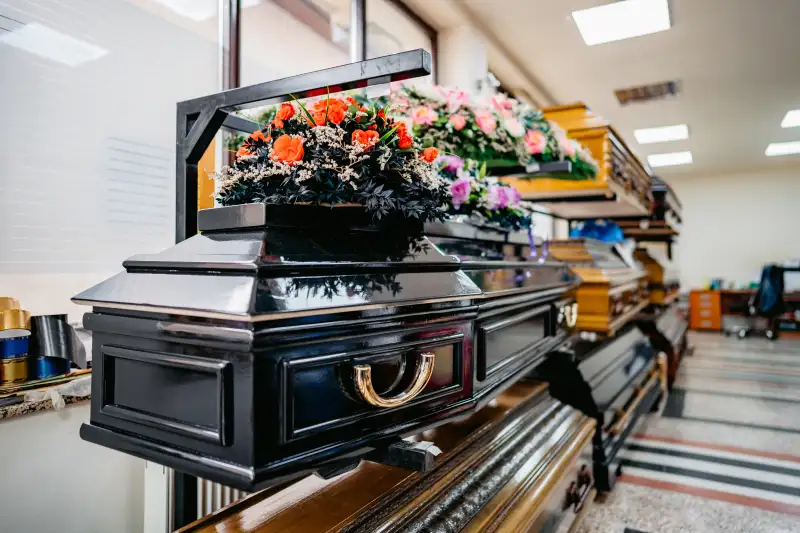 If you're looking to ensure that your loved ones get support in paying for your funeral or burial expenses, burial insurance is an option you should consider. You may have considered term or whole life insurance, which includes funds for your family after death. However, burial insurance, also known as funeral or final expense insurance, is specifically tailored to cover funeral expenses and burial costs.
This type of insurance helps prevent the burden of final expenses from falling on the shoulders of your loved ones. It's a major part of most life insurance policies, but you can also purchase it as a solo policy.
In this article, you'll learn about the costs of burial insurance, how it works, what it covers, the different types and how to buy it.
Burial insurance explained
Simply put, burial insurance is used to pay for your funeral, burial and grave. It is a smaller, less comprehensive form of life insurance that's generally easier to get but usually offers a smaller death benefit.
The benefits of stand-alone burial insurance — and burial insurance as part of a larger life insurance policy — vary depending on your lifestyle, additional insurance policies you might have, your preexisting health conditions and any prognoses you may receive.
If you're looking to learn more about life insurance policies that also include burial insurance, read our guide on term vs whole life insurance.
How it works
You can apply for a burial policy online or over the phone without a medical exam. Upon approval, you'll pay a monthly or yearly premium, and when you die, your insurance provider will pay your family cash for funeral arrangements and other expenses.
Burial insurance is useful if you can't find or qualify for a more comprehensive insurance policy — like whole or term life insurance — because of your age or a preexisting health condition. These factors could disqualify you or raise your insurance rates prohibitively.
For example, in Virginia, diabetes, asthma, obesity, high cholesterol, protein in urine and HIV/AIDS are some of the main chronic and preexisting health conditions that could cause a provider to deny you or increase your rates.
It's important to do your research and get quotes if you feel something about your health may complicate your ability to qualify for life insurance. Along these same lines, no-exam policies such as burial insurance widen the pool to a higher-risk population. As a result, monthly premiums for this insurance type are typically higher while the benefits are lower.
What it covers
The burial insurance benefit is a modest payout that your beneficiaries can spend as they wish. For instance, they may use it to pay off your credit card debts, legal or medical bills, mortgages or auto loans. Burial insurance is also intended to pay for funeral and burial expenses at the end of your life, such as:
Burial plot and headstone
Vault, casket or urn
Cremation
Funeral home and memorial services
Grave opening and closing fees
Family and body transportation
Flowers and obituaries
Types of burial insurance
There are a few different types of burial insurance available. Which you choose depends on how you want the insurance payout to be distributed and how much information you're willing to give upon application.
Simplified issue
Simplified-issue burial insurance means it's available without a medical exam, making it faster and more convenient to obtain than life insurance policies that do require an exam. However, you will still be asked a series of health-related questions. The insurance provider can fill in the rest of your personal information through other sources, like your driving record or prescription history.
You can often find out whether you've been approved for a simplified issue policy within minutes of applying. If you want a basic burial insurance policy with no waiting period, this may be the option for you.
Guaranteed issue
Like simplified-issue policies, guaranteed-issue or guaranteed-acceptance burial insurance doesn't require an exam. You also won't have to answer any questions about your health.
On the other hand, guaranteed-issue burial policies do require a period of at least two to three years before they will pay out your benefit. Alternatively, your benefit may be paid on a graded scale during that two to three-year period. The waiting period is meant to avoid people from cashing out too early. If you die before that waiting period is up, the insurer will return your premiums to your beneficiaries.
These policies are essentially created for people who are too sick to otherwise get life insurance. You may also need to be at least 50 years old to qualify.
Pre-need insurance
Pre-need insurance pays for your burial in advance of your death. You usually purchase it through the funeral home of your choice. Upon death, the policy pays out directly to the funeral home, which carries out the wishes of the deceased.
The advantages of burial insurance
Burial insurance is convenient since it doesn't require a medical exam and doesn't ask a lot of health-related questions. When it pays out, beneficiaries can do what they wish with the money, which means it's more flexible than other life insurance policies like whole or term life insurance.
Burial insurance is designed explicitly for quick payment of burial expenses to your beneficiaries. While life insurance would also meet these same needs, burial insurance may be the best option for you if you require a medical exam-free policy because of your health condition(s).
The disadvantages of burial insurance
Burial insurance typically doesn't exceed $50,000 in total payout to your beneficiaries. In comparison, purchasing a wider life insurance policy typically pays around $150,000 or more to your beneficiaries.
If you want more coverage, then paying for stand-alone burial insurance may not work for you. Instead, you'll need a life insurance policy that covers funeral expenses.
Burial insurance vs life insurance
To make an optimal insurance decision, it's useful to understand what life insurance is and how it compares to burial insurance.
Simply put, with life insurance, you pay premiums for a guaranteed payment to your beneficiaries in the event of your death. It often requires you to go through a medical exam and answer in-depth questions about your health to be accepted. Additionally, some life insurance policies allow you to borrow against them, while this isn't possible with burial insurance.
There are several kinds of life insurance available, which we explain below. For more details, contact life insurance companies directly so you can get a quote tailored to your unique circumstances.
Term life insurance pays benefits for a limited time before needing renewal, meaning if you die while insured the benefits will pay out, but not if you die after it has lapsed.
Permanent life insurance, on the other hand, provides benefits regardless of the time of death.
Universal life insurance is a cheaper form of life insurance that is useful for expenses like burial and debts.
Whole life insurance covers you for life. The death benefit is guaranteed, and the premiums never change.
And then there's burial insurance, a form of whole life insurance, which is easier to get than most life insurance policies.
Life insurance is underwritten, meaning details like your health status, age and occupation are used to calculate your risk. Depending on these factors, you could be denied a life insurance policy or charged a higher monthly premium if you're deemed high risk.
You're more likely to be approved for burial insurance because it doesn't calculate risk on the same scale as a life insurance policy — if at all. Instead, a no-exam burial insurance policy charges higher monthly premiums to offset higher risk.
How to buy a burial insurance policy
To buy a burial insurance policy, you should first figure out how much your funeral and burial expenses will be, plus any other funds your family might need to pay off your debts. Then, decide how much you'll be able to cover with your remaining income and savings. This will help you decide how much coverage you need to provide for your beneficiaries. If you have enough savings, you may only need a small benefit for your funeral plans.
Then, you should shop around and contact burial insurance companies for quotes based on your particular circumstances. Most companies can give you online quotes on their websites. For a simplified-issue plan, you'll need to answer a few health-related questions, whereas a guaranteed-issue plan doesn't require that.
Once you've decided on your policy, application and approval will take between a few minutes to a few days. Then you can start paying premiums and rest assured that your funeral expenses will be covered.
Tips for saving on funeral expenses
Funeral expenses can quickly rise to the thousand-dollar range, and that's excluding the debts and other hardships that may befall your survivors. The Federal Trade Commission's (FTC) Funeral Rule offers several ways to save money on end-of-life expenses by ensuring Americans aren't exploited at their most vulnerable by explaining their rights:
You have the right to buy only the arrangements you want, rather than having to accept a package with items you don't want or care about.
You have the right to see a written casket price list before you look at actual caskets, as the funeral home could only have the more expensive products on display.
Funeral directors must present their price information upon request, and you don't have to give them any personal information first.
You have the right to a written statement detailing your choices before you pay for anything.
You have the right to a written statement describing any legal requirements regarding burials or crematory goods or services.
You should receive a general price list of all funeral and burial-related services and items.
You have the right to alternative containers instead of a casket for cremation, like cardboard or pressed wood.
You have the right to provide your own casket or urn free of charge from the funeral provider.
Embalming is not required.
Frequently asked questions
How much does burial insurance cost?
The cost of a burial insurance plan is typically more expensive than other life insurance policies, as you're paying for the convenience of being approved quickly and without much hassle. This means that you'll likely pay higher premiums or your beneficiaries will receive a lower payout.
For a male over 50, a premium can be anywhere from $40 to $80 a month for the best burial insurance policies. For a woman of the same age, the rates start closer to $30 or $35 because women tend to have a longer life expectancy.
How much burial insurance coverage do you need?
The amount of money it costs to cover a funeral, burial and other end-of-life services can vary widely depending on geographical location and a myriad of other factors. To figure out how much burial insurance coverage is necessary, add up these costs along with any debts you'd like covered in the event of your death. Consider this alongside how much savings you already have.
Does burial insurance have a waiting period?
Guaranteed-issue policies almost always have a two to three-year waiting period during which beneficiaries will only receive a partial payout called a "graded death benefit." Simplified-issue policies typically don't have this waiting period, however.
Are there any exams involved in obtaining burial insurance?
Burial insurance doesn't usually require medical exams, but certain types may require you to complete a health-related questionnaire. You'll likely pay for this convenience, however, with higher premiums and a lower final payout.
Is burial insurance worth it for your family?
For those in ill health or who cannot afford a more extensive life insurance policy, burial insurance is one of several ways to get your end-of-life expenses paid for.
A guaranteed issue or other burial insurance policy will protect your loved ones from the considerable expense of a funeral and burial. However, this usually involves paying higher premiums for less of a final payout since it's easier to acquire than other types of life insurance.
A burial insurance policy is worth it if you're looking for a simple, exam-free policy. Acquire several quotes from different burial insurance companies and be honest about your medical issues and risk factors to get an idea of what you'll pay for coverage.